Your Support Employs Persons in Africa
PET's ruggedness and cargo capacity assist employment agency in Ghana.
First PET provides mobility and then more. The cargo space was included from day one 21 years ago so that the recipient could assist themselves and their families. That included household chores and ways to make an income. In 2004 we received a report on Yolanda, then 24 years, that had been crippled by polio in both legs and one arm. She was going to use the PET to help sell the bread her family baked. In 2015 you made these stories possible.
Point Hope Foundation in Ghana became a distribution partner in 2012. Last year another #168 PETs were shipped to them and distributed through their implementing partner, The Centre for Employment of Persons with Disabilities CEPD. The US Navy's Project Handclasp delivered 24 pallets of PETs last March. In December we received many pictures and summary report by month, area, and gender. Here are some of the impacts on the beneficiaries.
Some females use it for selling jewelries in Keta

Petty trading and farming for most of the women

Joseph Narh in Adenta uses the cart for poultry farming.
Mr. Adamani in the sakumono uses the cart to support his fishing business. He uses the cart to carry the catch from the shore to the market or home.
Oscar Adu boahen works with the controller and Accountant General. Because Oscar have to walk a long distance to the lorry park, he uses the pet to go to the lorry park to board the busses. He then parks the Cart at the Lorry Park and uses it for home when he returns from work.
Especially those beneficiaries in the northern and upper east regions, the cart assist them to carry loads from the farms, take water from the river, and take produce to the market.
Challenges: High storage cost…High transports cost…Very few of the people who need it actually got it…
CONCLUSIONS
The Centre for Employment of Persons with Disabilities CEPD is grateful to Point Hope Ghana and PET International for collaborative efforts in getting the Carts to Ghana. The Carts have enhanced our work as an employment agency. We are able to find solutions to the mobility challenges our client persons with disabilities go through when they secure jobs. Hope these partnerships will continue, so that a lot more disabled persons will benefit." Report by The Centre for Employment of Persons with Disabilities CEPD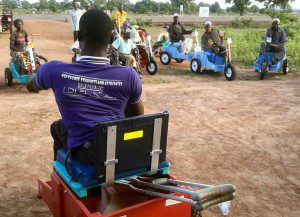 You Helped Change Priya's Life!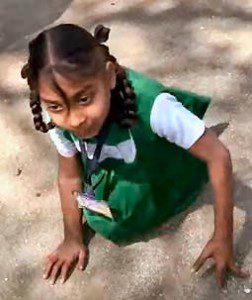 It's amazing how a PET cart changed Priya's life. Before, she would scoot herself along on the ground. Now she rides her PET cart with dignity and confidence.
A missionary checked in on Priya while in India recently. He said, "When we saw her coming out of school, she was surrounded by classmates, interacting with them and enjoying the trip home."
Through your generous support, lives are being changed for the better. Thank you.
Priya is featured in our Easter mailing as we seek support for our Mobility & More! Campaign. Coming to your mailbox soon!
Watch Priya's first ride on her PET cart:

6,071 PETs Built in 2015
Donations From Your IRA Are Painless!
Recently passed legislation makes it even easier to give to charities.
There is a charitable giving opportunity available to seniors that makes it easy for them to donate a legacy gift to PET International while saving on their tax bill. It's called an IRA Rollover Donation which is available to those who are 70 ½ years old or older.
Congress and the President recently passed a bill that made the IRA rollover permanent. It gives those who qualify the option of donating all or a portion of their IRA to their favorite charity. The donor will NOT have to pay any income tax on the rollover amount nor will the money be taxed through their estate in the future.
Donors may contribute up to $100,000 a year to charity and if the donor is married, his or her spouse is also eligible for the tax-free IRA rollover.
For those who have taken retirement planning seriously through the years and saved diligently only to find some of their savings today sitting idle, this may be the ideal option to help others now. Of course, every retirement situation is different so potential IRA rollover donors are encouraged to speak with their financial advisor.
For more information, call or email Scott Walters, Executive Director, PET International at (678) 756-1882
ScottWalters@PetInternational.org
PET International, having its principal office at 503 E. Nifong Blvd. #186, Columbia, MO 65201-3717 has been assigned the tax ID number of 86-1128278.
Team Building Across the US
Scott Walters started in September as our first, full time professional executive director. At the request of the board, he has traveled to eight states visiting with many of our Affiliate production shops. It gave him a chance to meet and learn about the PET Family. He also made visits at four of our vendors: seat vinyl, steel fabricator, bearings and chain.
In March, he goes on his first PET mobility distribution in Guatemala. He is joining a team lead by PET MO-Columbia's volunteers which includes our own Board Secretary, Barbara Moran. Please pray for safe travels for all.
Would you like to join our Family?