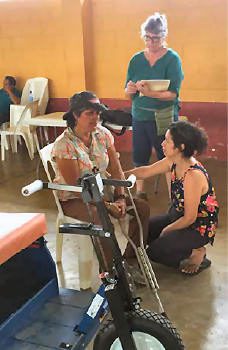 PET International provides mobility and more as evidenced during a recent distribution of PET carts in Guatemala. When Estella (seated) received her PET, she also received compassion, understanding and love from Ilse Caballeros of partnering agency Hope Haven International and Barbara Moran of PET International (standing). Estella (and Ilse and Barb) were brought to tears as she described her inability to walk for many years due to a spinal cord injury.
She relied on others to carry her around. No longer now that she has her independence. By the way, Estella enthusiastically picked out the only PET cart with a pink colored seat.
It's very important that people receiving a PET cart are properly "fitted" with their new mobility device. Here Joe Marnin of IA and Carleen Jean of TX, PET International volunteers, ensure that Antonio (seated) can properly reach and manipulate the hand crank while maintaining his balance during a recent distribution in Guatemala.
Antonio was born with a birth defect and has never been able to traverse by himself unless he crawled on his hands and knees.
---
Project funded by PET Team
"Dr. William Sosa used some of the funds we provided to him to pave a dirt trail for a woman who had received a PET cart previously (not from our group). Attached are some photos, one includes a sign with thanks to us! He posted them on Facebook and I downloaded a few…
Report shared by our board secretary, Barbara Moran, who helped lead the Team. Cost of the trip to volunteers always includes a little extra for local assistance projects in Guatemala.
Thanks to you, this woman had received a PET earlier. In addition, our new Executive Director, Scott Walters, was able to participate through your support.
Thank You!
---
3,984 More Wheels Roll Out
Lots of Visitors at PET IN-DeMotte
PET shop to host 2016 Annual Conference September 22-24, 2016
In September, the team of PET volunteers in DeMotte, IN will be hosting our annual conference. We meet
annually to share information, learn production tips & updates, be inspired by distribution partners, and
more. Harry (MD) & Echo (PA) VanderWal of TLC will be our guest speakers for the Celebration dinner. All
friends and volunteers are invited. Watch our website for details & registration information; come join us.
https://mobilityworldwide.org/about-2/annual-conference/
PET IN-DeMotte became a trained and approved Affiliate in 2012. In 2015 they began a partnership with
The Luke Commission to load and send all their mission supplies including PETs. TLC is a rural medical
services provider serving in Swaziland. They have been a PET distribution partner for seven years sending
us great distribution and follow up reports on PETs and their owners. Today two of PET IN-DeMotte's
volunteers, Bob & Arla Gabrielse, are in Swaziland making a bigger connection. This Affiliate built their
#1,000th PET cart in 2016.
---
Promotion by GuideStar USA, Inc.
PET International was promoted to Gold level status.
Another Excellent Reason to Donate to PET International!
PET International has just been promoted to Gold Participant Status with GuideStar USA, Inc. GuideStar is the world's largest source of information on nonprofits which donors have come to rely on as they research charities. This prestigious award demonstrates that PET International has a deep commitment to nonprofit transparency and accountability.
---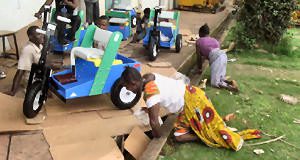 Pictured here are a couple ladies from Sierra Leone who literally crawled to a recent PET cart distribution to benefit from your generosity. We are a faith-based, non-profit charitable 501 (C) (3) organization fully recognized by the Internal Revenue Service with the EIN #86-1128278 and very deserving of your generous support.
Gifts in Memory or in Honor of
Memory of Donna Hofmeister by Roger Hofmeister, Jim & Glenda Wrinkle; Betty Parrish by Virginia Bertz;
Jack Lampman & wife Anne by Sue Mittag-Alker
In Honor of Lucy Sauer's birthday by Charles Sauer; Les & Sue Campbell by Maxine Blystone;