A multitude of generosity has made this celebration possible.
Our founding PET shop created a special 50,000 PET in gold. The special PET will travel around the country. They started our year long festivities on April 16 with the Columbia Chamber of Commerce. The event was well attended by the Chamber Ambassadors (in the gold jackets) and PET MO-Columbia volunteers (many in blue PET 20th anniversary shirts), as well as three broadcast media personalities. At the ceremony Gary Moreau, Executive director, and Mel West, PET co-founder, cut the ribbon while onlookers said "Let's build 50,000 more!" People took tours, some rode PETs, a volunteer played music, and many enjoyed refreshments provided by other volunteers. One of the media celebrities gave a report on the evening news.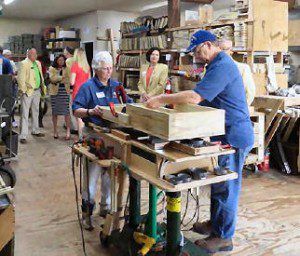 Our own board chairman, Jim Conn, was interviewed by another news station as he talked about the 50,000 PET
and his Affiliate, PET MN-Twin Cities. The gold PET will be at out annual conference in Austin, TX September 25 & 26. All our welcome. Further conference registration information and invitation will be posted on our website at "Annual Conference" under the "About" tab:
https://mobilityworldwide.org/about-2/annual-conference/
We look forward to sharing the 50,000 PET and other reports with you at the conference. On the 25th there is a special Celebration dinner and program for those who can only make it for a shorter period of time. See you in September.
363 PETs to Disabled Kenyans
Our Director of Operations assists Kenya Relief in PET distributions.
In January, he orchestrated a shipment of 2 overseas shipping containers of #363 PETs produced at PET Affiliate shops in IA and MO. Our second year distribution partner's president offered PET volunteers to come and join them in disbursing PETs in April. Von Driggs took him up on his offer for 2 weeks in Africa. His hope was also to visit PET recipients from 2014 to evaluate how the PETs served their owner and how they were holding up. Here is an excerpt of his report to our board.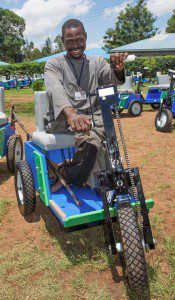 "Hello PI Board Members and Advisors,
I would like to thank the PI Board and other individuals who had a part in sending me on this site visit….
[Go to this link to our blog to view a
slideshow
of over 80 pictures. There is also an
album
of downloadable pictures.]
I feel that we have in Kenya Relief a distribution partner who is willing to help assist PI through deeper commitment in reporting, data gathering on old carts, as well future distributions and PET cart repairs. While with the Kenya Relief President Steve James, we also discussed the possibility of building PET carts on their 60 acre compound. They have great on site capacity with committed staff and a heart to help the disabled in Kenya. The door is opened wide for other PET volunteers to go and be a part.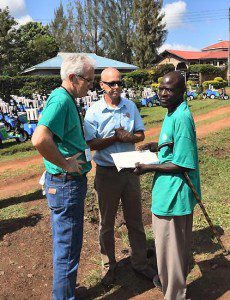 A supply of various parts, as well as detailed instructions for reporting how repairs are to be conducted and documented for our data purposes were left with the staff. This same approach was used in sharing the "how to conduct a PET cart survey" on PET carts in the field for over a year. I would like to thank Ed McDonald for supplying the useful guidelines which I left with their leadership in electronic form.
Due to the massacre at Garissa University in another part of Kenya, the second distribution of child PET carts was postponed due to the security risks involved. Kenya Relief does however plan to see that this expectation in another part of the country is met in the future.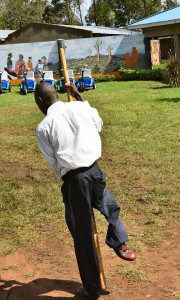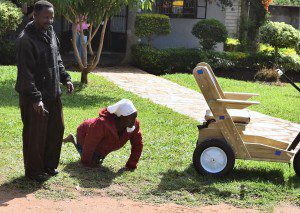 I would like to suggest that the Board consider a cost sharing option with Kenya Relief, for conducting a Satisfaction Survey on a percentage of the 100 PET carts delivered last year. I believe that Kenya Relief will engage the same disabled man (Albert Matara) who identified the people needing mobility at the last distributions April 13th and 29th. I will be in communication with Steve James to come up with what would be an estimated short term contract for Albert to do this survey…. Von Driggs, Director of Operations"
Thank you to our supporters that made these PETs, this shipment, and Von's participation possible!
Cinderella PET Finds a Home in Tanzania
PET MN-Twin Cities is 4 years old and has shipped over 100 carts.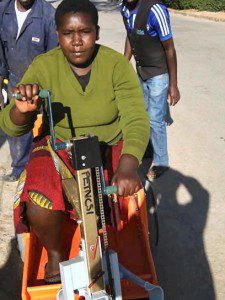 "PET MN – Twin Cities was born just a few years ago in 2011 after a presentation booth at the MN UCC conference. The ability to share our gifts to build carts that would "lift people out of the dirt" was a worthy cause that Minnesotan's would embrace.
With a small determined Board of Directors, PET MN – Twin Cities has implemented a modest shop and storage facility with a wide range of volunteers who do the metal cutting, welding, wood cutting, powder coating, and assembly all across our state. We are very proud of our relationship with Easter Lutheran Church in Eagan, MN. They have been an incredible distribution partner. With them, we have been able to ship over 100 carts to Tanzania, where Neema Crafts, a UK NGO, has distributed the carts. They have a waiting list for more and have a workshop to better enable repairs and adjustments for the recipients.
We also shipped our 100th cart, dubbed our "Cinderella" cart painted in orange, and sent with a personal letter and book of Cinderella with it. We just received a picture of the recipient with the cart in Iringa, Tanzania. Laura Herman, Board President"