December 2017 PDF
December 2017: All ages give Mobility Carts & all ages are in need.
Age Doesn't Stop You From Blessing Others
Let the rest of my life be the best of my life.
Recently we have lost two of our long time and dedicated volunteers in our greater Mobility Worldwide Family. It is never too late to make a difference. It is never too late to help a brother or sister in need of rugged mobility.
Walt Jacoby was 87 years old and worked with our Affiliate known as MW FL—Penney Farms. He also served on our Advisory Board and presented a workshop at our annual conference in 2015.
Chester Jones was 94 years old and worked with our Affiliate known as MW TX—Brazos Valley (pictured in the blue shirt). Seen at right, he is 90 years old and awaiting a full warehouse to load out a shipment to the Lions organization in India July 2013. Their board president, Margot Newcomb, wrote this after his passing "Chester was primarily responsible for bringing the Luling shop to Bryan, TX. We still see his influence on our shop everywhere we look. He retired as shop foreman about 3 years ago, but has continued to work in the shop one day a week."
---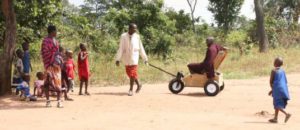 Our founders, missionary Larry Hills and Pastor Mel West, are in their 90s. Won't you join us to make the best of your life and help make the most of someone else's life like this grandfather in Tanzania who received a Pull Mobility Cart?
"Mary, The elderly man who received this chair had been bed-ridden, and hadn't left his bed in over a year. To get to the distribution the family had their neighbor carry him to us. I could actually communicate with this family fairly well because they could all speak English…. This was one of the top highlights of my trip because the family was so grateful for their father to be able to move around, and see his property and farmlands once again. Whitley" report from Children's Medical Ministries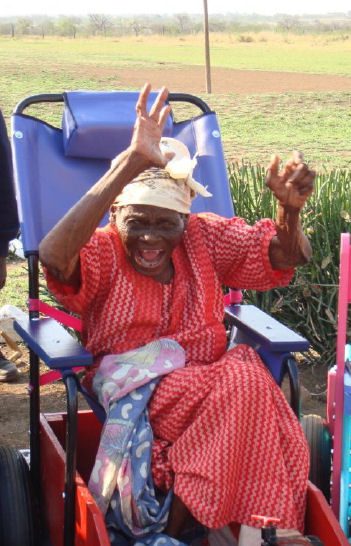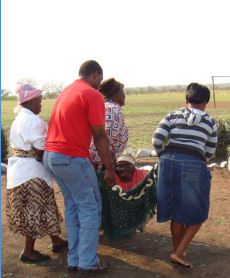 Report excerpt from our distribution partner in Swaziland, Africa:
"… Just a few minutes later a very old granny was brought to us on a blanket… So amazing it is to see how God works! It is like putting these patients on a throne. You can see their self worth grow in leaps and bounds when they mount their cart… We probably need to request that half of the next container be PULL carts…"
The Luke Commission
Others of all ages are also helped by your support like Kennedy Matiko who is a high school student in Kenya. We wrote to you about him recently. Together we are changing lives. More are waiting.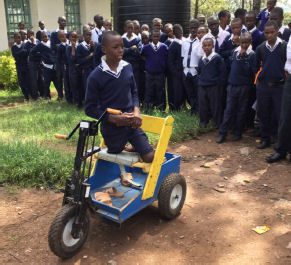 Donations From Your 401(k) or IRA Are Painless!
Recently passed legislation makes it even easier to give to charities.
Giving to your favorite charity like Mobility Worldwide has become even easier and more convenient in terms of tax savings. The charitable giving opportunity available to those who are 70 ½ years old or older is called the IRA Rollover Donation. It makes it easy for seniors to donate a legacy gift to Mobility Worldwide (an initiative of PET International) while saving on their tax bill. The donation can be gifted straight from an IRA or 401(k) and will not appear on the donor's 1099. Additionally, the IRS now requires a person to take a required minimum distribution (RMD again if the person reaches the age of 70 1/2.
Congress and the President last year passed a bill that made the IRA rollover permanent. It gives those who qualify the option of donating all or a portion of their IRA to their favorite charity. The donor will NOT have to pay any income tax on the rollover amount nor will the money be taxed through their estate in the future.
Donors may contribute up to $100,000 a year to charity and if the donor is married, his or her spouse is also eligible for the tax-free IRA rollover.
For those who have taken retirement planning seriously through the years and saved diligently only to find some of their savings today sitting idle, this may be the ideal option to help others now. Of course, every retirement situation is different so potential IRA rollover donors are encouraged to speak with their financial advisor.
For more information, call or email Scott Walters, Executive Director, Mobility Worldwide at (678) 756-1882 ScottWalters@MobilityWorldwide.org
Mobility Worldwide (an initiative of PET International), having its principal office at 503 E. Nifong Blvd., Suite H #186, Columbia, MO 65201-3717 has been assigned the tax ID number of 86-1128278.
Asante, Gracias, Cảm ơn
(Swahili, Spanish, Vietnamese)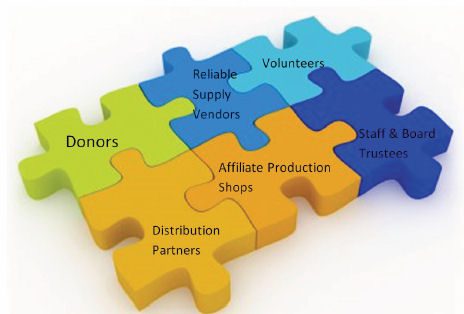 Thank you to all who partner with our mission around the world.
Happy Holidays, Board & Staff
Please More Space
As our 21 production shops grow, space becomes an issue.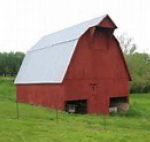 As our shops build and box Mobility Carts, they have to store them somewhere until another order comes in or the truck arrives to haul them off. Our Affiliates have handled this in a variety of ways. Sometimes local businesses with spare space in a warehouse or a family barn with empty space will loan use. But some have gone to obtaining shipping containers for excess storage space. Picture below is from MW IN—DeMotte's summer newsletter. "The solution: purchase two 20 ft. shipping containers for storage (each will hold 66 carts) and ask the professionals (and good friends) at Cheever's Towing to set the containers in place for us."

Gifts in Honor of Wolf & Nancy Gensch by Armit & Mary Sue Mundorf
Gifts in Memory of Jim Alker by Sue Mittag-Alker