Ecuador June 2011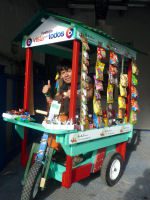 Now PETs are transformed a step farther. In March we met a man in Guatemala who built a snack cart onto his PET and no longer begged on the streets. In May we sent a shipment to a new partner, Fundacion Vista para Todos, in Ecuador. They took that idea for their recipients and included our logo & their logo. Now more persons will receive PETs and be able to earn an income. And more disabled and possible new partners will know where to get our mobility devices.
"Dear Friends: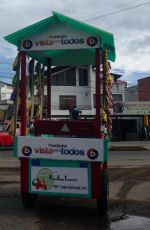 Best regards, thanks to the ideas of friends with physical disabilities of Guatemala, the Fundacion Vista para Todos (healthcare services for most in need) has made some adaptations to PETs for people who want any economic activity (work selling candy, snacks, gas, water tea or distributing the newspaper, selling crafts, among other activities) will receive this free tool, and create a sense of excellence, independence, improve their
quality of life and say no to begging.
I send pictures of the PET after the adjustments. PET INTERNATIONAL thank you very much to everyone who made possible this valuable help get to Ecuador.
Soon, Sincerely, Diego Mauricio Nieto"
---
Swaziland March 2011
This report came from one of our newer distribution partners. They are an American medical team/NGO living in Swaziland. Over the last two years they have incorporated PETs with their services for the disabled. Our Director of Operations was there this winter to help in their clinics and check into how PETs were doing as part of their mission.
Amid all this stood a 10-year-old boy with rickets. We met him last year. The lack of vitamin D in his diet caused severe deformity in his legs, as they bow out. Operating on him, Echo noted, might cause even greater pain and trauma as he grows into manhood.
"I doubt anything can be done to correct this now," said Harry. "It's too late for this boy."
The Luke Commission team did build him one of the PET wheelchairs. "He really should not walk or stand as much as he does," Echo said. "It's sad."
---
Guatemala February 2011
Here is another example of how PETs get to those in great need of mobility and how different NGOs work together. We are thrilled to work with these other NGOs to help families around the world have a better life.
This picture and the report are from our long time distribution partner based in Iowa.
"Sent: 2/15/2011 Subj: PET along with a Relief Home
Dear Friends,
One of the projects we did last week while I was in Guatemala was in partnership with Faith in Practice. We built a house for one of their community health promoters that was shot by some drug cartel members. Magdalena, her baby, husband and brother walked into their home in a Kekchi Mayan village on the Caribbean coast between Livingston and the Belize border last July to find 10 armed men in the house. Her mother, father and 2 brothers had just been tortured and killed. The men shot her in the shoulder just missing her baby, Eduardo her husband and brother Minor were shot too but survived. Magdalena's family was falsely accused of stealing some drugs that were dropped nearby. The person that accused them disappeared in his new boat bought from drug money.
They now are living near Rio Dulce in the new Relief Home we built for them http://www.gulfcoastsupply.com/international-relief-homes.html. We also gave Eduardo a PET and an ice chest so he could sell cold drinks. We also gave them a wood stove, some bedding, mattresses, bedside commode and a standard wheelchair. Minor who is still recuperating from the 6 gun shots he suffered was given a walker.
Thanks for your support,
Mark Richard
Director of Operations
Hope Haven International Ministries"