Zimbabwe August 2010Hi Von,I just received a report from our consignee in Zimbabwe. I think you will be very encouraged to see how the PET carts are improving the lives of kids there. Please, tell everyone at PET International thank you so much for making this possible.

Sincerely,
Tina Waldrum
Donor Liaison
Global Aid Network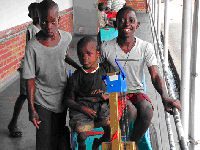 The Jairos Jiri Association is an organization that caters for children with disabilities from all over Zimbabwe, mainly from poor and disadvantaged backgrounds. The center, which deals with all forms of disabilities, has an enrolment of 200 children ranging from 6 to 18 years of age. 90% of this number does not pay any fees since they cannot afford it. The administrator, Miss Nita Vengesai, said the center used to be foreign funded until the donors withdrew their support due to the political instability that greatly undermined the development of Zimbabwe over the last 10-12 years.
The organization received 20 boxes of Casserole rice. The head said that they prepare 40kg of rice per meal, which converts to just about three boxes per meal. In just one day they cook at least 80kg of rice to feed to 200 children. They also received 20 walkers and 6 carts.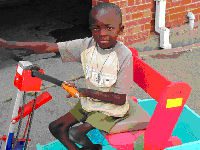 George Bhobho, 10, from Zengeza, a high-density suburb in Chitungwiza, lost both parents to AIDS not more than 2years ago. He's now under the care of his grandmother. He has arthrogryphosis, a rare congenital disorder that is characterized by multiple joint contractures and can include muscle weakness and fibrosis. It is a non-progressive disease. He is one of the beneficiaries of the carts, which will help him greatly in his mobility.
Tinotenda Kairiza, 10, is an amputee. He lost both legs early in his childhood after he was diagnosed with cancer and has never known what it feels like to be able to walk or run like the rest of the children in his village in Muzarabani. Before he got the cart he moved himself around supporting some of his body weight on his hands. Now he'll be to move around with much ease and have more fun playing with the rest of the children.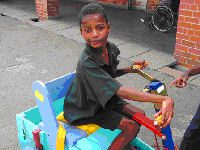 Takudzwa Mukondo, 13 also has arthrogryphosis. Unlike George Bhobho, Takudzwa's condition has affected both his legs and arms. What's amazing is that the extent of his condition does not undermine his determination to be mobile in a more controllable way once his hands grab the pedals. If anyone should doubt the gratitude of these disabled kids, all that will dwarf into nothingness once you see the joy on their faces as they ride these carts around school premises.