---
Here is a report on a child who received a PET several years ago in Honduras and now needs new tires asap. Our first production shop in Columbia, MO, began a relationship with this Missouri NGO in 2010. Their main work is in El Salvador which is next to Honduras. So they know PET.  This PET was made in KS, but will get replacement tires from a shop in Southwest MO which is near the NGO. Even though there are minor differences in PETs from each shop, the basic design is the same so that replacement parts can be sent from any Affiliate years later.
Ralph reported he had gotten new tires and they will head out next week on an Air Force humanitarian aid flight. He will get pictures when he returns in September.
Fri, July 6, 2012
Dear Mel and others,
In early June I was on a bus in La Antigua, a small town in the far southeast part of Honduras, and saw a PET along the street. Unable to stop at that point, I had to go back later and find out about the PET. It belongs to Xavier de Jesus Hernandez Landeverde, a 9 year old boy who was born with legs that don't work properly. His mother had gone to San Pedro Sula about 4-5 years ago and was given the PET by a church. Xavier is a happy young man who is able to go to school with the PET, riding it about 12 blocks on some very rough streets. He also sells oranges out of it along the streets in an effort to get new tires that are needed soon. He carries his walker in the back and can move slowly with it in places that the PET will not go.
I had a good visit with him and his mother that afternoon and learned that there is a 12 year old boy in the same village who could use a PET. I told Xavier that I planned to be back in September and would try to bring him new tires. I also told his mother that I would try to bring a new PET later for Xavier and for the other boy who needs one. Xavier's PET has been cared for and maintained but is showing wear. The wheels, chain, and sprockets had been greased recently. It has had a canopy added to give him shade and rain protection.
I will work with the Mt. Vernon crew to try to get new tires for him, and see if they will furnish a couple new kits that can be shipped later.
I know that you like to get reports of good things that have happened, and this is one of them. God bless everyone who helps with the PET project in any way.
Ralph McClurg
Bringing Hope to LaPalma (El Salvador)
---
Swaziland June 2012
This report came from The Luke Commission, a PET distribution partner since 2009. They are an American medical team/NGO living in Swaziland. Over the last three years they have received multiple shipments and incorporated PETs with their services for the disabled. PET International is currently coordinating another shipment of 200+ PETs to them this month as their supply has almost ran out.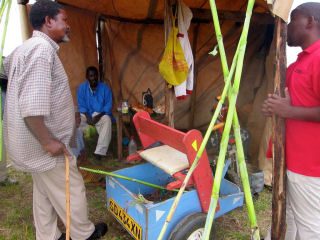 "Here's a PET cart that has been used so much on the highways and byways that the owner (seated in middle) has licensed it. He sells produce from the back of the cart and travels many kilometers every day to reach customers. The all-rubber wheels and carrier in the back are perfect for Swaziland's rough bush terrain. The Luke Commission's staff member and translator Nathi (far right) went to this man's hut to talk about what parts need to be replaced on well-used cart. Nathi will help him overhaul the cart this very day.
Routinely at TLC mobile clinics, Nathi assembles PET carts, adjusts them for individual recipients, and teaches them how to use and keep the carts in good repair. 'I have great joy when these carts are given to my fellow Swazis,' said Nathi. A neighbor (left) watches. Someday he may need a PET cart, too."