Volume 15 (PDF Version)
Your Gifts Put Children in PETs in Tanzania!
THANK YOU for lifting kids out of the dirt at Disabled Children's Home
How many persons does it take to send a PET shipment?
In early 2012, MedWish International sends a new partner application to our director of operations. (That's a minimum of 2 persons.) They repurpose medical supplies and equipment discarded by the healthcare industry. PET Affiliate volunteers from MI, MO, IA, and more send PETs to their warehouse in OH over the last three years. (Are you counting how many persons?)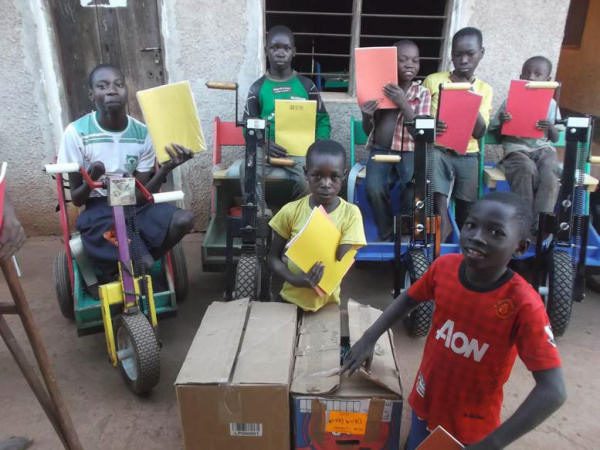 Anglican Diocese delivered PETs to children in their care (pictured). Hospitals in Ghana and Tanzania have also given away PETs received from MedWish International . Then You the donor do your part in building PETs at the Affiliates or supporting PET International to meet potential partners, assist the Affiliates, and coordinate the shipments around the world. (How many persons did it take? Did you get a total number? I'll guess 100+ are involved in getting PETs to and thru just one distribution partner. Kathy Maynard, Treasurer and Business Administrator)
June email report with the above picture: "Dear Von: Here are some images of your carts and folks using them at the Anglican Diocese of Tanga Disabled Children's Home in KWAMKONO, Tanzania. They just arrived in April. Thanks! Sincerely, Andres Perez-Charneco, Director of Programs"
Mobility Sierra Leone (MSL) Partner Dodges Ebola
Your Gifts Start New PET Refurb Effort to revive 8 year old PETs
Donate today to refurb more PETs – We're hoping it's half as costly as new PET—Many thanks to Marathon Tire for donating towards this refurb effort!
Life is rough in Sierra Leone. Ebola is occurring in the town of Kenema, and Lamin M. our partner at MSL reports they have halted the current PET repair effort until Quarantines are lifted. Many PETs were delivered here 5-10 years ago.
PETs do not last forever, but they go where a wheelchair can't and last MUCH longer than a wheelchair would in these terrains.
We are working with MSL to repair and evaluate the PETs in surrounding areas. MSL has revived both of these 8 year old PETs. Moses and Amadu both now have a refurbed Gift of Mobility, thanks to your gifts! This is a new and significant repair and refurb effort we hope to learn much from.
Hopefully the Ebola outbreak will be contained by the time you read this—if not, join us in prayer for containment and safety for those communities.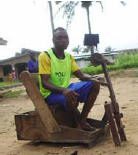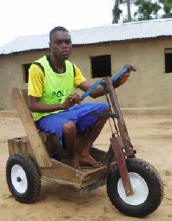 Moses' 8 year old PET carcass shown here had been scavenged to keep one or more other PETs running. Now Moses is back at the business of life in the community.
---
PET Zambia trucked another load of PETs into Malawi in August. "One of the wonderful things about the PET Zambia outreach is we continue to go into other countries. With the new PET Zambia workshop we are now able to build more PETs each month…. Our goal is to double production to 100 each month." Delbert Groves, Methodist Missionary at New Life Center
Rare Opportunity
Come hear how you helped changed Seun Oke's life in Nigeria thru PET.
On October 7 & 8, we invite you to the PET International Annual Meeting and Related Workshop Conference. Our first Affiliate, founding production shop—PET MO-Columbia, is hosting our conference. The main gathering will be held at Stoney Creek Inn & Conference Center. These are some of the tentative workshops:
If Your Heart Is As My Heart……………  Mel West, PET Co-founder
Seating & End User Evaluation………… Madison Gartman, currently in Guatemala
Volunteer Friendly PET Construction…… Bob Gabrielse, lead at PET IN-DeMotte
Social Media……………………………… Sarah Hill, prior NBC news anchor
Visit PET MO-Columbia shop…………… Gary Moreau, Executive Director
Celebration Dinner on October 7 at 6 pm: Seun Oke will be your special guest from Nigeria. She has been a PET user for 9 years. We will also be celebrating the 10th anniversary of PET International and the 20th anniversary of the PET Mobility Project thanks to your partnership. 2014 Annual Conference Invitation and Agenda
PET Trailer Loads Continue to Cross the Border
Texans build PETs and Mexicans get new lives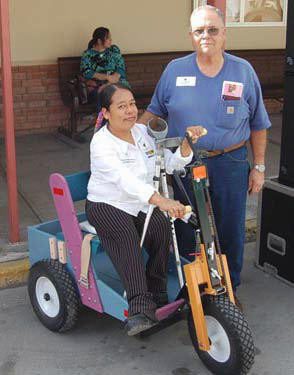 CUPS and PET TX-Rio Grande Valley have worked together for several years now and are located on the Mexican border. CUPS (Comunidades Unidas Pro Salud) is based in McAllen, TX, and provides assistance to the people of Mexico. They have worked together to transport PETs into Mexico made at various PET shops.
From CUPS' summer e newsletter: "First Presbyterian Church Kingwood sent a group of 11 college students and 7 adults on a mission trip to the Rio Grande Valley….arranged several different service activities for the week, including constructing PETs in Stan Marley's PET TX-RGV facility in Mission, TX…." (Stan Marley is pictured at right with a new PET owner.)
Our Distribution Partners are great, reliable organizations that help women, men and children around the world. Along with your support, PETs have been distributed in 100 countries to date to those most in need. PETs are always given away free to the recipient thanks to your donations. We can use your help to find new trustworthy and caring Distribution Partners (small or large: missionary or 501(c)(3)s are some examples). Share our mobility mission story with others. Let's get more PET mobility to those waiting.