Old PET can get a makeover in Zambia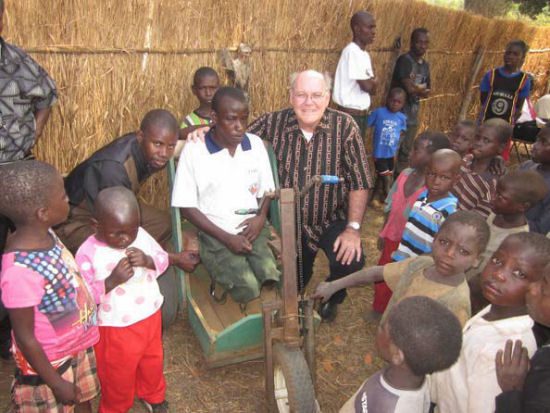 Here's a report on the longevity of a PET. New Life Center in Zambia is a Methodist mission that does a variety of work including a PET production shop known as PET Zambia. For 16 years our greater PET family has assisted by sending completed PETs, supplies to construct on site, and funds to help with the expensive costs of fuel to deliver PETs over rough roads and long distances. This is the oldest PET we have had follow up on. (Last year we received a report on an 8 year old PET in Ecuador still going.)
October 2011 email: "I recently traveled to the North West corner of Zambia to a tribal place called Kanyama. We held a crusade at the annual Rain Festival at Chief Kanyama's Palace. While I was there a young man came up to me on a PET with a big smile. If I remember right his name is Collins Mulusa. We greeted and talked awhile. I looked over his PET and saw it was in good shape. I asked him, 'How long have you had this PET?'. He said, 'You gave it to me ten years ago!' I looked closer and saw it had all the older parts and front fork and even tubed tires. I asked him if he used it much and he said, 'Every day.' (Of course, he had no legs.) I asked him if it needed work done to it and he pointed to the normal things: chain, sprockets and bearings. Then I realized we have a dear missionary friend, Gordon McKilup, at the CMML Mission that helps find people in need of PETs and distribute them in the Kanyama area, AND that he keeps parts there. In fact, what Gordon does is he keeps one PET as a loaner while he rebuilds or repairs PETs. So Collins promised me he was going to see Gordon to see if he can keep his old-faithful PET another ten years! God is good, Delbert Groves"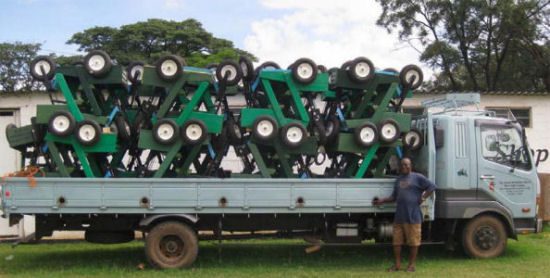 (Big Blue, donated by the Goodwill Foundation, can deliver about 50 PETs at a time or one month's production. We are again working with PET Zambia to send supplies for another year's production.)
Other Tidbits
e-Newsletter: We now have a monthly e newsletter, Mini-Newsletter. It contains a few recent stories each month. We invite you to sign up to receive it. Go to the gray box in the right column of this page, enter your email address and name, and click on subscribe. You will receive an email asking you to confirm your signup; once you confirm, you will begin receiving the Mini-Newsletters.
CBN News Report on PETs to Senegal, Africa, via US Navy Project Handclasp: The news story was aired on October 15. Go to our blog and see the 3 minute video link at our blog posting of October 13. We are grateful for these new partners in Senegal. Thanks also goes to Stan Jeter at CBN News for putting this story together and sharing materials with us for posting and sharing with you.
Our blog is at http://giftofmobility.wordpress.com.
More PETs are distributed in Swaziland, Africa: Our Director of Operations, Von Driggs, went to visit The Luke Commission with his wife. They assisted in the mobile medical clinics, saw the disabled who received PETs, and saw the great work that TLC does through Harry & Echo VanderWal. This NGO is based in Idaho. They live with their four boys in Swaziland. To see Von's six minute home made/edited video from his trip, go to blog posting on September 28.
PET report from Guatemala: In August Walt Hays, one of our board Advisory Members, went with a PET team to distribute PETs and continue discussion on the CAMP, Central American Mobility Partnership, Project. This is an excerpt of his report:
"…I returned last night from my intensive 6 days in Guatemala. Quite an experience. Our team of 12 volunteers traveled some 420 miles in an old (1989) school bus to two rural areas where we delivered 70 PET mobility carts and some 20 pediatric and adult wheelchairs. We also passed out about 2 dozen pairs of new adjustable crutches. Our first delivery in the community of Tecun Uman was in the municipal square where we worked with about a dozen staff of the Guatemala Red Cross that included the executive for Guatemala – a physician. Our second delivery was near the Mexican border in the community of Mazatenango We were hosted by the Mayor and local volunteers. A Pentecostal Church set up chairs and an awning on a blocked street for this distribution.
We also had a day at the Hope Haven International Ministries Factory in Antiqua (our host and a major distribution partner for PET) where we distributed another ten PETs to clients and fitted a number of wheel chairs…." HHIM is our major partner in developing the CAMP Project, Central America Mobility Partnership. We are working toward having a location in Guatemala to be able to greatly expand mobility distribution in that region of the world.
PET production achievements:
PET MI-Holland specializes in producing the child size PET. They reported by their 2nd anniversary in July, they had built their 843rd PET.
PET FL-Tampa announced in July they built #1,000. They were the fifth Affiliate to produce PETs.
With 20 US Affiliate and 2 overseas production shops, over 5,000 PETs are produced annually. In the fourth quarter of 2011, we have surpassed 30,000 PETs being produced since 1994 when Missionary Larry Hills said to retired Rev. Mel West, "There's one more thing we need…We need a hand cranked 3 wheeled wheelchair…" There was a great need for mobility devices for landmine and polio victims in the country then named Zaire. If you would like to see Rev. West tell this story, watch our newly developed promotional video. It has the history, shows a production shop, and showcases PET recipients from around the world. If you would like to have this DVD to share friends, groups, SS classes, etc., email or write to us for a copy.
PET Affiliate on the go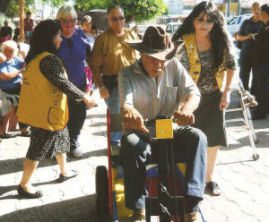 What happens at PET TX-Rio Grande Valley? They began their PET involvement by crossing the border into Mexico and setting up a PET production and distribution site. Later they set up an approved Affiliate in the Rio Grande Valley area. Diabetes is the leading cause of death in Mexico. Amputations are many. "As of this date, 44 carritos PET have been donated by PET, Rio Grande Valley, headed by Stan Marley in coordination with the Rio Bravo Lion's Club La Sautena and Comunidades Unidas Pro Salud, represented by Louise Flippin." "He has trouble walking. I do not know why. He is very poor and prior to receiving PET, his means to move was a walker. He is 70. He collects cans for income so the PET is extremely important to him since he can travel longer distances to collect cans or to travel to receive food packets from the Rio Bravo Lions. Hope this helps. Louise Flippin, Comunidades Unidas Pro Salud in McAllen, TX" (In picture: Stan Marley, PET volunteer, behind recipient; recipient's walker to right; and Lions members in their yellow vests.)
Gifts in honor or memory
In honor of Dee Covey & Jim Long's marriage by Moine & Mabel West; Rachel & Jacob to Guatemala for a PET distribution by Paul & Patty Brown;
In memory of Tillie Baima by Tim & Gail Welte, Kathy & Andy Maynard; Andrew Vandermolen by Mary Vandermolen Devries, Michael Jones; Tom Lisle by Michael Jones;
PET International's Annual Meeting 2011
62 PET volunteers attended our Annual Meeting and Workshop Conference in Moundridge, KS, last September. Persons from around the country attended all or part of the 2 day event. We were so fortunate to be able to hear from three of our distribution partners (Chad, Swaziland and Ivory Coast) either in person or by Skype. Our workshop topics included shop safety, transportation & distribution, CAMP project, book review, standardization, long range planning, internet & website, and open forum. All are welcome to attend. Mark your calendars for September 21-22, 2012 at PET TX-Brazos Valley in Bryan. We look forward to seeing representatives from every trained Affiliate and interested persons.