PETs Carts Enable Those With Leprosy
Do you read about or hear about leprosy in the US? Likely not. We learned years ago that PETs can help those affected by leprosy. Leprosy tends to lead to the loss of a person's extremities like fingers and toes. When they lose these, it is difficult to walk or grip a wheelchair wheel. But they can "palm" PET handles.
In April 2005 PET received its first story of such from Children's Medical Ministries in Thailand. Their newsletter reported that 40 PETs were given to a leper colony. Beginning in 2005 PETs began going to American Leprosy Missions for their work in Angola. Their website says that there are 250,000 new cases each year with 10% being children. There is a multi-drug treatment that can take 6 months to over a year.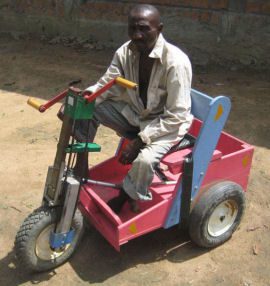 Here comes another story in 2012 of how PET is helping this special group of people. A July email report to our director of operations came from Global Outreach Mission, who received PETs for a mission hospital in the Democratic Republic
of Congo for the first time in 2011. Dr. Look first found out about PET when he met our director of operations at the TECH conference in 2010. (We began sending shipments of PETs to Samaritan's Purse in 2009.)
"Dear Von Driggs, I appreciated so much your arranging for three PET carts to be loaded some time ago into a container at Samaritan's Purse destined for the Pioneer Christian Hospital at Impfondo, Republic of Congo. I spent the month of May this year at that hospital and worked part of the time with the leprosy patients who live at a residence in a village called Gangania, about five miles from Impfondo. One of the leprosy patients, Michel, is shown in the attached photo with his cart that means so much for his mobility. He is able to travel on his own from the lepers' residence to the hospital for his treatment. God bless you richly for this wonderful gift of transportation.
In Christ, Dr. John Look, Director Global Health Services, Division of Global
Outreach Mission"