Volume 16 (PDF version)
Your Gifts Bring Seun To The US!
THANK YOU for making it possible for many to hear her 9 year PET story.
In 1994 the PET Mobility Project started in a one car garage. As the mission grew, PET International was formed in 2004. At our annual conference in October we celebrated anniversaries and was hosted by our founding Affiliate, PET MO-Columbia.
Part of that celebration included meeting and hearing from Seun Oke from Nigeria. At age four, she had polio. Then later scoliosis developed. She received surgery in Kentucky; but still needed mobility assistance. Dr. Tina Slusher became her doctor and champion. Seun pictured here at the Celebration Dinner with cofounders, Larry Hills, retired missionary and Mel West, retired pastor. We were quite taken by Seun's energy and her constant desire to be independent. She has used her PET to receive education and to travel to her current job in Nigeria. She was on a promotional tour for 5 weeks with some down time and fun activities between trips. We were fortunate to connect with staff and Nigerian students at the University of Missouri to spend time with Seun. If you did not get a chance to meet her, please watch the video below to hear her interview in Nigeria before she arrived.
97 PET volunteers and friends attended our two day conference from across the US and Zambia. Workshops were held on various topics including reports from some of our distribution partners doing work in India, Vietnam and Swaziland. We will continue to promote PET's availability and find ways to send PETs around the world with your support.
---
Donor Enjoys Meeting Seun
"We enjoyed your recent visit to Trinity United Methodist Church and meeting. Seun Oke—She was delightful and handles her disability with such dignity. It is a pleasure to support the PET Project. Blessings Sara."
President Thanks You For PET Carts
Thank you letter arrives in its native language and an English translation.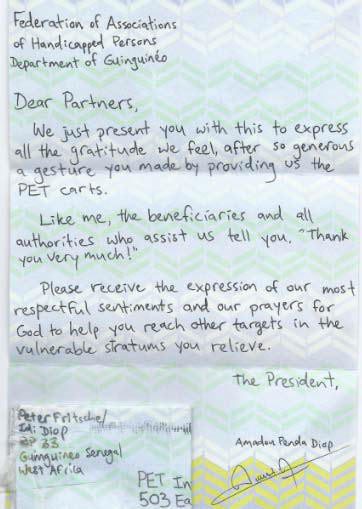 ---
Sweet Potato Farmer Farms Again
PET provided way to reestablish his farm in Swaziland.
"Love this scene on the way to outreach today! So grateful for partners that allow TLC to assist the
disabled. This particular man reestablished his sweet potato farm four years ago after receiving his
assistive device…."
Dr. Harry & Echo VanderWal The Luke Commission (American medical family doing clinics around the country. PET distribution partner since 2009.)
Humanitarian Award
Your donations give our mission life and make connections possible.
Krio Descendants Union of Texas gave PET International their humanitarian award.
Our Director of Operations, Von Driggs, accepted. Krio is a language in Sierra Leone. The Krio Descendants were eager to honor our work which includes their homeland on many occasions. See our September newsletter where we talked about distribution of new and repairs of older PETs continuing once the Ebola travel restrictions are lifted. This award is also for you as you partner with PET to help persons around the world with mobility and dignity.
Mr. Driggs travels on behalf of PET International to various states to different venues. His main tasks as
Director of Operations is to find reliable distribution partners and coordinate shipments of PETs from around the US and Zambia. Thanks to your gifts, he was able to make some trips this year to accomplish his tasks.
Evangelical Lutheran Church of America's annual conference in PA
Lions International Convention in Toronto (A number of clubs in a number of countries have assisted in receiving and distributing PETs in the past from Sri Lanka, India to Zambia. Sometimes US clubs will sponsor PETs to be distributed by their Lions counterparts in far away places.)
Von Driggs again attended the Global Missions Health Conference and TECH Conferences in Louisville in November. He manned the PET booth to share with medical staff and missionaries from around the country
---
7 Year Old Boy Has Elephantiasis
Child/small crank PETs are built at 3 PET shops; Thai boy receives one.
Foundation to Encourage the Potential of Disabled Persons is led by Don Willcox, Founder. They have been a great, reporting distribution partner for three years. This is an excerpt from their 2014 Fall Newsletter:
"After our two long awaited 40 foot containers of donated wheelchairs safely arrived at our facilities on September 4th (after a custom-clearance delay of 34 days), the Foundation is delighted to report that we worked 7 days a week and managed to provide long awaited mobility to 340 Thais by the 1st of October. Two of the recent recipients are photographed above…. The 7 year old Karen minority boy on the right was our first encounter with elephantiasis (which the Oxford dictionary explains as being caused by a nematode parasite).
"Our current waiting list includes another 300 disabled persons who will hopefully receive new wheelchairs no later than December 1st ….. We thank you all for helping us provide mobility to Thai disabled persons…."
Let's continue support to our friend in Thailand who is working tirelessly to help those in need of mobility.