November 2008 – Volume 4
New Life Center, Kitwe, Zambia
The year was 1999. United Methodist missionaries Delbert and Sandy Groves had just taken over the duties of retiring missionaries Larry and Laura Hills . Delbert and Sandy agreed to pick up and continue the fledgling mobility ministry called PET that Larry started with his co-founder friend Mel West.
Although the project started in Africa in the Democratic Republic of Congo (formerly Zaire), civil war forced the Groves to move to Zambia. There they restarted their ministries including PET production at the New Life PET Shop. A local Zambian carpenter named Francis worked at the shop for several years to build PETs.
Mel West, PET co-founder and director of PET Missouri-Columbia, has assisted the PET ministry in Zambia by supplying parts, raw materials, shop equipment and funds. Delbert, on a return trip to the US this spring, reported the need for funds to pay labor and fuel costs. He was able to secure a truck "Big Blue" to distribute PETs to recipients through Goodwill Foundation. Additionally, he cited a great need for someone to direct and oversee the PET shop on a full-time basis. (It is becoming increasingly apparent to the Trustees of PET International that building and distributing

PETs in developing countries is extremely demanding for missionaries and others to direct PET shops on a part-time basis. While the missionaries are passionate, the tasks of procuring raw materials and parts, hiring and supervising employees, managing and maintaining the shop facility, providing quality control, and handling all the logistics of distributing PETs to recipients is clearly a full-time ministry.)
Delbert and Sandy can be reached via e-mail at Groves@NewLifeZambia.com. Their mailing address is P.O. Box 20219 Kitwe, Zambia

Rotary African Mobility Project (RAMP)
Stephen Perry from Bristol, UK, has been working with his friends in the Rotary Club of Clifton for several years to establish a PET shop in Freetown, Sierra Leone. The Rotarians from UK teamed up with Rotarians from Freetown and Bo, and with staff from Mercy Ships' New Steps program, to provide wheelchairs and PETs for the disabled in Sierra Leone.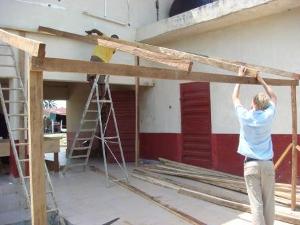 A PET shop was established in May 2008 in a building owned by Mercy Ships. Equipment and an initial supply of parts and materials to build 100 PETs was financed by a Rotary International grant and local funds from the Rotary Club of Clifton. Jake Royall, Director of the PET Affiliate in Luling, Texas, assembled parts and equipment for the start-up and sent it to Sierra Leone in a maritime shipping container.
Jeff Sukup, Director of the PET Affiliate in Tampa, Florida, and Jack Burk, PET parts-maker from Fernandina Beach, Florida, traveled to Sierra Leone in May to set up the PET shop and train local builders: Abu, Eddy, Earnest and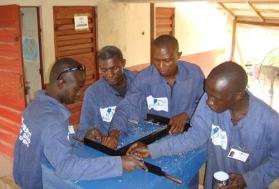 Joseph. In two weeks, starting from scratch, the shop was set up, four PETs were built, and subsequently presented to local recipients.
Thanks to all who have and continue to play a part in making the PET shop in Freetown a reality. Challenges remain to assure the shop is sustainable. Like others PET shops in developing countries, funding will be a constant need. So, too, is leadership to oversee the administrative and technical tasks in operating a PET production facility. PET International, Rotarians, Mercy Ships and others are exploring options for short-term and long-term solutions.
Contact Stephen Perry via e-mail at stephenperry@blueyonder.co.uk He can be reached by phone at 07770 655559.
PET MEXICO-Nuevo Progresso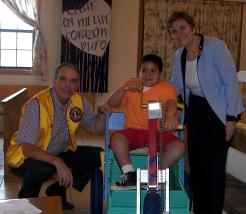 April 11, 2007 marked the opening and dedication of the first PET production and assembly site in Mexico. A host of people and organizations helped get the shop established and continue to provide essential support. Included are PET volunteers from throughout the US (especially Texas), the United Methodist church and Red Cross on both sides of the border, and local Mexican officials.
The shop is located adjacent to the United Methodist Church in Nuevo Progresso. People of all faiths are welcome to work at the shop, support the project financially, and receive the "gift of mobility". Pastor Ruben Hudtler Grijalva provides oversight to the shop along with his many other pastoral duties. Mission Coordinators Susan Hellums from McAllen, Texas, and her counterpart Willie Berman in Mexico have been providing extraordinary administrative guidance to the shop. They have coordinated Volunteer In Mission teams from the US enabling them to work part of their time in Mexico in the PET shop.
Recently Willie Berman announced that consideration is being given to use the PET shop as a multi-purpose facility. They are considering building wood products for sale that are used locally as a means of generating funds to sustain PET production. This concept is being considered in other PET shops in developing countries where funding is critical to sustain production. Unlike the United States and other developed countries where volunteers form the PET labor force, workers in developing countries must be paid a wage as poverty is universal. And it takes money to buy PET building materials regardless where they are built.
For more information contact Susan Hellums via e-mail at shellums@mcfirst.com or phone: 956 661-9771. Contact Willie Berman via e-mail at wberman@prodigy.net.mx.
PET Shop in Cape Town, South Africa & Opportunity To Serve Ministries (OTSM) – Compassion in Action by Walt Hays
Pastor John Pascoe is a practical man. He learned to work with his hands early in life. His dad was a builder and prior to his college and seminary education in Cape Town, South Africa, he worked as a plumber.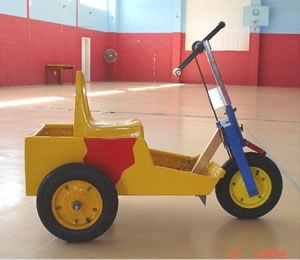 He was called as Associate Pastor of Westgate Baptist Church in the Mitchell's Plain section of Cape Town—a very poor area of the city. The Senior Pastor accepted a call to start a new congregation and John became Senior Pastor of the congregation in 1986.
The congregation of 180 members has a great "heartbeat"; the church VW van has large decal of a FROG on the rear window and FROG as the acronym for Westgate means Freely Relying On God. The congregation of 180 receives no mission support and reaches out in an amazing way to serve the needs of their area. This includes:
a nutritious meal program for 250 children and seniors (every Tues. & Thurs.)
a home for children with dysfunctional families (8 beds)
a shelter for children impacted by HIV/AIDS
a weekly crafts program to help local women supplement their income
computer literacy classes
These ministries are in addition to the regular duties of preaching, Bible Teaching and pastoral care.
John and his wife Evelyn learned about PET while in the US in 2005 and took the training workshop with Larry Hills at Penney Farms. On his return to the Republic of South Africa (RSA) John found that the cost of lumber and metal bolts made it nearly prohibitive to build PETs with the limited funds available from his congregation and community. He then came up with the concept of building the PET body and seat from fiberglass and perfected the design. This cut his costs by 20-25%.
He felt led to build PETs exclusively for the nation of Mozambique, the desperately poor nation that borders the RSA—the minimum legal salary there is $60 per month! By the summer of 2008 he had built and delivered 25 PETs to Mozambique—a trip that John describes as 25 grueling hours on very bad roads. This past spring he and his team of layman had a meeting with Mrs. Armando Guebuza, First Lady of Mozambique. John said, "She was like a little child with tears of joy because we had come to help the children of her country." Because of the large number of children suffering from Polio in Mozambique, John has opted to concentrate on building child-size PETs for the immediate future. Twenty PETs are scheduled for delivery in mid-October and another delivery will be made in early December.
Because of the tremendous need and the problems in delivery, John's long-term goal is to establish a PET shop in Mozambique. In recent months both Lion and Rotary clubs have learned about the PET operation at OTSM and provided some funding.
Contact Pastor John Pascoe at otsm@mweb.co.za or by phone 27-21-371-1402 or write to:
PO Box 747
Westridge 7802
Cape Town, Republic of South Africa
Von Driggs Becomes Director of Operations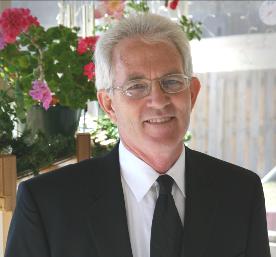 Von Driggs joined PET International in June 2008. The Board of Trustees came to the decision to put on its first paid staff person in April 2008. The decision was based largely on the realization that production of PETs from its ever expanding number of PET Affiliates and Parts-Makers was outpacing distribution capabilities of existing partners. Von is experienced with the logistics of international shipping and has a lot of contacts within the international network of humanitarian organizations working with people with disabilities. This knowledge and skills were a perfect fit with the needs of PET International. Below are a few details from Von's resume:
Worked with Mercy Ships since 1994 in their New Steps program and related international medical and mobility initiatives.
Lived and worked in Freetown, Sierra Leone, for two years.
Worked with PET for several years coordinating shipments of PETs through Mercy Ships to Sierra Leone and Honduras.
Served on PET International Advisory Board.
Von will report to the Board of Trustees of PET International. PET International will provide Von a monetary stipend to supplement the monetary support he receives from his faithful friends and churches.  PET International will also provide travel and office support.
Von will work out of the home he shares with his wife Linda in Lindale, Texas.
Please feel free to contact him via e-mail at driggsv@petinternational.org, by phone at (903) 881-8269, or writing him at:
624 Abbey Road
Lindale, TX 75771
RECIPIENTS FROM AROUND THE WORLD
Zimbabwe and Viet Nam New and after lots of use.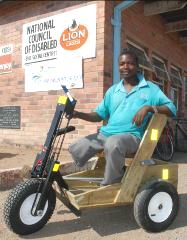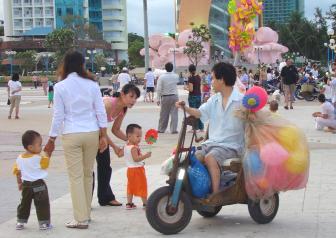 SPECIAL NEWS
Gifts in honor or memory
In memory of Wink Tharpe by The Air Pollution Control Program
In memory of Linda Sue Webster by Robert Webster
In honor of Mel West by Susan West; In honor of Carol Tuthilldaly by Ann Valenta
In honor of Georgia Waggoner's birthday by Marta & James Deardeuff, Jim & Jane Waggoner, Karen & Kevin Waggoner, Virginia & Robert Pahl, and Stephen & Barbara Bugg