The United Methodist Church mission project in Zambia, to which we send PET frames and they build the wooden beds, sent us this report:
"While the St. Andrew's work team was here they also helped with the PET Ministry. They put a bunch of PETs together and then we headed for Chimwemwe and distributed them. We had a great time seeing how God is using those PETs to transform lives. The moment you pick someone up from the ground and put them in THEIR PET you see and FEEL the power of God doing His work!! Christ told us, 'I give you a new commandment, to love one another.' This is the witness and power of the PET ministry. It says clearly, I love you and God loves you, too!! We want to thank you over and over for being a part of the Zambian New Life Center ministries with the PET Project. It means so much to so many."
A few weeks ago an executive with the Goodwill International Foundation made a visit to the New Life Center in Zambia. He is interested in the possibility of a relationship between Goodwill and PET. His evaluation of the work in Zambia was VERY positive. Such a report is always good news.
2003 PET Stories/Reports From the Republic of Georgia
By Eteri Suladze, ACTS (A Call To Serve) staff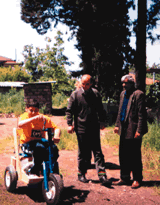 Mikheil Tukhashvili, 14, is from the village of Bodbis Khevi, he has infantile cerebral palsy. His parents brought him to Tsnori when they heard that PETs will be distributed. We had some doubts about the ability of the boy to drive the PET. So two months after delivery of the PET we visited the boy and learned an amazing story.
When Mikheil tried to drive the PET he fell out. His parents were afraid that he could hurt himself and told the boy they had to return the PET so that someone else could use it. The boy told them, "God sent me this PET, people in America are working hard to make it so that I could use it, and I will learn."
His father told us that he tried and tried again and again and by the end of the third week he did it. We saw the boy driving and looking at him nobody could imagine that he had ever had difficulties with PET.

Vazila Ollastivili is 60. He lives in Tsnori and is suffering from hemophilia. He has a little booth in the center of Tsnori where he sells small merchandise to keep his family. He reports:
"Every morning I had to ask my neighbors to help me get to the booth and take there the goods I am selling. In the evening I had to find someone who would help me with the packing and take the goods back home. PET has solved my problems. I am independent now. I can take my goods with me to the booth and back home and I do not depend on people's help."
With Iuza Donadze, 60, we saw another function of PET in addition to giving people the ability to move. Iuza has a past history of stroke. He was paralyzed and was in bed motionless for two months. Then his health began recovering and he could use his hands again. But his legs remained motionless. His family members told us he was so depressed by his helplessness that he refused to eat. The fact that he was not able to move and was bedridden deepened his depression. When we arrived he first did not want to see us. Then we assembled the PET and rolled it into his room. We talked him into trying to drive it and when he saw that the PET is following the movements of his arms we saw him smile.
"It is the first time since the stroke that he has smiled," said his wife. The man, who did not want to see us at first, because he believed that nobody could help him, drove out of this house into the sunshine in his beautiful garden¦
Vitali Tomadze, a carpenter, age 70, lives in Racha Ambrolauri, West Georgia. He lost is right leg because of diabetic gangrene three years ago. He suffers tremendously from his immobility. His wife said it is difficult for him to get to the shop where he works. Everything in his house was made by him, and many of the doors we have seen in Ambrolauri were made and carved by him.Mounted on his new PET Mr. Tomadze was ready to go to his shop. "My hands are itching to do something," he said. "I will pray for those who returned to me the joy of life." His neighbors are happy, too. They have their master back.
Eleven years old Mikheil Gachiashvli from Bodbe, Kakheti, has both legs paralyzed. His father had a car accident and is an invalid who can walk but not do physical work. We were met by a 90-year grandfather who cried when he saw the PET. He was carrying his grandson who was lying on a piece of plywood, which the old man was dragging by a rope.
The boy, who has strong hands, was so happy that he could at last move by himself. He just became numb with happiness. The old man told us that his elder grandson was taken to serve his army term a week ago, so that he was the only person to do the housework and it concerned him how he could do all the housework and drag his 11-year-old grandson around. The PET was more than a timely gift to this family!
Vladimer Jibadze, 54-year-old resident of Lanchkhuti has both legs amputated because of endarteritis. He made himself a little board on wheels to be able to move. He told us when he learned about PETs he was waiting at the entrance to Lanchkhuti for our car, to attract our attention. Unfortunately we did not notice him, he was so low. When given the PET he immediately mounted it, "For the first time in 8 years I am able to look people in the face instead of swallowing the dust of the street."
Shota Japaridze, 41, lives in the village of Kobuleti. He lives alone in his little house. For many years he has been suffering from spinal bifida. The crutches he uses allow him to move around the house, but he cannot walk to the village because he quickly becomes tired. He is very good at handicraft and is earning his living by selling various items he makes from wood.
"The PET is exactly what I needed. I can go to the village and buy the materials by myself instead of asking others. I can visit the people and talk to them. I am so thankful to the people who designed and constructed the PET and made it possible to deliver it to Georgia."
Bezhan Epremidze, 45, lives in Kutaisi. Two years ago he lost both legs. The shock caused by becoming "a stump of a man", as he puts it himself, resulted in a stroke. Bezhan was the only breadwinner in the family. His disease and becoming an invalid brought the family to the edge of poverty. To this added his deep depression and loss of hope.
We have met him on the street sitting on a little cart made from a perambulator, and pushed by a neighbor. We were on our way to Ajara where two invalids were waiting for the PETs. We stopped our car and talked to him in the near future.
Two weeks later we called him and told him we were delivering his PET. We did not even have to ask for the flat he was living in. Nearly half the residents of the street were sitting outside with Bezhan who decided to wait for us there so we would not miss him.
When he saw us he got so excited he could not speak. Everybody was so happy and so eager to help us assemble the PET that it was ready in to time. Very soon Bezhan was sitting at the wheel of the PET. Then all of us followed him as he rode around the house and in the street. It really was a rewarding evening!
Mirza Tsirukadze is suffering from infantile cerebral palsy. It was difficult for him to drive the PET, but he kept trying and at last he was able to drive it 100 meters without stopping. We were glad to leave him his well-deserved PET!!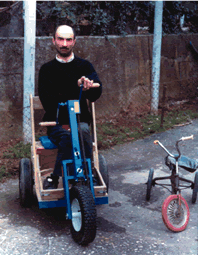 Mamuka Chikobava, 38, lives in Samegrelo, Senaki, Republic of Georgia. His legs do not function. He has never accepted his immobility and was fighting it as he could. Neighbors gave him a little child's tricycle, and he would sit upon it and drag himself around. He dreamed to get out on the street, to visit his friends, and to be independent. PET fulfilled his dreams. A month after the PET was delivered to him he wrote a letter.
"Dear friends, I do not have words to thank you properly. I was a miser and now I am a man. You have changed my life. I did not smile for years, and now I am smiling. Thank you for the new life."
---
2003 Haiti
"Greetings from Haiti. I've attached a photo of Phisnor, who was blessed to have received the PET (from PET Florida) you sent ¦ You will be pleased to know that the PET performed extremely well. Phisnor has to travel some extremely difficult terrain just to get to school¦If anyone asks, the PET can be considered an 'off-road' PET. My compliments to the designer and the production team."
Greg Van Schoyck, at HAFF
---
2003 Corn Picking PET
Guatemala: Ruby Abel Patzan, polio victim, lives on a farm with his parents. His wheelchair, with its small wheels, will not allow him to do farm work. He is thrilled with his new PET, as it enables him to get out into the fields, as shown below, where he is picking corn for the cows.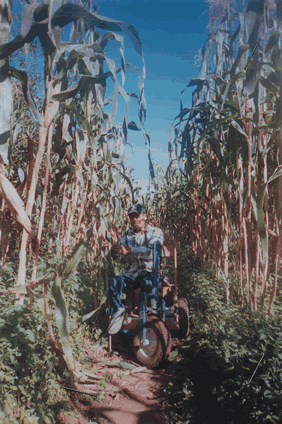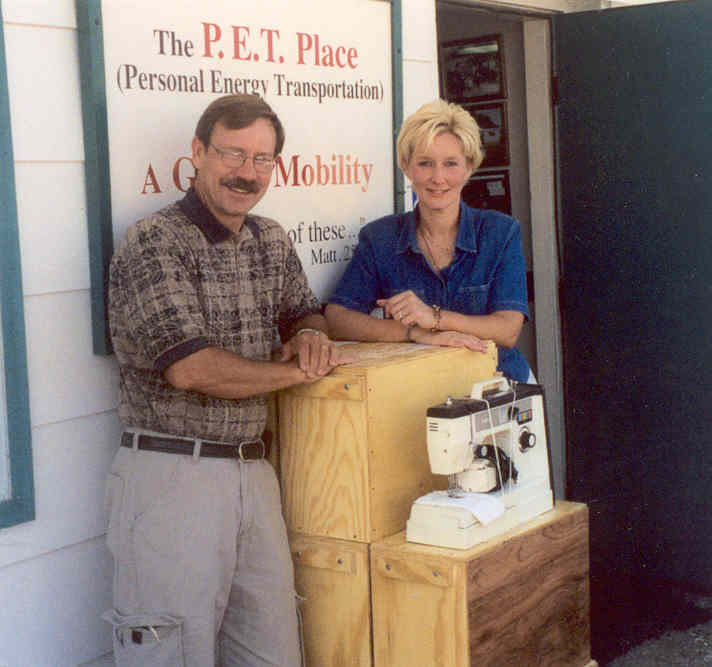 2003 PETS AND SEWING MACHINES TO HONDURAS
The Drukers, of Hermann, MO, are shown with ten used sewing machines that went to Honduras along with some PETs. (2004 Update note: We received great reports, thanks, and requests for more PETs.) They work with a mission there whose basic work is healthcare, but which also serves other areas of need. PET Place receives, renovates, and ships many sewing machines and typewriters each year – items needed in the mission field. (Any parts, supplies, etc. needed for these are paid through the Container Project also directed by Mel West. The Container Project covers anything other than mobility.)
---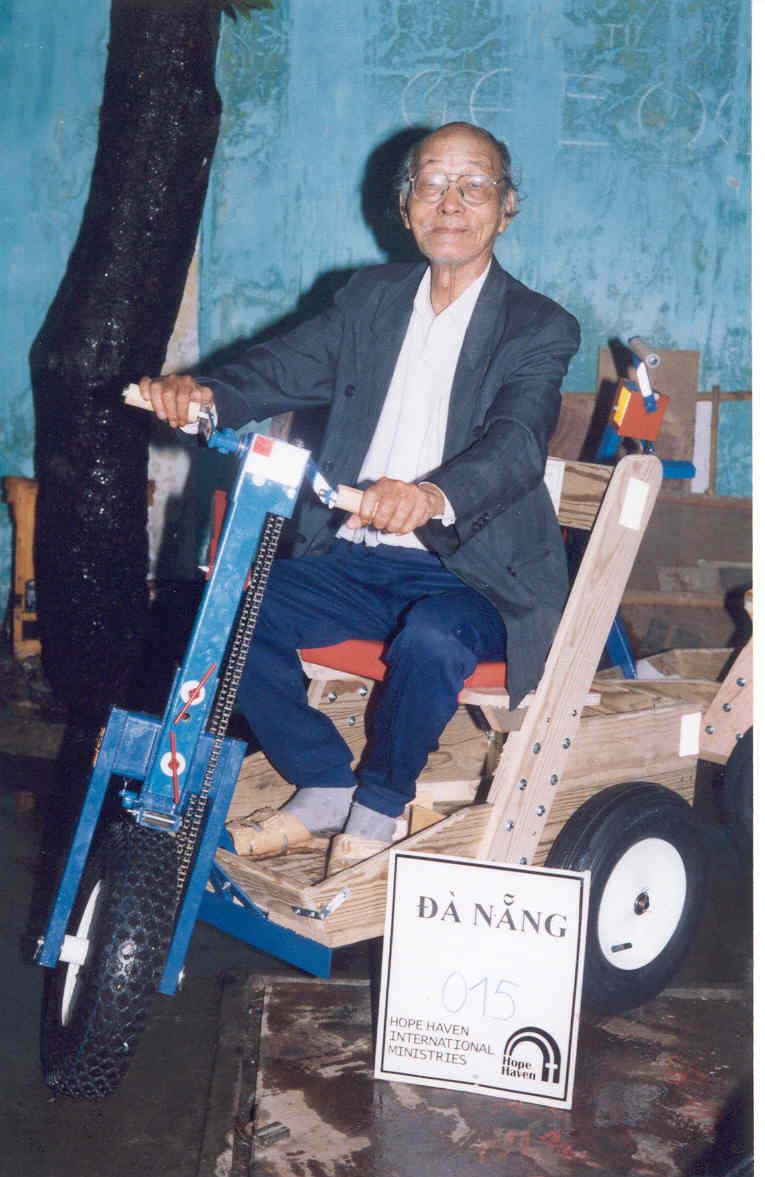 2003 NEVER TOO OLD FOR A PET
This 82-year-old man in Vietnam is, to our knowledge, the oldest person yet to receive a PET. Nguyen Van Xuan had a stroke three years ago and cannot walk. He lives with his wife and three children and was delighted when the Hue Da Nang Red Cross arranged fro him to get a PET.
---
2003 LARRY HILLS VISITS PET IN SIERRA LEONE
Three shipments of PETs have gone to Sierra Leone, for the ministry of New Steps – a part of the Mercy Ships program. The majority of those have gone from Florida PET, and Larry Hills felt "strongly led" to go and make an evaluation visit, which he did in September. The above photo shows him talking with some of the PET users there about their praises and problems.
The polio communities of Sierra Leone are unique in that the handicapped are not scattered through the general community, but are gathered together into communities consisting almost entirely of the handicapped. These polio communities found little or no sympathy from the general population, so banded together to assist one another. They settled into abandoned buildings, and tried to meet their own needs for housing, water, food and employment.
They have tried several ways to generate funds to support themselves from metal work – making charcoal braziers, machetes, hoes, etc. The PET has proven to be a tremendous aid in their daily lives. The terrain where they live is hilly, rocky, and rough. All must go some distance to fetch water, using the five-gallon cooking oil containers available. Two are placed in the back of the PET, and one in the front. Bricks, steel, and other items are also hauled.
The PETs are in steady use, driven by men who are amazingly strong in the upper body. The result is that the PETs receive extreme use, giving Larry an opportunity to see where we can strengthen parts. This is being done and will result in a better PET for all.
Mr. Hills reports hearing such comments as "these PETs saved our lives" or "these PETs are our legs" or "without the PETs we could not have settled here" and "they give us life."
We are grateful to Larry for making this difficult trip and to those who helped with funding it.
---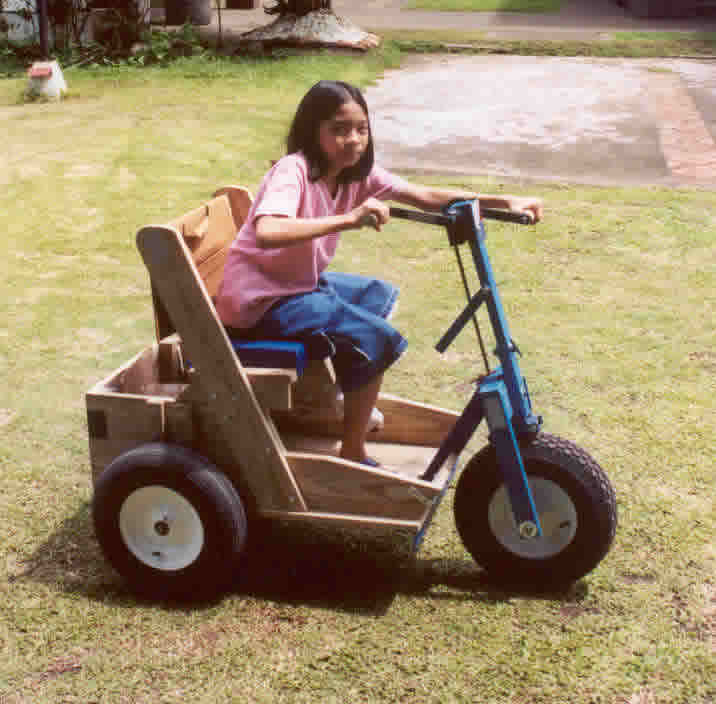 2003 FATHER WRITES GRATITUDE LETTER
I am the father of Regina H. Iglesia. She suffers from Pseudoarthritis (false joint). You have sent her a tri-wheel PET, a paralympic doll, and a walking stick with four legs. These are all very helpful aids for my daughter's 'gifted' situation.
The PET is used every Sunday in going to mass. People are amazed and look with wonders when they see the transport. Also, now she can roam around the neighborhood and visit relatives and friends.
Regina is fondly called Ejing and is in her first year of high school. I can gladly say with humility (I am a proud father) that she is at the top of her class. She was offered the Metrobank and the Philippine Chamber of Commerce Scholarship.
May the Lord bless you and may your tribe increase!!
Noly T. Iglesia, Philippines
---

2003 PET IS ADAPTED IN MEXICO
One of the attributes of the PET is that it is adaptable to local needs and circumstances. PET is basically designed to be a generic, one speed mobility device for persons living where roads/trails are rough, and where hauling capacity is important. But situations vary and fortunately the PET can vary.
PET Florida sent one of its volunteers on a medical mission to Mexico, and they took a PET. The team of 22 did over 3000 cataract surgeries, and fitted 6,000 pairs of eyeglasses.
The instructor at the local high school there saw the PET and his students copied it for their street conditions. The photo above shows two students completing a PET. They plan for a regular production.
---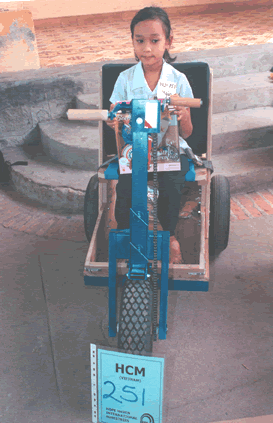 2003 10 YEAR OLD RECEIVES GIFT OF MOBILITY
Pham Tghi Nim Ngan had polio as a baby and received THE GIFT OF MOBILITY this year. Now she can go to school and will likely be the "belle of the ball" in her PET.
---
2003 VON DRIGGS, SIERRA LEONE, VISITS PET
Von Driggs, staff person for Mercy Ships/New Steps, in Freetown, Sierra Leone, made a day's visit to PET Place in Columbia, MO, in May. PET Projects in Columbia and Florida have sent 119 PETs to Sierra Leone, and Florida will ship 75 more this fall. We were most pleased to have Von come by for a get-acquainted and evaluation visit.
New Steps works with several hundred polio victims and their families in Sierra Leone. The PET is a "natural" for the needs of their patients, and they love them. "Look up almost any time in Freetown," said Driggs, "and you will see several PETs buzzing around."
One of the things discussed concerned the possibility of the mission in Sierra Leone producing the PETs there. The ideal is for the PETs to be produced by the people who need them, thus giving employment and ownership.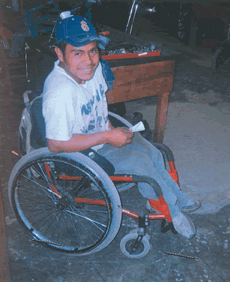 ---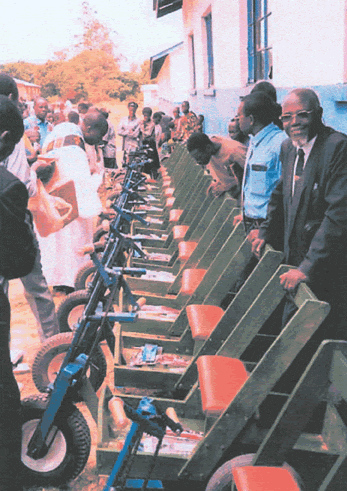 2003 Angolans Receive PETs
Zambia: Africans like ceremonies, and especially those like the one above, where PETs are being presented to Angolan landmine victims. The UMC mission station in Zambia, headed by missionary Delbert Groves, receives PET frames, wheels, tools, etc., from Darby, MT, and Columbia, MO. They add the wooden frame, train the drivers, and distribute the PETs.
---
2003 Freetown, Sierra Leone, Africa
"I wanted you to know that this past week we finished a 3-city PET and wheelchair distribution. The disabled here in Sierra Leone have suffered greatly over the past ten years and have many physical, emotional and spiritual needs. We are so happy to have the opportunity to collaborate with you and Wheels for the World in this effort. Thank you again to all who had a part in bringing this gift of grace and mobility to the disabled here. I wish you and your teammates could have been here on this end to be a part of the distribution."
Von Driggs, Mercy Ships/New Steps
---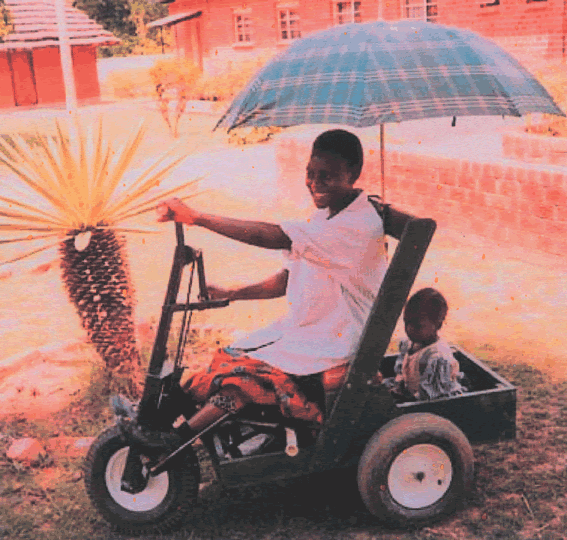 2003 An Unselfish Act of Kindness
E-Mail to PET, from Delbert Groves, Zambia: "We are back at the work of assembling and distributing PETs (after having to move because of the war). As in Congo, the need here is great and the waiting list is overwhelming.
"The very first PET that we gave out we had to take back because the PET was too big for him. The man was a midget. We are so thankful that the PET shipment from the USA included smaller children size PETs. We assembled one of these and soon had him on his way. You should see all the smiling faces of those who receive the PETs.
"A lady came by our center who really needed a PET. She had braces on her legs and was walking with crutches. After explaining the PET she said she had a friend who could not even walk with braces, and asked if we could give the PET to her friend instead of her. An unselfish act of kindness like this is rarely seen. We are so thankful we could give her AND her friend each a PET." (A young mother, who was stricken by polio and wore heavy leg braces, could now move about with her small daughter in the cargo area of the PET.)
---