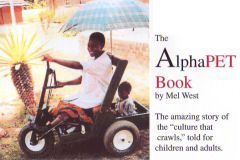 AlphaPET Book now available:

Our director emeritus and co-founder of PET has written a book to help tell the story of PET and those who need this rugged mobility device. The net proceeds will build and ship more PETs: adult & child crank and pull versions.
---
We have 2 new videos posted on
.  Check them out and enjoy.
PET song with slide show of recipients from around the world posted 10/09.  Dr. Roger Hofmeister wrote the PET Song in 2006.  Dr. Jack Allison and team produced the song in 2009. (Also in DVD mentioned below.)
http://www.youtube.com/watch?v=DXRBqdmNs3w
Interview with our director and PET founder, Mel West, by MU students posted 10/09.  If you've never met Rev. Mel West, here's your chance to see him.http://www.youtube.com/watch?v=pA-Telrz4i4
We have an updated promotional DVD.  We would be glad to send it to you to view and share with others the mission of PET.  Send us your postal address.
12 min. Where There's a Wheel There's a Way 2011 (Main video showing distributions around the world.  Watch this video from the link on our home page.)
2 min. African Distribution to children 2012
3 min. PET Song Slide Show (Also at YouTube address listed above.)
7 min. Swaziland Distribution Excerpt 2009
3 min. VBS (Vacation Bible School) 2002
(Whole VBS kit is available; go to VBS link below.)
3 min. Various Outreach Guatemala 2010
Email or write to us for a copy of our latest DVD.