MH4H distributing Mobility Carts in Haiti
From PET – The Long Road:
by MH4H | Jan 29, 2018 | Team Blog |


To start the weekend, the PET (Personal Energy Transportation) team headed north to begin distributing twenty-one PET carts to those in need across the Central Plateau of Haiti. Despite, or perhaps through, the elements and cultural differences, the team saw the evidence of God's Spirit going before and with them. Read Fran's account of how a single gift can have eternal rewards.
Continue reading—>
Angel & Efrain receive Gifts of Mobility in Ecuadorian Amazon Rain Forest (0:57 video)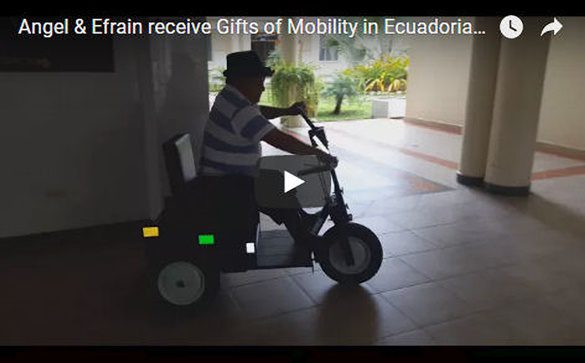 Attached is a video on the distribution made in Macas on Jan 18, 2018. Macas is located in Ecuadorian Amazon Rain Forest Region. We were much happy to help there. It took 7 hours drive through the High Lands – the Andes.
God bless you!
Isabel Valdez de Escala
Junta de Beneficencia de Guayaquil
Guayaquil, Ecuador
Babita's ride of hope
Babita Uraun is 10. She is full of energy, is fond of singing and loves spending time with toddlers at the Early Child Development Centre (ECD) located near her home in Sunsari. Coming to the ECD and sending the day gives her a space where she can escape from the challenges that come with her leg disability.
Since Babita had a leg disability by birth, it refrained her from actively moving around like other children of her age. But that didn't repress her zeal to study. She always told her parents that she wanted to go to school. Babita's parents are financially poor and don't own any land and they both work as daily wage labourers.

The only nearby primary school is located a kilometer away from her home, so it was physically not possible for her to go to school without any proper support. Her father shared that if he goes to drop his daughter at school and pick her up, he would lose time to earn his daily wages. That would make it even more difficult for him to provide food for his children. So, there was no hope of her being enrolled in a school.
With no options left, Babita just kept going to the ECD and helping out as she found great joy in spending time with the kids there.
Despite the hurdles put on her way, a ray of hope emerged when Babita received a Mobility Cart provided by United Mission to Nepal.
After the distribution, Babita proudly rides her cart around her village. Life is no longer restricted to her house and the ECD in the neighborhood. But most important of all, Babita can now go to school all by herself with a little support from her sister by riding on her brand new colourful Mobility Cart.
Mobility Reaches Sabubeni Leni
From Mobility Reaches Sabubeni Leni:
by Richard Stephens, December 12, 2017
Dzamba Village, Malawi … It is easy to remember Sabubeni Leni. He was in the audience in September when members of the Malawi Project's board of directors accompanied Larry Vincent, an American missionary from Decatur, Alabama to Leni's village quite close to the Zambian border.
The story of meeting Salubeni appeared on the Malawi Project web site on October 30, 2017. His story of losing his leg due to an untreated inflection in his leg was quite touching, and made everyone realize how easy small accidents can lead to major problems in the poverty of Africa. https://www.malawiproject.org/small-wound-leads-to-amputation/
After meeting Sabubeni and learning of his need for mobility Wilson Tembo, of the Malawi Project immediately took steps to have a mobilty unit delivered to Sabubeni. In a matter of weeks, a unit was delivered to Lilongwe, then driven out to the village where Sabubeni lives.
In the picture one can see the moment when Sabubeni was able to climb into his brand new mobility unit, and move around without the use of crutches in over a year. Appreciation goes to Mobility Ministries of Demotte, Indiana for making this moment reality.
United Methodist Women distribute Mobility Carts in Liberia (2:02 video)
From Mobilizing the physically challenged in Liberia:
The United Methodist Women in Liberia on Nov. 24 distributed Personal Energy Transportation devices to the physically challenged in Ganta City and other parts of Nimba County in northern Liberia. The women's group, in partnership with Mobility Worldwide (formerly Personal Energy Transportation Inc.), launched the distribution activities on Oct. 6, and has since been giving out the wheelchairs to needed individuals.
Continue reading—>