Gates Foundation, Facebook & PayPal incentives to Give Mobility Tuesday!
#GivingTuesday is a global day of giving, celebrated on the Tuesday following (U.S.) Thanksgiving.
Starting 7 a.m. EST Tuesday, November 28th, the Bill & Melinda Gates Foundation is matching up to $2 million of funds raised on Facebook for U.S. nonprofits. Facebook is also waiving its fees for donations made to nonprofits on Facebook this #GivingTuesday. Use the Donate button at https://www.facebook.com/MobilityWorldwide.
Beyond that match, from November 28 through December 31, PayPal will add 1% to all donations made through PayPal's Holiday Campaign Donate page. Searching for "mobility" at that page leads to the Mobility Worldwide page at https://www.paypal.com/fundraiser/charity/72277. PayPal Giving Fund also covers all PayPal fees, so Mobility Worldwide receives 101% of your donation!
PayPal says "Celebrate #GivingTuesday! Donate, we'll add 1%."
Even better, PayPal Giving Fund 101% benefit continues through 12/31/17!

I used to walk on my hands … but when I got this cart from Mobility (2:06 video)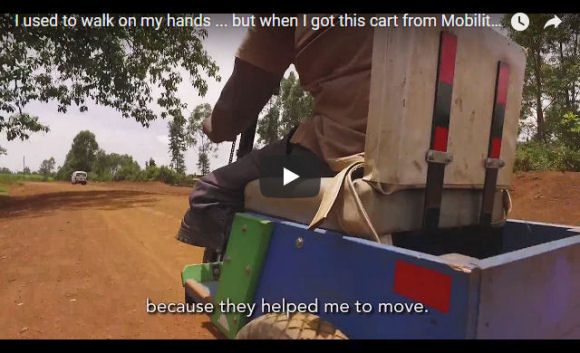 Give Mobility to more entrepreneurs like David!
Thanks to ONEPASS Productions!
More on David at Mobility Cart enables cell phone repair entrepreneur
Manuel & Ismelda receive Gifts of Mobility in Honduras (1:51 video)
Carts sent to Yorito, Yoro by AHMEN (Alabama Honduras Medical Educational Network):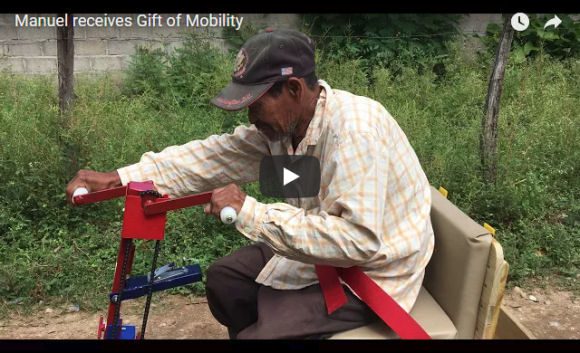 From Janet Espinosa:
What a fun day it was!!
Manuel lives in Ayapa, a large community just outside Yoro. He is 65 years old and lives with his blind mother in a one room structure. He had poliomyelitis as a child and walks with the aid of a plastic chair.
Ismelda lives near an industrial plant on the outskirts of Yoro. She is 49 years old and will have the support of local church members. Her feet were turned out at birth and have never been corrected. She walks with a walker, but was thrilled with the PET.
Fanny has id numbers and additional information. She keeps good records. In the photos you will see Ramon (I believe) who uses his PET all over the place and met us when we arrived with Ismelda's PET. Also another person was going down the highway in his PET and we got a video through the front windshield.
Mobility Worldwide also provides pull-carts for those in need (2:27 video)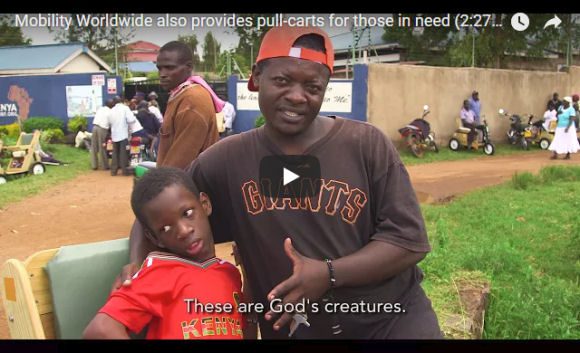 Help care for more like Barry with cerebral palsy!
Thanks to ONEPASS Productions!
Mobility for Bertha
From Mobility for Bertha
by Richard Stephens on October 20, 2017
Cobra Nearly Ends her Life
One would think a child is safe when they are playing just outside their home, especially when their home is six kilometers away from the main road, in a rural setting where little crime exists, and within ear sound of her mother and the other village leaders.
This was not the case for seven-year-old Bertha Jere whose whole life has been in a tiny village an hour north of Nkhotakoto on Lake Malawi. For young Bertha the sudden ordeal would plunge her into a rush against the clock and nearly take her life. If they failed to reach Kamuzu Central Hospital in time she would surely die.
Their arrival was just in time to save her life, but not in time to save her leg. A giant Cobra had bitten her, and the poison had already done its damage. Amputation was the only solution if she were to live. After her infected leg was removed an artificial leg was attached. While this helped insure her survive it did nothing to give her a future. Her movements were confined to her home, and her lack of mobility made it impossible to go to school, or spend time outside with her friends. She was confined to her home.
Earlier in the year when Wilson Tembo delivered emergency food supplies for 1,260 people in her village area, he learned about her plight. He had a solution. When he returned to the warehouse he made arrangements to send a mobility unit to her, thanks to the first shipment from Mobility Ministries in northern Indiana that had reached Malawi a short time earlier. It changed everything.
Today Bertha hand pedals her way to school, and to other points around the village. She is no longer confined to her tiny house a long way from the road and her future is much brighter than any time since she stepped outside her village home and came face to face with a deadly snake.