13 years with Regina's Mobility Cart: high school, magna cum laude, architect!
A wonderful e-mail came this week, but let me start from the beginning. In 2003 we sent a PET to Regina Iglesia in the Philippines who has pseudo arthritis (false joint). We received this letter: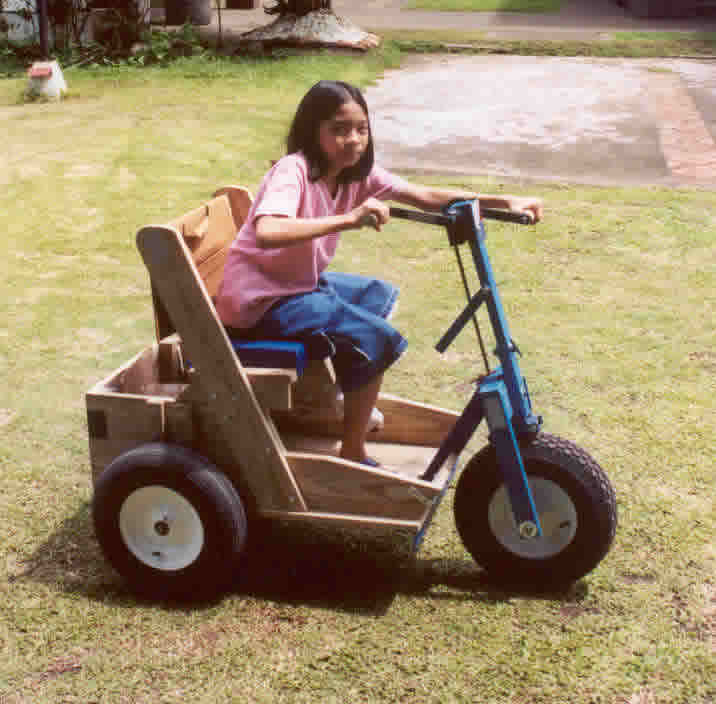 Regina Iglesia, 13, on her cart
"I'm Regina Iglesia, a user of a PET. I am 13 years old and a first year high school student. I want you to know that I am so grateful to have the PET. It is really a great help. I use it going to church to celebrate the Eucharist and in going to other places to visit relatives. I am so happy to have the PET because now I can get out with the public.

Even though many people look at me I don't bother them anymore. I realize they are just looking at me because they are curious and want to know what happened to me. They also take time to look because of the cute and extraordinary PET you gave me. It's just proof that everyone appreciates the PET.

Most of all I want to express my gratitude for the PET and hope you can help more people. I also hope more people will become donors for this project." – Regina Iglesia
Through the years we received photos showing her graduating at the head of her high school class, standing on her crutches and wearing a white graduation robe. Her father reported in 2008 "…After her graduation in the secondary school, she decided to have her left leg amputated. She now uses a prosthetic leg to aid her in walking…"
Today we received this e-mail from her father:
"Hi, Mel! This is Regina Iglesia's father whom you gave a PET. She graduated magna cum laude at the University of the Philippines. She is now an architect, and she is number 5 in the Master Plumber exam. The PET you gave her is now being used by our parish to carry our Lady of Penafranca." – Noly Iglesia.
***************************************
"Gratitude is the sign of noble souls." – Aesop, 6th century B.C….
Mel West, Director Emeritus
Mobility Worldwide MO-Columbia
Mobility Carts delivered to Sarmada Rehabilitation Center in Syria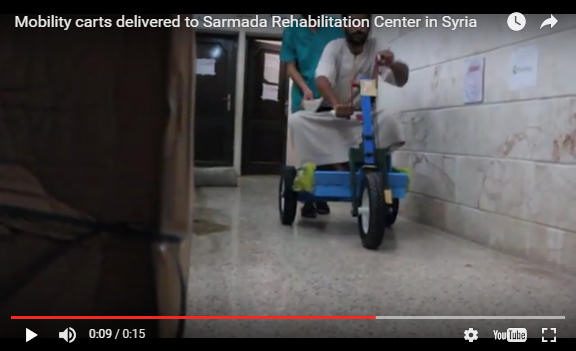 Syrian Mobility Cart recipient
We just received some photos back from one of our partners in Turkey called the Union of Syrian Medical Relief Organizations (UOSSM) which has multiple hospitals across the border region in Syria. They received a container of donated supplies and equipment including several PETs. The PETs were brought to Sarmada Rehabilitation Center in village of Sarmada, Syria and as you can see in these photos and video, they were a big hit among the patients and staff. It looks like the PET brought a smile to this man's face which is such a gift during these terrible times that the people of Syria are going through right now.
Thanks for this wonderful donation!
AMANDA PANIAGUA | Shipments Manager
MEDSHARE • Improving the quality of life of people and our planet
Junta de Beneficencia de Guayaquil ramps up Mobility Cart distribution in Ecuador
Dear friends of Mobility Worldwide: We distributed this morning 20 mobility carts !! There was Dr. Flor and Dr. Miranda, from our Rehabilitation Center. Recipients were taught how to use the vehicles and how to make some ajustaments.
There were 2 TV channels and newspapers. We thanked Mobility Worldwide and said we had received two donations from you.
Recipients were so happy. There were children too!
We loved your new models.
Thank you very much!
Isabel Valdez de Escala
Foreign Relations Director
Junta de Beneficencia de Guayaquil
Before/after Mobility Cart – Côte d'Ivoire February 2016 recipients
| | |
| --- | --- |
| Receiving Mobility Cart, Côte d'Ivoire | Riding Mobility Cart, Côte d'Ivoire |
"Gary Moreau said he is excited about the long term relationship with 1040i within the Doropo region. Through 1040i, PET was able to give the gift of mobility to 82 disabled persons within 8 days. In particular, there was a 70 year old brother who brought his 63 year old sister to get new PET carts!"
Continue reading…
Small cart recipient "floats" in Honduran Independence Parade
Honduran child on Mobiity Cart
Good morning brother Von. Attached please find a photo taken yesterday of a child in a parade in Trujillo Colon Honduras, who made a "float" out of his Mobility cart. Pretty neat! Blessings to you.
Jim Taylor
Jesus is Real Ministries