Message from
Dr. Martin Williams, Jungle Hospital
I just wanted to send this email to let you know how much we appreciate you allowing us be a part of your ministry.  We have had the great pleasure of seeing the look in the face of the recipients that are receiving these mobile chairs.  What a great idea to help those who can still get around using their arms.  All of the men and women who have received the mobile chairs so far, have expressed extreme gratitude.  When we follow up on them we find that they are active and enjoy their new sense of freedom.  Being able to provide these chairs to disabled people has expanded our spectrum of service to our patients.  As you know we are a rural medical missions outfit, where a significant number of people are disabled (or unable to walk), but still have the use of their arms.  In our jungle setting, these people have been given a new freedom of movement and the capacity to contribute to their family's livelihood.  Also it is an incredible physical therapy instrument and morale booster, especially for the male figure in the family unit. Thanks again for allowing us be a part of your network and we'll keep a watchful eye for more people who could benefit from such a wonderful instrument. 
In His Love & Grace,

Martin G. Williams, MD
Jungle Hospital, Honduras
www.HealingHandsGLOBAL.org
Jeffrey Mejia, PET Recipient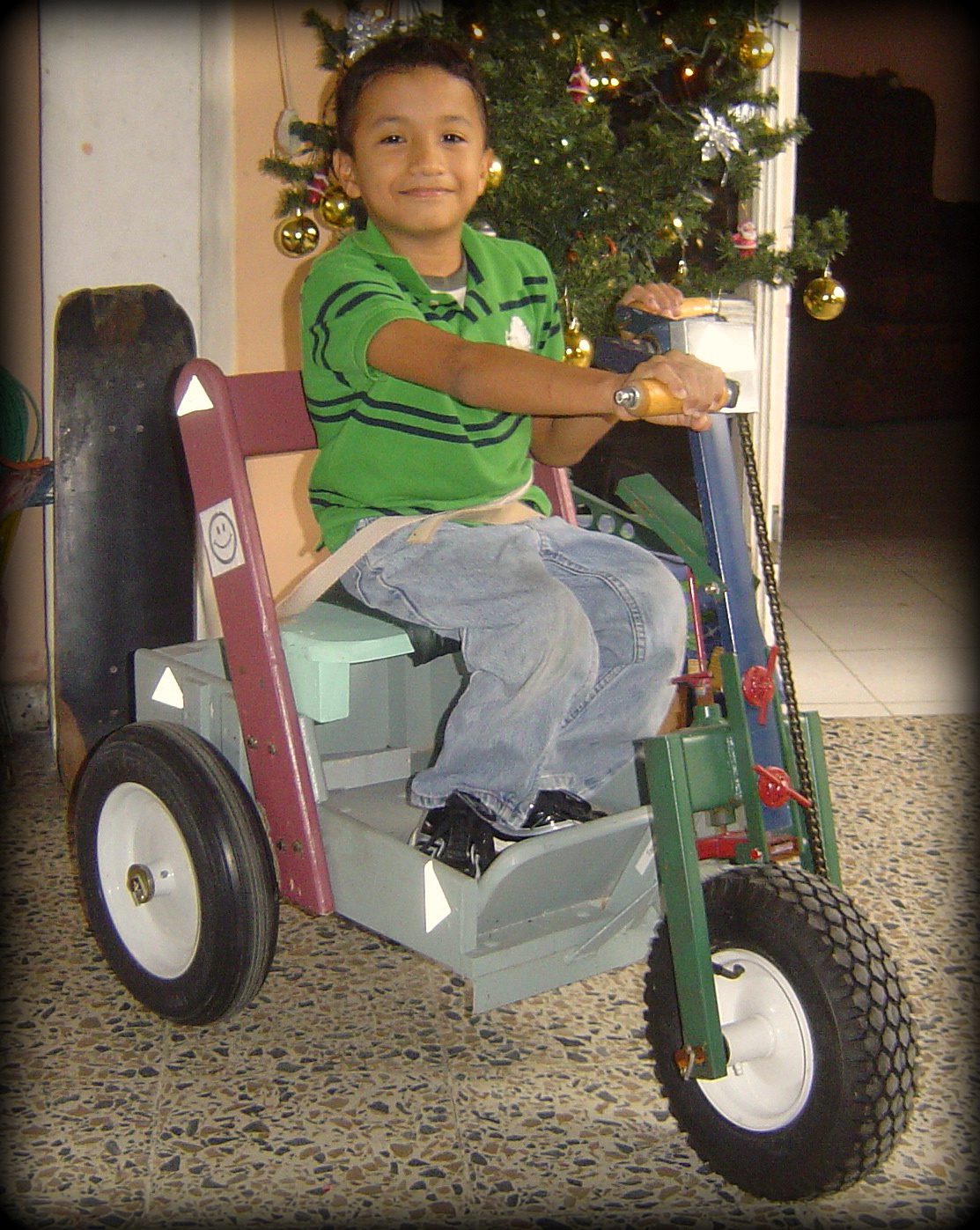 Jeffrey, age 8, lives in San Pedro Sula. He was born with a tumor on his hip causing his legs to be deformed. In spite of his condition, Jeffrey goes to school and is eager to develop as a normal child. He used a skateboard to move about pushing himself with his hands. Now he has received a P.E.T. and is happy to peddle around his neighborhood, school, and places where his skateboard is not able to take him. When I visit him, he likes to practice his limited English with me, he calls me "Mr. Richard". Jeffrey's family is poor and for this Christmas they have no presents under their tree. But thanks to you, now Jeffrey's Christmas and future is brighter.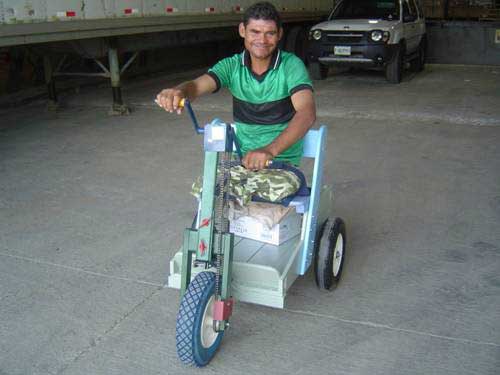 Eugenio Lara lives in San Pedro Sula, Honduras, and is one of the many disabled in the region. He lost his legs at the age of 36 as a result of a tragic event that changed his life forever. He was a strong, energetic, hardworking man who built wagons, tamed horses, and cleared land.  One evening on his way to visit a friend, he was encountered by a group of thugs, who beat him unconscious for no apparent reason and poured gasoline over his legs, burning them mercilessly. He was rushed to the hospital, where doctors attempted to save his legs and life, but the damage was too severe and required amputation. The identity of those men is still unknown, but the impact of this crime will remain in Eugenio's life and family.

Now, at the age of 37, his physical injuries are healed, and in spite of his disability, he is eager to live his life with optimism and joy. His family is fortified by his strong spirit and motivated to move forward together. Eugenio has not married and has no kids; before the tragedy he took care of his mother. Now his sister, Emma, herself a single mother, takes care of him and their mother.  It is impossible for Eugenio to use a wheelchair. He lost his legs close to the hips, and the majority of his weight is at the back of the wheelchair, causing it to flip backward when using it. Fortunately, we were able to help. His new PET worked out perfectly for his condition, allowing him to freely move about and operate it with ease. His strong, able arms make the use of the PET a snap. It was an amazing sight; he declined to return in the cab that he had arrived in with his family, assuring us that only his PET was necessary for him to return home. He departed needing no help from his relatives for the first time since the accident, and waved gratefully to us as he left.
"I lost the use of my legs, now what?"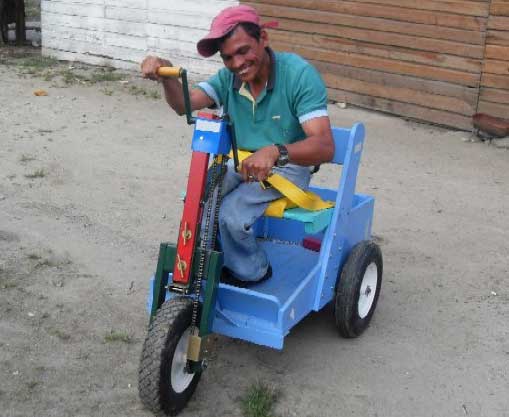 That's the heart's cry for thousands in Honduras and millions worldwide at birth and later in life. In the U.S. there are a host of organizations and Gov. agencies whose sole purpose is to give an answer to that question, in both word and deed. In Honduras, however, there may be a few organizations with limited resources to help, usually only in the larger cities.

In poor communities, the disabled are often confined to a modest shack, dependant on help from friends and family who are usually struggling themselves. Most of the streets are rough dirt roads, even those who can afford wheelchairs find it impossible to leave their homes and move about in the community, and some perish as a result.

PETs to the rescue! A simple hand powered three wheel cart is the answer. It's a beautiful sight as we have the privilege to see the tears of joy on the many faces of those who have received a PET (Personal Energy Transport). Usually dressed in their best outfit they anxiously try out their new hand powered vehicle. Pastor Luciano and I delivered these PETs in the Masca region where he pastors and runs a feeding program for 300 children.

Download the latest Arms of Mercy Honduras newsletter here.