Snake Bites, Polio, Poverty, War…..
Why do people around the world need your help with mobility?
There are many reasons why our brothers and sisters around the world need mobility and your help. In this newsletter, we are going to highlight three of them. Write to us for our list at pet@petinternational.org.
We share this story from our Affiliate production shop at PET TX-San Antonio. They have an ongoing relationship with AMIGA (A Mission In God's Amor [Love]) which operates out of a catholic church in Texas. This is an excerpt from their March newsletter.
"AMIGA is a missionary group that goes to Honduras a couple of times a year for medical and building missions. …According to Carlos, San Antonio PET #646 was recently provided to a lady named Novey who came to AMIGA's medical clinic in the village of El Carmen….Novey was walking with the aid of two homemade crutches. The doctors' assessment was that she had probably been bitten by a snake, and the neurotoxin-type venom produced weakness in her legs. Fortunately, the PET will allow Novey to take care of her four children for now, with the hope that she will make a full recovery."
Polio Doesn't Stop Merlin From Marrying
Merlin has a repair business and now is married all while using his PET.
Medical Teams International is one of our distribution partners and works in Haiti. They sent a report this summer about this life changing event they witnessed that included Merlin riding his PET in his wedding. We can see from the picture that Merlin has well used his PET. Thank you for partnering with us to make these stories possible and help persons have a fuller and more active life.
"Hello Von, here are the photos of Merlin, he is 36 years old and he suffered from polio when he was a little boy. I'm sending you some photos of him using his PET cart in his wedding.
"He works fixing bikes and motorcycles, and he uses his PET cart to move around where he lives, and long distance near his house, too.
"Thanks again, Consuelo Alzamora Muñoz, O.T
Clinic & Outreach Manager MTI/AP"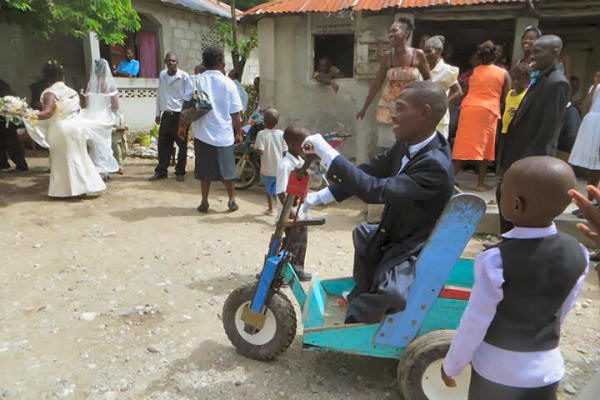 Polio. Poliomyelitis (polio) is a crippling and potentially fatal disease that still threatens children in parts of the world. The poliovirus invades the nervous system and can cause paralysis in a matter of hours. It can strike at any age but mainly affects children under five.
1980s: about 1,000 cases per day
2012: fewer than 250 polio cases were reported worldwide
Today: 3 countries that have never stopped transmission of the wild poliovirus:
Afghanistan, Nigeria, and Pakistan.
Experts are concerned numbers could easily rebound if we don't stay the course. (Taken from "Rotary and Polio Fact Sheet.")
You are helping people around the world through PET who did not receive a preventive vaccination and have some paralysis due to polio.
PET OH-Stow Celebrates #100
You can help us grow the PET family.
After training and inspection of initial PET production, PET OH-Stow was born in 2013. Vince Petno below is their president. This past June they celebrated the production of their 100th adult/large PET.
PET International has 24 approved Affiliate locations: 23 in the US representing 14 states and 1 in Zambia, Africa. Your donations help us to achieve one of our main objectives to "coordinate PET workshops" which includes start up assistance, standardization/quality oversight, continued guidance & updates on improved PET production and more.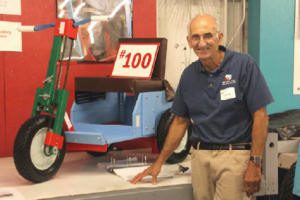 You can help by
Sharing our PET story
Finding a team of interested persons that would be able to start a production shop, especially where PET isn't currently.
Sending gifts to PET International to complete its mission of expanding PET production and finding more reliable distribution partners like AMIGA mentioned above.
Food For The Poor in Jamaica Expresses Thanks
Gleaning For The World shares our PETs with FFP.
Food for the Poor is based in Florida and has worked in Jamaica since 1983. We include here some excerpts of their 8 page report to you who made this shipment and distribution possible through the work of PET International. They work with several organizations across the island that cater to the needs of persons with disabilities.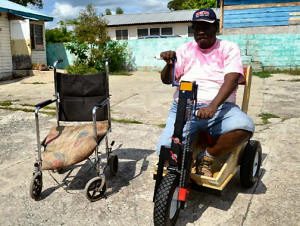 "….Administrators at these institutions have testified that the PET Carts have enhanced the person's ability to learn, interact with others, earn a living and participate in the community…. "
Mustard Seed Communities (MSC) is a charity organization that has been providing care and shelter for children living with varying degrees of disabilities in fourteen locations. Administrator for the past 11 years at Jerusalem, Ms. Suzette Dixon, said that the donation of 20 PET carts was immediately utilized.
"According to the Rehab Coordinator, the donation of PET carts "will assist the residents greatly during the therapy sessions by helping to build their muscles, strengthening their upper body and helping with their overall motions."
Community Based Rehabilitation Jamaica (CBRJ) assists families with disabled children. Ms. Dorothy Daniels, Programmes Coordinator said, "Based on our interaction with the community, we know that many of these parents simply cannot afford this kind of equipment…some can't even afford a proper meal much less. It will also help to develop their muscles as they use the carts daily."
"FFP Jamaica expresses sincere thanks to you, the Donors, who have given their time and resources to provide this gift of mobility and dignity to those in need…."
After 20 Years of Rising Costs
For 20 years, steel, materials and shipping costs have risen. After much discussion, PET International's Board approved the 1st increase of the promoted average production cost of each PET to $300. This cost includes some shipping expense by the production shops to our partners at a US warehouse or other cargo container loading sites. If it were not for all of the volunteer donated labor and discounted parts, the direct costs would be significantly higher. On top of the PET cost, our dependable distribution partners cover the overseas shipping and distribution expenses in the countries they serve in.