Foundation for Peace Dominican news report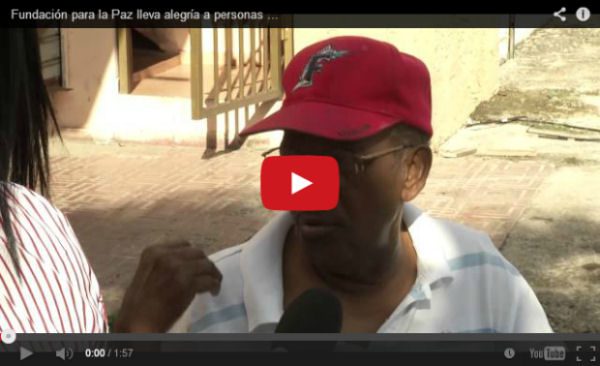 "The Foundation for Peace and our buddies from PET International made the Dominican news today as worked mano a mano to provide mobility for 60+ people! Praise the Lord. One of the women shared that she used to push herself around on a bucket in her home, and a an older man shared that he will now be able to go on outings with his family instead of having to stay at home. Our little buddy at the end of the video said that he will now be able to play with his friends! And all God's people said…AMEN PRAISE THE LORD!"
PET Owners Exclaim "What a Difference"
The Luke Commission team met Joseph Sitsebe on the road to a mobile hospital site one morning recently. He said he travels over hills, rocks, and gravel to get up and down mountains in his PET crank cart. Usually he carries his crutches in the back of his cart.
Ana Metiso lives alone in the Timphisini, Swaziland. She crawls or climbs to get in and out of her crank cart.  She works from her PET selling vegetables, goes to the market, and visits friends. "I'm in my cart every day, all day," she said with great joy.

November 12, 2013

Dear PET administrators and Affiliates,

Thank you for you all do to give mobility to the dear people of Swaziland. Enclosed are questionnaires, a short story, and photos of just a few PET carts which The Luke Commission gives away at every mobile hospital site. It's a tremendous privilege, new each time a Swazi with pride and gratitude is seated in a life-changing cart. Our staff takes great pride in assembling the carts and explaining how to care for carts and repair them.

Dr. Harry VanderWal explains to new recipients that the carts are given, for as long as they need them, from people in the United States who love Jesus. Harry emphasizes that the cart belongs to the village, so it will be passed down to others who are needy in the future. The smiles, clapping, and abundant joy permeate the presentation of each new PET cart. We can't thank you enough for partnering with The Luke Commission to reach the folks in the rural areas who are often overlooked and forgotten.

To God be the glory!

Janet Tuinstra from all the TLC team
PET Cart Restores Mobility of a War Veteran in Armenia
When still 18 years old, young Garen Harutunyan, now 38, volunteered to defend Armenian populated Nagorno-Karabagh in a tragic war that left Garen with a damaged spinal cord and inability to ever use his feet to walk.
Garen spent two years in a hospital. His wound was so severe that he was transferred to the International Red Cross Center for better treatment. For his bravery and dedication, Garen was presented with several medals and awards from the Armenia government.
Now Garen, his wife and their two children, 16 year old son and 9 year old daughter, all live in a house that has a little garden Garen takes care of. "I always wanted to be able to grow things and feel myself capable of providing something to my family. Unfortunately, on a regular wheelchair those things were impossible to accomplish", said Garen. "But now it all changed".
Garen received a PET pedal cart from PET International and AmeriCares. Because of this new gift, Garen is now able to do things that seemed completely impossible before. He drives to his little garden all on his own. He carries his tools in a small trunk and transports seeds and harvest in there too. In addition, he enjoys simply riding his cart in the garden right after the rain to get some fresh air.
This new cart inspired Garen to start applying for a job. He realized he was mobile now. "I am sure I will be able to ride to my work – the cart is so light, fast and easy to navigate. It also keeps me in good shape and helps me stay physically active".
Garen is extremely grateful to all the donors involved in this giving. He said, "I want to thank everyone again for the work they do by helping people, making their lives easier and giving them hope".
"Christ Has Broken Down the Walls"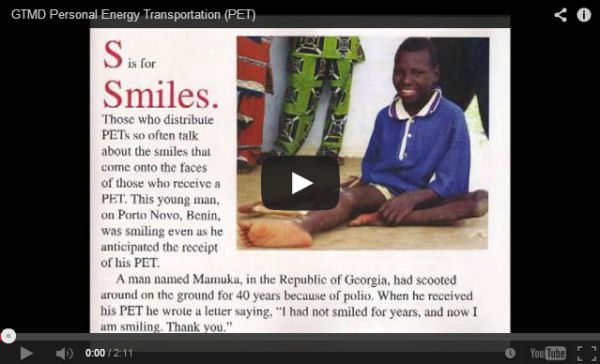 Summer Blend Choir at Arlington Hills United Methodist Church singing "Christ Has Broken Down the Walls" accompanying pictures from AlphaPET & PET MN-Twin Cities.