Annual Conference in Tennessee on September 27 and 28
We are planning our 9th conference which will be hosted by our Affiliate, PET TN-Memphis. It will consist of our board's Annual Meeting and Related Workshop Conference. Workshops will be held on a variety of topics including container shipping, shop safety, communications/promotional materials, and website presence. Some of our dedicated distribution partners will be in attendance to share their stories. All are welcome to attend. See http://petinternational.org/annual-conference/ for details.
New Executive Director
"… I am very pleased to announce to you that as of June 3, 2013, Ed McDonald will be the new Executive Director for PET International!!
I am certain this is a huge step forward for not only PI, but for all Affiliates as well….Ed has been a part of the PET family for a long time and with his skills, I am certain he will help us move forward in every area. This is an exciting time in our ministry and we all look forward to working with and for Ed! Sincerely, Jim Wrinkle, PI Chairman of the Board of Trustees" (excerpt)
PET Present at Lions International Convention in Germany
PET International was present at the 96th annual convention of Lions International in Hamburg, Germany, July 5-9, 2013. The Mt. McKinley Lions (Alaska), and the Stanwood Lions (WA) joined PET International to sponsor a booth at the exhibition center. Walt Hays, a PET International Advisor, states that there was heavy traffic at the booth and many requests for information.
15,000 Lions were in attendance at the convention. Two PETs donated by the PET Shop in Spokane were in the great parade of nations on July 6th with 10,000 participants. Lions International is the world's largest service organization with 1,363,315 members in 46,322 clubs in 207 countries and geographic areas. Lions have been a distribution partner with PET since 2007.
Raphael Richards PET photos

"Attached are photos of Raphael Richards, a banana farmer who lives in the Clarendon infirmary Maypen Jamaica. He'd been using a wheelchair with NO tread on the frame. The PET we gave him a couple weeks ago will allow him to navigate his fields and carry his crops back and forth or possible sell them from the back of his PET cart. Raphael was so very appreciative and kept asking… what did I do to deserve this? My answer: You are a child of God." Sarah Hill
Two PETs given to disabled in Thailand on July 4th
"Here are photos of 2 new PET cart recipients. The lady is a polio survivor who lives with a deformed right leg and supports herself collecting and selling plastic containers.
"The PET cart recipient male was given an injection at the local hospital to relieve pain and this was the result. He can walk a few steps at a time, but barely. Since we have no malpractice patient recovery in Thailand, he has remained at home for 2 years until the PET cart arrived on July 4th American Independence Day. Warm regards to all, and many thanks from 2 very appreciative patients."
Foundation To Encourage Disabled Persons Thailand
PET brings mobility to clock repairman in Vietnam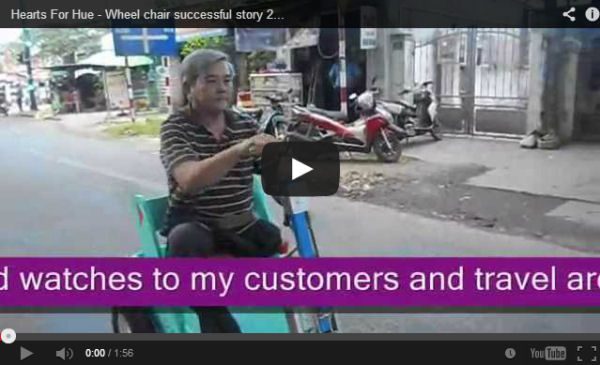 "Mr Nguyen Van Tuan is 60 years old and lives in Hue. He was a cong hoa soldier and lost his legs on the battle field in 1974. He earns his income by repairing clocks and watches for local customers. He is one of 140 disabled who received a wheel chair in January 2013 with the sponsorship of the D.O.V.E. fund and PET. The wheel chair is very useful for him, it helps him to move around the city, visit his friends, bring clocks and watches to his customers."