Kenya Relief (4:56 video)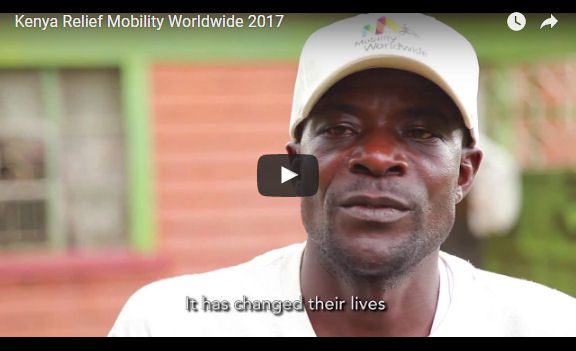 Mobility Cart enables cell phone repair entrepreneur
David is disabled, he spent most of his time crawling on his hands and knees…UNTIL he was given a mobility cart.
David already had a business where he charged and repaired cell phones, but he says the cart gave him so much more freedom – he immediately had easier access to travel so he could charge his main battery. After that business picked up even more, he had a small hotel built… and after THAT, a little pub next door.
It's just so impressive and such a testament to the fact that disability is not inability. David was already ambitious and his mobility cart just gave him that extra push in his life. A success story indeed.
Full post at https://giftofmobility.wordpress.com/2017/04/14/mobility-cart-enables-cell-phone-repair-entrepreneur/
Around the world, special people need a special PULL-Cart
We had some visitors at our production shop last week who have known of Mobility Worldwide for a long time, but did not know we made PULL-Carts, and were intrigued. Our mission statement from the beginning (1994) has been to "…provide appropriate mobility for all people in need, starting first with those most in need and in the most isolated of places." That word "all" is what brought the PULL-Cart into existence. The crank cart is of no value for a person whose legs are handicapped and whose arms do not have the strength to crank a Mobility Cart. There are many in the world so afflicted.
A mother whose teen-age child was terribly messed up could for the first time be relieved of carrying him everyplace, and have some personal freedom. The child could now be a social person
A grandmother in Swaziland, Africa, was carried in on a blanket held by four men, one on each corner. When she was placed on the PULL-Cart, her praise and thanks was so enthusiastic. This "yo-yo" (grandmother) now had mobility.
That's the story. We were serious about serving all in need, and made a unit to do so. We know it will also be used, in some places, for hauling water, wood, etc. when not needed for a person. That's fine. It is well-built and intended to be of service.
We are in a battle against immobility, and we want no one left behind.
"I've learned that opportunities are never lost. Someone else will take the one you missed." – Andy Rooney
Mel West, Director Emeritus
DBA Mobility Worldwide MO – Columbia
Full post at https://giftofmobility.wordpress.com/2017/05/09/around-the-world-special-people-need-a-special-pull-cart/
Recent sightings of thoroughly worn carts still in use
A friend of mine just got back from a mission trip to Honduras. He took the attached picture of a well used and worn Mobility cart vehicle there.

Jim Weisbrook

"We were watching a program this morning about Mighty Ships – US Navy Hospital Ship Comfort in Colombia when a man rode by on a PET! Showing on the Smithsonian Channel.

"We love PET!"

Ron & Carol McDonald
CHaRA – Construction Health and Relief Acts working in Tanzania