ADHU (Association for Human Development) Mon, 6 Dec 2010
With joy we send information of the delivery from the donation of PETs. For 145 people with disability in el Salvador, the event was on November 30 many people attended including mayors, members, university authorities, Dr. Jose Matias Delgado, ADHU and especial guests.
Was an event where you could feel happiness and human warmth most of
the benefit had and important toll for their life. 145 benefits between kids and adults of rural families of 7 municipalities and the foundation "Red de sobrevivientes y personas con discapacidad en el Salvador"(survivors network and people with disability in el Salvador)On the honor table were: Sr. Tony Gasbarro (PET International Inc), Sr.Pedro Montoya (mayor of the municipality of Sacacoyo ), Lic. Humberto Rivera Bauz (ADHU president), Lic. Francisco Lira (Dr. Jose Matías Delagado University).This will be ADHU´s second time where they delivery this donation from PET in el Salvador . Which ADHU feels very happy as a partner with PET International Inc, and to be able to help disability people of el Salvador and to continue to contribute to development in this country.Thank you very much for this Christmas gifts to our Salvadorian brothers and sisters.

Ana Valencia
ADHU

Honduras, November 2010

"This young man drives his PET from Pimienta to Villanueva on the highway most days trying to find things for recycling. Notice the soda cans. I can get more info if you wish." Report from Washington Overseas Mission in Washington, MO

Benin, September 2010

The 2010 distribution to Benin included 20 PETs from Maine, 55 PETs from Tennessee and 91 PETs from New York.

…

Benin has two very dependable rainy seasons per year. We arrived in the middle of the second. There was heavy rain, thunder, lightning, and flooding nearly every day. Last year we thought that the roads couldn't get much worse. As we traveled farther into the interior of the country we discovered how wrong we were.

…

Distribution day at Dassa turned out to be a major event! When we arrived all 100 PETs were lined-up in the school yard, a tent was set-up to cover the chairs, recipients and officials. Over 200 people had gathered and more kept coming. Food of all kinds was available. By the time the ceremony had begun over 500 people were in attendance including Dassa's mayor, his cabinet, several village chiefs, and Benin's Vice-President of the Parliament and of course the local TV station.

…

We only had 100 P.E.T.s and had to turn away many needy individuals. Hundreds could have been given-out if we had them.

Honduras, August 2010, from Arms of MercyVentura Castellanos is 45 years old. He lost the use of his legs 24 years ago after being shot twice in the spine. He has four daughters, ages 14, 11, 10, and 7. His life has been challenged not only due to his physical condition. He also suffered his relatives's rejection and severing of communication. His only income is what he gets from selling gum in the street and what he receives from people's charity. He's thankful to be alive and what inspires him to keep going is that he longs to see his kids finish school. His new P.E.T. has provided him an easier transportation on the dirt roads in his community.
A little background information on Papa Luis: Luis Flores is a gentleman in his mid 60's that is in renal failure. He receives dialysis three times a week in San Pedro Sula, Honduras. Luis has recently developed diabetic ulcers on his feet and his ability to walk has been compromised. Luis and Tina have a small house in Sula, Santa Barbara, Honduras and have limited means of income. The children in the home have taken on jobs to help with the expense of travel and the dialysis. This P.E.T. (Personal-Energy-Transports) has given Luis a way to be mobile around his home and neighborhood. He is very grateful and praises God for the kindness of those who have helped make this possible.
Zambia, August 2010
The truck left today with our last load of PETs until the new parts come in. They are going to CHIPATA near the Malawi and Tanzania boarder with 50
PETs. It's a 1900 kilometer round trip. The guy in the white shirt next to me is our driver Tom and in the green is Pastor Kenneth. He is our PET Zambia Field Rep. I'm sure they'll come back with a good report. I sure hope we can get the container of parts on the water soon.Delbert, Tom & Kenneth[Editor – see the newly added June 2010 story further down.]
Zimbabwe August 2010Hi Von,I just received a report from our consignee in Zimbabwe. I think you will be very encouraged to see how the PET carts are improving the lives of kids there. Please, tell everyone at PET International thank you so much for making this possible.

Sincerely,
Tina Waldrum
Donor Liaison
Global Aid Network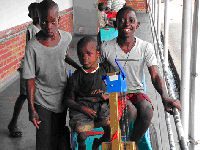 The Jairos Jiri Association is an organization that caters for children with disabilities from all over Zimbabwe, mainly from poor and disadvantaged backgrounds. The center, which deals with all forms of disabilities, has an enrolment of 200 children ranging from 6 to 18 years of age. 90% of this number does not pay any fees since they cannot afford it. The administrator, Miss Nita Vengesai, said the center used to be foreign funded until the donors withdrew their support due to the political instability that greatly undermined the development of Zimbabwe over the last 10-12 years.
The organization received 20 boxes of Casserole rice. The head said that they prepare 40kg of rice per meal, which converts to just about three boxes per meal. In just one day they cook at least 80kg of rice to feed to 200 children. They also received 20 walkers and 6 carts.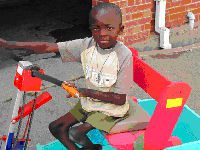 George Bhobho, 10, from Zengeza, a high-density suburb in Chitungwiza, lost both parents to AIDS not more than 2years ago. He's now under the care of his grandmother. He has arthrogryphosis, a rare congenital disorder that is characterized by multiple joint contractures and can include muscle weakness and fibrosis. It is a non-progressive disease. He is one of the beneficiaries of the carts, which will help him greatly in his mobility.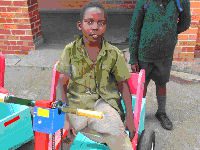 Tinotenda Kairiza, 10, is an amputee. He lost both legs early in his childhood after he was diagnosed with cancer and has never known what it feels like to be able to walk or run like the rest of the children in his village in Muzarabani. Before he got the cart he moved himself around supporting some of his body weight on his hands. Now he'll be to move around with much ease and have more fun playing with the rest of the children.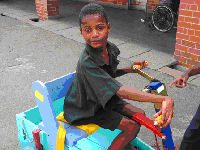 Takudzwa Mukondo, 13 also has arthrogryphosis. Unlike George Bhobho, Takudzwa's condition has affected both his legs and arms. What's amazing is that the extent of his condition does not undermine his determination to be mobile in a more controllable way once his hands grab the pedals. If anyone should doubt the gratitude of these disabled kids, all that will dwarf into nothingness once you see the joy on their faces as they ride these carts around school premises.
Swaziland July 26, 2010
I hope you enjoy this pic of this Grandpa who was so depressed during the whole clinic. He had a stroke and could not walk. His family had to drag him from place to place. He had his head in his hands the whole day – like you see in the first picture. At one point during the day, I went behind a building – even now I do not know why, but God was leading for sure. What I saw was this – a girl, about 13 years old, dragging this Grandpa to go to the toilet. Tears were streaming down his face. It was a poignant moment – because Swazis rarely cry.
The next picture was in the evening when he received his Pull PET. There was so much joy and rejoicing. Thank you so much for making these stories possible. [Editor's note – thanks to the new PET affiliate, PET MI-East Michigan, that made the Pull PET.]
July 26, 2010
The Luke Commission in Swaziland
Zambia (Congo border) June 2010We sent a truck load of PETs to Luapula in the Northern area of Zambia. The Mansa Lions Camp in that area have been asking for years for over 100 PETs. We sent them 55 on our truck, that's all we can put on the truck. Our driver, Tom and the PET gang, tried to use a shortcut through the D.R.Congo pinnacle to save time and fuel. The pinnacle is an area of Congo that protrudes into the country of Zambia. However, the trip is always a 50/50 chance, because you're dealing with the Congo borders on two sides. AND there is a river in the middle that you have to cross. They just made a new bridge to cross that river and they really can make live miserable if you're NOT Congolese. Anyway….with this truck load of of PETs trying to cross the pinnacle, and some real bad road, the DRC Government officials did what the always do and played their "you're not Congolese" games. Our guys on the truck told them, "These PETs are a free gift to the Mansa Lions Club in Luapula for disabled people of that area". This didn't make much difference. They said, "We don't believe you, no one give something this nice to someone freely, special those disable people". For hours they argued with the boarder officials. Then, out of nowhere, there was a man trying to cross the bridge on his hands and knees. He was a severely disabled person. One of our guys on the truck saw him and said, "He needs a PET, let's give him one right now". So he went on up of the truck and got one down and gave it to him, right on the spot. The border officials could not believe their eyes. They poor guy trying to cross the bridge could not believe what was happening. Our guys on the truck just said, Thank you God…. The border officials were so caught up in the PET being given to this guy — our guys just drove away and across the bridge. They made it to Mansa and the Lions Club had a group of disabled people there. Most of the PETs were distributed that same day and the guys headed back home (the long way). And that as we say, is another day in Africa…..Delbert
Mobility Sierra Leone May & June 2010: Testimonies of PET users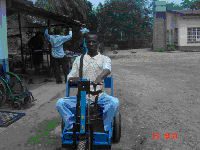 Hassan Kabbah is a tailor who lives at # 49 Swaray St. Kandeh town section in Bo, Sierra Leone. He is 33 years old man. According to him, he said that at childhood stage, he was infected by polio virus. He was referred to Mobility Sierra Leone by the Bo regional rehabilitation center for wheelchair service. Through the assessment, the mobility team decided to prescribe the personal energy transport (PET).

Hassan Kabba has his workshop at the veranda where he lives. He is married with a child and feed his family through this skill. Hassan was very grateful to receive the personal energy transport because it has helped him reduce the transportation which he pays for motto bike whenever he is going to town to buy his sewing materials. Now with this PET, he can access so many areas within the town ship of Bo. He also uses his PET to carry the finished products to his customers which has increased the business for him. Before this he use to find it difficult to locate his customer and associate with his colleagues, and family members but now he can. The community people have much regard for him. Hassan is a happy man with his PET and he is praying that Mobility Sierra Leone last for ever to continue rendering the services to people with physical disabilities.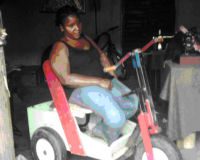 Kula is a polio victim. She is 29 years old living at N0 6 Mission road, in Bo city she is also a tailor by profession. She was referred to Mobility Sierra Leone by the Bo regional rehab Center for wheelchair services. She was assessed by the mobility team and prescribed a PET cart. Kula was married and had a child for the husband but later the husband divorced her due to her disabilities and later the child could not live. With the stress created by the formal husband, she decided to learn a skill which today is training people at disabled right movement a DPO that is well recognized in Bo. She is also the chair lady for that DPO. Before she has being using the orthopedic (imported) wheelchair which she has being finding very difficult due to the terrain and the distant covered to go for the work. Now with the PET has being very instrumental in her life by going to her work, attending meeting to represent her program, visit family members during weekends. She is wishing that if Mobility could provide more PET, wheelchairs, and other devices to their member country wide and for mobility to train disable people on wheelchair care and maintenance, the advantages of the right wheelchairs, wheelchair repairs etc.
Since childhood stage Lawrence Kamara was infected with a polio virus which led to the paralysis of his lower limb. And he is now 16yrs old. Lawrence was identified and referred by the Koidu Regional Rehabilitation Centre for mobility aid to Mobility Sierra Leone.
He is a school going pupil of form 5 level, attending the Koidu Secondary School, but before this time he has been struggling to go to school for about three kilo meter in which he most time late for school, and find it difficult to participate in other social activities or to even pay visit to family members and friends.
He said, with the provision of the personal energy transport (PET) he has now be able to attend classes as quickly as possible, no late for school and even has the opportunity to attend to social activities, visit family members and friends. For my environment, this mobility is very much appropriate because I can able to go through the rough terrain to reach my school. With my PET cart I can now access my school and house.
Haiti, May 2010 – Myrta and Her PET Cart
Gerald Mohler of Global Aid Network writes: "Attached is a report from a recent distribution in Haiti."
Myrta has had a hard life. Her legs are paralyzed, and her husband abused her and left her with three children.
"In the morning, her family members would take her outside and lay her under a tree all day. Then different family members would bring her food," said Jackie Brumley, a nurse at the Chambrun clinic. "She had no way of getting around."
"We gave her a wheel chair, but there was no way she could push her own wheel chair out here on these rough roads," Jackie said. "She could find someone to push her to church, but it was hard going. Then she had to wait at church until someone would push her home. But the gravel out here just eats the tires off a regular wheelchair. So we got her a PET Cart and it has been awesome."
A PET (Personal Energy Transportation) Cart is a rugged wheelchair/cart you can pedal with your hands. It is made for rougher roads than a normal wheelchair can take.
In fact, when Jackie came to visit Chambrun, Myrta came out pedaling as fast as she could across the gravel road to find the American group. She shook hands with them all. And each Sunday, she pedals the half-mile to church on her own.
[Editor's note – there is a Luling/Brazos Valley sticker on the back of Myrta's PET.]
Niger March 2010

Sun, 21 Feb 2010
Hi Mr. Von Driggs,
We have received two PET carts here at the Kirker Hospital in Maine-Soroa, Niger from the recent MedShare shipment. We've assembled them (just this week) and are eager to give them to someone who could use them….Overall, they were easy to put together and it was very helpful that there were screwdrivers in the box. They are a bit difficult to steer in the deep sand, but could be used on the roads around town. I've attached two pictures so you can see them here at our hospital. I will let you know when we would need some more.
Dr. Mindi Guptill, MD
Specialist in Emergency Medicine
Hospital Kirker
Maine-Soroa, Republique du Niger
Thu, 11 Mar 2010
Here are some more pictures of the man in our village that cannot walk that now has one of your carts. He sells chickens and can do that out of the back of the cart. He was very pleased. I do not know of any organizations in our area working with the disabled. I will let you know if I learn of one after I've been here for a longer period of time. Thanks so much!!! Mindi