Your gifts to PET bring joyful smiles to Honduran man and boy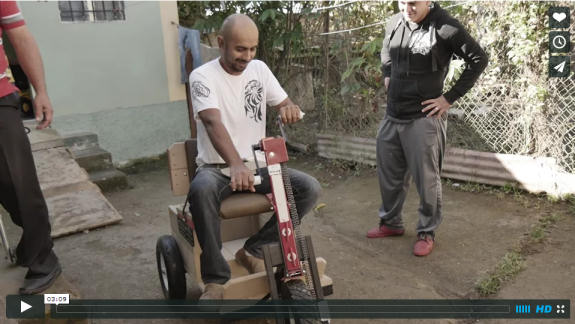 PET International is having such a profound impact on peoples lives. Thank you so much for allowing Jesus Es Real Ministries to be a part of this program. Blessings!
Jim Taylor
Jesus Es Real Ministries
PET "gave me my life back, being mobile and being able to work"

The D.O.V.E. Fund delegation visited another recipient of a PET (Personal Energy Transportation) cart on Friday. This cart is over two years old. The man who uses this cart is 55 years old, and lost his right leg when he stepped on a land mine in 1975. Before receiving his P.E.T. cart, he was confined to a wheel chair that someone had to push for him to get around.
He modified his P.E.T. cart to better suit his needs, by changing the running gear for faster (flat land) transportation. He added a smaller gear on the front wheel, a larger gear on the top crank, and then modified a bicycle chain guard to protect the chain. Then, he added a center post to hold his umbrella to protect himself from both sun and rain.
When asked to say tell us about his cart, he said "This cart gave me my life back, being mobile and being able to work outside of his home and make many friends with his lottery ticket business".
PET cart adapted for street vending in El Salvador
Our distribution partner the ADHU in El Salvador is helping provide PET carts for the disabled. This particular man has chosen to adapt his PET for street vending. This example helps exemplify the power in the Gift of Mobility and personal ingenuity.
PET cart on the streets of A luoi, Vietnam
From Hearts for Hue:
Dear Fred,
Last week, I had a chance to visit A luoi and I met one person who received our PET, and here is his photo that I'd like to send to you.
Khanh
Container shipment of PET carts arrives in Ecuador
The PET Mobility Project has successfully sent a container of PET carts
to our new distribution partner in Ecuador, Junta De Beneficencia De
Guayaquil.

Dear Friends :
It is with much gratitude that I am sending you theses photo of the arrival of PET's. We are going to do the inventory and then we will start looking for recipients.
Thank you very much!
Isabel Valdez de Escala
Foreign Relations Director
JUNTA DE BENEFICENCIA DE GUAYAQUIL