"PET's changed my life completely, totally!"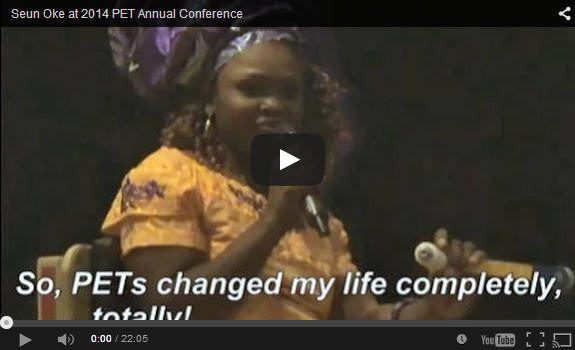 produced by Arla Gabrielse
PET cart reaches young girl in Honduras
Hello all! Just thought I would share a special moment when this little child made a decision for Christ and was a perfect fit for a child's chair. Looking into this smile makes it all worth it…
I am pleased to let everyone know that we received the container of PETs this morning here at the Jesus Es Real Mission center in Trujillo Honduras. It took us about an hour to unload, and all went well.
Thanks to all of the volunteers with PET International to make this happen. We will keep everyone updated as to the distribution attempts and schedules.
Glory be to God, and please pray that the LORD uses us to touch those HE wants to be touched with these chairs. This is the second of three containers we are receiving here this month.
Jim Taylor
Jesus Es Real Ministries
PET brings mobility to 82 year man in Thailand

Here is another very happy PET recipient. He is 82 years old. I enclose a photo of one of his 2 knees which have been operated on 4 times.
All is well and we send warm regards from Thailand
Donald Willcox
Foundation to Encourage the Potential of Disabled Persons
Gift of Mobility for Ghana boy
I just got back from Baptist Medical Center in Northern Ghana and a longtime expat there who helps with the PET cart distribution gave me these pictures. Thanks for all you do!
Dr. Paul Shumpert
Needs include accessibility and acceptability
Mel West, PET Co-founder
I am now involved in a project that excites me, and should interest the readers. One of the goals of PET International is to promote not only mobility, but also accessibility and acceptability.
Mobility alone has limited value unless those two attributes are added. But we need models to test and prove that concept. Since Rainbow Network in poverty-stricken rural Nicaragua is a project that has excellent management and results, we asked the question, "What would it look like if every leg-handicapped person in the geographic area of Rainbow Network had mobility, accessibility and acceptability?
A house to house census is being made to determine the need. We have been shipping PETs there for several years, and our last container to them included 75 standard wheelchairs. Making the country physically mobile will be relatively simple. The slow and difficult part will be changing culture and attitudes about accessibility and acceptability. How does one do that?
More →