(Honduras, thanks to Alabama Honduras Medical Educational Network)
"Her dad takes her to school though, because it's too far away for her. She drives to church in it all on her own. Uses it around the house, it keeps her off her feet a lot. Mom says she loves it and handles it well. She makes nearby errands in it also. Loves visiting her gramma in it. She had surgery on her feet this June also and it has helped her."
Orphan Voice delivers mobility with PET in Vietnam (1:05 video)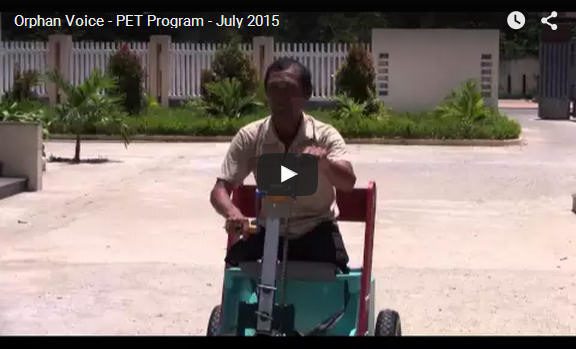 From Tony Brewer, Director:
Mr. Ngo is 72 years old; he lost his legs in the war. For months after
his war was over, depression settled upon him, a depression that was
hard to escape. During the worst times, he begged his wife to leave
him, thinking that she would have a better life with another man or
alone. Her love for him was greater then his handicap, however. She
stayed. As a result, their life gradually returned to normal and they
even had children!

This video is of several men who recently received their PET cart. Mr.
Ngo is the one walking on his hands close to a red motorcycle.

The PET cart was Mr. Ngo's first walking aid. He did not have a
wheelchair before this delivery.

You can see the difference that a little help makes!

Orphan Voice partners with CBN Worldreach and PET International to
provide carts to the disabled. As such, we incur storage, assembly and
transportation costs, and costs associated with screening applicants.
Intertwined lives before PET began – Mel West
(from PET History: "Reverend Larry Hills, missionary in Zaire (now Congo), Africa, told Reverend Mel West of the great need for three-wheeled, hand-cranked wheelchairs for victims of polio and landmines. Mel contacted Earl Miner, product designer and long-time friend and mission partner; and the process of the prototype design began.")
I often ponder how many things of life depend upon the "What if's".
Last week a long-time friend and his wife, Rev. Keith and Marcia Berry, visited PET & The Container Project, delivering a sewing machine. As we talked, I reminded Keith of how important he had been to PET.
In 1978 a missionary from Zimbabwe, the Rev. Kononuhwa, talked in Springfield, MO, about the great need for simple transportation in his country. His work with local churches could be greatly enhanced if he had a means of traveling other than walking. Earl Miner heard that talk and went home and designed a simple machine capable of traveling the rough roads and trails of Zinmbabwe, and of carrying a cargo of persons and materials. The machine was three-wheeled, front wheel drive unit, with an 8 hp. Briggs and Stratton engine mounted over the front wheel.
Mr. Miner was a design engineer working in nearby Lebanon, MO. His work was in designing products for the commercial market, but his heart was in designing simple products to enhance the lives of the poor.
PET Mobility Project Annual Conference, Austin, TX 9/25-6
Agenda includes:
Fundraising: The Nuts & Bolts – Walt Jacoby
Distribution Partner – Jesus Es Real in Honduras – Jim Taylor
Sierra Leone Experience – Von Driggs/Ibrahim Bangura
Risk Management/What Insurance Is Needed and Why – Daryl Davis
Production & Best Practices – Bob Gabrielse
Distribution Partner – D.O.V.E. Fund in Vietnam – John Abbey
Distribution Partner – Hope Haven Int'l & World Mobility – Mark Richard
Kenya Relief Highlights – Von Driggs
Think Outside the Box – John Rudd/John Bosch
Ways to Make Shipping Easier – Mark Felling
(full details & invitation)