50,000 families blessed with new mobility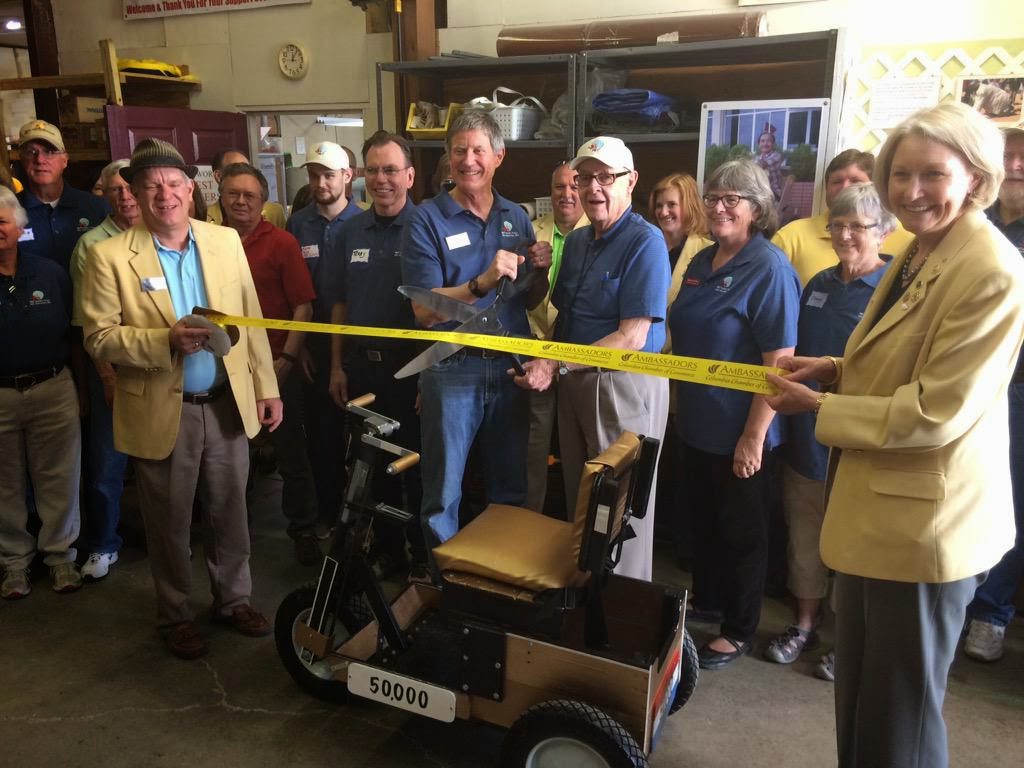 April 16 Celebration News Release
KMSP-TV recognizes PET MN-Twin Cities & PET #50,000
Local workshop makes carts helping people with disabilities throughout world
Posted: Apr 16, 2015 6:00 PM CDT
Updated: Apr 16, 2015 6:38 PM CDT
by Kelcey Carlson
(KMSP) – You might not know it, but Minneapolis is home to one of the 22 workshops across the country that build PETs, or Personal Energy Transportation carts.
The devices are especially useful for people with disabilities in developing countries where disease, birth defeats, and injuries are high.
"The WHO estimates that between 15 and 20 million people worldwide could make use of this cart," Conn says. "And that's sort of a mind-boggling number… The idea is to give them something with not only utility in terms of mobility but also to haul things."
The Minneapolis facility produces about four carts a week, or 200 annually. All workers volunteer their time.
"We are so blessed, we have people from literally all over the state," Conn says.
That makes the Minneapolis workshop an important part of a much bigger picture. Across the country as a whole, some 50,000 carts have been build since the 1990s when PET International began.
If you'd like to learn more about PETs, check out the organization's website here.
From http://www.myfoxtwincities.com/story/28825549/local-workshop-makes-carts-helping-people-with-disabilities-throughout-the-world
Mr. Ssentongo (Uganda) "Before, I used to crawl on my hands…"
From Global Aid Network:
While visiting our ministry partner in Uganda last month, we were privileged to meet Ssentongo, a man disabled by cerebral malaria and no longer able to walk or stand. For the past several years, he got around by crawling, using discarded shoes to protect his hands.
Thankfully, our GAiN shipment contained several PET (Personal Energy Transportation) carts, designed to help disabled people traverse the rugged pathways so common in developing countries. After a few minutes of instruction, Ssentongo was pedaling around and smiling. "Before, I used to crawl on my hands and when it rained, I would be stained with mud. Sometimes, I would be injured but now, I will be able to work more vigorously!"
The local paper heard about Ssentongo and published his story here: http://www.monitor.co.ug/artsculture/Religion/Giving-hope-through-life-ministry/-/689744/2421144/-/cmdies/-/index.html
We are grateful to have wonderful partner organizations like PET International and Life Ministry Uganda. Together, we're expressing the love of Jesus Christ by relieving suffering and restoring dignity.
Your Gifts Changed These 4 Lives in Honduras
(from Fanny Aviles Facebook page)
| | |
| --- | --- |
| Bing translation: He was perfect for Danilo Perez thanks for the support on the adaptation to Ivan Hernandez and Roy Torres and is beautiful and satisfying to serve who need it!!! | Google translation: Nahum Medina 23 Years Community El Espino, Yorito, Yoro. God strengthen us to continue in Your Work. |
(from Feed My Sheep Honduras Facebook page)
| | |
| --- | --- |
| Bing translation: Mercedes Martinez of 79 years of Jocon, Yoro. Amputacion of left foot, for diabetes mielitus… | Google translation: Carlos Ramon Estrada 53 years of Arenal, Yoro. amputation of his right diabetic problems. |