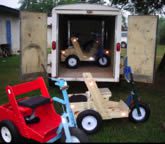 In July 2008 – 30 PETs were sent to Hope Clinic in Guinea. They were built by our Affiliates (shops) in Tennessee and New York. Hope Clinic was started by Jon, an evangelist from America, and Anja Erickson, a nurse from Holland. They serve through CAMA Zending, the mission arm of the CMA in Holland. CAMA stands for Christian and Missionary Alliance. Our Director of Operations, Von Driggs, has known them for over a decade and arranged this shipment to aid their work in Guinea.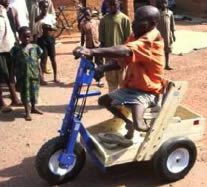 Here are some excerpts of their reports since distribution began.
"We took five PETS out last weekend to some distant villages. We gave all 5 away. 4 packed into our trailer."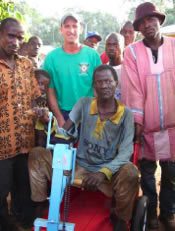 "Ce Ce Haba is 53 years old. He has a rotten old wheelchair that we replaced with a PET. He repairs radios for a living. He has 10 children!"
"Zilegolo Mamy is 40 years old and comes from the village of Gono.He is not married and makes climbing ropes and fanners. He was pretty weak but determined to learn to use his PET."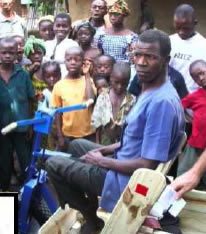 "Soua Tokpa Monnemou is 45 years old. He fell from a Palm tree some years ago and cannot walk by himself. He is not married."
---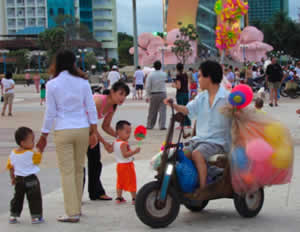 The following email report was forwarded from Mark Richard, Director of Operations for Hope Haven International Ministries in Iowa. HHIM has been our greatest, largest distributor of PETs from various PET Affiliates across the US. They have distributed mobility devices in over 100 countries, and the main reason PET has gotten into 67 countries so far. We are so grateful for their partnership, dedication to help those in need of mobility, and for the terrific process and expertise in which they do distributions.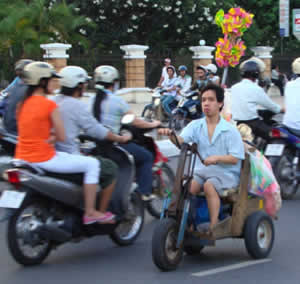 The photos illustrate what Mark has said about the desire of PET recipients to earn a living. This man is a clever entrepreneur.
"07/31/2008 I accidentally met the guy who used PET chair for his life selling toy for children. It was great change for him when having wheelchair. I hope this will encourage all of us for helping invalid people in Viet Nam. Yours, Kieu Tuan Nha"
---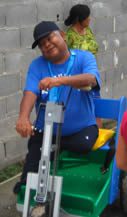 MEXICO"Carlos lost his legs to diabetes. The street in front of his house is nothing but dirt. In fact I was standing in mud to put the PET together in the back of a pick-up truck. In rainy conditions, Carlos is house bound. As I was putting the PET together Carlos was sitting in a chair already cranking his arms to be ready. As I rolled the PET up to him I was wondering how best to help him get into the PET. Well, I was quick to realize that the best way to help was to get out of his way. As he started driving his PET, he had tears on his face and made the statement, "As I ride around, I will tell everyone my 'cart' is a gift from God."
As Larry Hill says in the video, I just stood there and said; there goes another life.
God is so Good, John Rudd"
(11/21/08 report from our Affiliate in process in Austin, TX. This is their first distributed PET.)
---
For several years now hundreds of PETs have been sent to Sierra Leone. Most have been shipped by Mercy Ships and distributed by New Steps. Steve Perry of the United Kingdom is working on setting up a PET assembly/Affiliate site in Sierra Leone, Africa. He also accepted a role on our Advisory Council, from which we'll benefit from his vast business knowledge. At our September 2007 annual meeting the board approved the transportation cost of sending two volunteers to help set up the shop. Two PET volunteers (including one board member) accepted the task and will be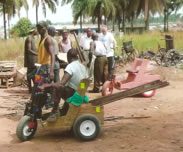 going to Sierra Leone in May 2008 for two weeks.
This man hauls iron sections for the welding/blacksmith shop.
Folks, including PET recipients, come to the village well to get and carry home water. In addition to mobility, these are just two examples of how PET can benefit a leg handicapped person thanks to its cargo area.