How Do PETs Get Distributed?
From the beginning of PET in 1994, PETs have gotten to recipients in
a variety of ways: one on a plane with a passenger or with a recipient,
overseas shipping container, trailer or church van driven over the US border,
US Navy's Project Handclasp, …. The following are some examples.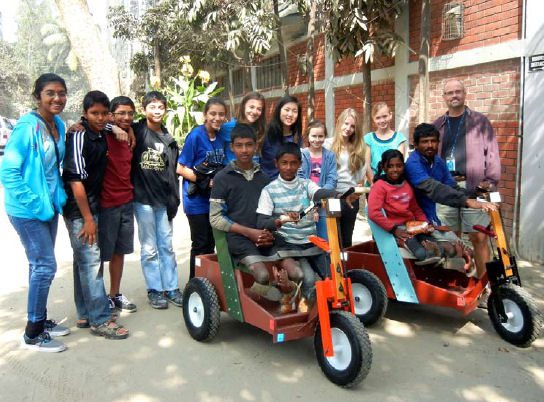 "Hi Von, I wanted to share a few high-impact pictures of a recent MedShare
shipment of PETs. We just received photos of PET carts being distributed in
Bangladesh. They were shipped to a partner organization called icddr,b. The
carts were assembled by students at the American International School of Dhaka,
and as you can see they gave two to a family of four (a father and three children),
all of whom have disfigurement in their hands and feet.
Thank you for helping to give dignity and mobility to people around the globe!
Warmest regards, Chuck Haupt, Executive Director, MedShare Western Region
in CA" February 2013
Those PETs were made in Kansas, trucked to an NGO (non-governmental
organization) in California, shipped to an NGO in Bangladesh,
reassembled by volunteers at a school and given to a family.
In 2010 we began working with June Hanks of the Advantage Program
in Haiti. Various Affiliates have delivered orders by trailer or shipped by
semis over the last few years to Apostolic Christian World Relief on their
behalf in Indiana. From there they head to Haiti. February 2013 report.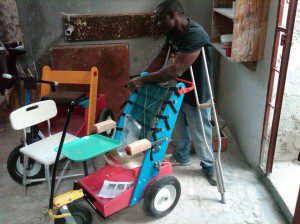 "Hello Von,
I have attached a picture of Maxene assembling a pediatric PET push-pull
cart. Thanks to PET International for the support you give to MTIAdvantage
Program by providing the possibility for mobility for our clients!
Maxene (the young man in the photo) uses his adult PET cart to come
back/forth to work every day. He assembles carts, trains people to use carts
and repairs broken carts. He asks that I send a special "thanks"
to PET International for how your cart has "mobilized him in life".
Many thanks! Anba zel Li (Under His Wing),
June E. Hanks, PT, PhD, DPT, CWS, CLT, EMT
Medical Teams International
Haiti Advantage Program Director in Les Cayes, Haiti"