February 2008 – Volume 1 (Open PDF Version)
LIONS CLUBS DISTRIBUTE PETs to LEG DISABLED SRI LANKANS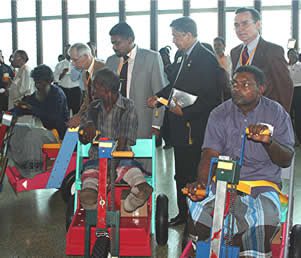 Pictured at left and standing behind three leg disabled Sri Lankan recipients from right to left are Lion Jim LaBau from Mt. McKinley Lions in Anchorage, Alaska, President of Lions Clubs International Mahendra Amarasuriya from Colombo, Sri Lanka, Lion Rohantha De Fonseka from Panadura, Sri Lanka, and Steve Baima, Volunteer Exec Director from PET International.
Lion Rohantha De Fonseka from Panadura, Sri Lanka stopped by the PET International exhibit at the Lions Clubs International Convention in Chicago in July 2007. His plan, not fully understood by PET International until months later, was more than just getting 90 PETs for the leg disabled in his country. He wanted to show the 750 plus Lions delegates from the 59 countries attending the 2007 ISAAME FORUM in Colombo, Sri Lanka in December 2007 to see the PETs and witness the distribution.
The 59 countries of the constitutional area of the ISAAME FORUM are all potential recipients of PETs. The FORUM encompasses the regions, countries, and continents of India, South Asia, Africa, and Middle East. Since the FORUM, PET International and Lions from Mt. McKinley Alaska have been working out details to send containers of PETs to the leg disabled through Lions in Nepal, Kenya and Iraq. Distributing PETs through Lions in recipient countries is relatively new, very promising, and very exciting. Contact your friends in Lions and alert them to watch for an article scheduled to appear this spring in THE LION international magazine featuring Lions participation in the PET Project.
International Highlights
For several years PETs have been shipped to New Steps in Sierra Leone, Africa, via Mercy Ships from different PET Affiliates. Sierra Leone has many persons that were afflicted with polio. Steve Perry, is a Rotarian in the Rotary Club of Clifton, Bristol, UK. He is fundraising and working on setting up a PET building site in Sierra Leone. To assist him, PET International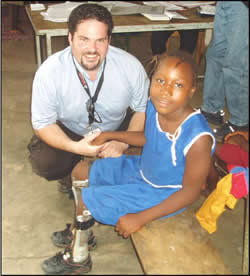 approved the cost to send two volunteers in 2008 to help set up the shop and train shop workers. (Thanks to donors.) Below is part of a May 2007 report from New Steps that highlights PETs.
"Zanaib Kamara, aged 10, is supported by the UN Country Team and New Steps Lunsar school program. She is now in class five. Zainab lives with her grandmother who has six other children to care for. She once lived with her parents in Freetown but had to be sent to Lunsar because her disability impedes her movement from home to school. She met New Steps in October 2005 and was enrolled in the school program.
She was assessed by the rehab team soon after and later provided with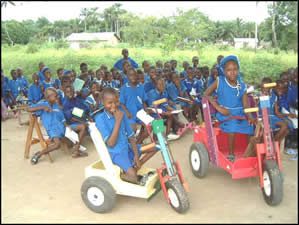 orthotics and a pair of crutches. A Personal Energy Transport (PET) completed what she needed to shuttle between home and school. Zainab says that she enjoys school and loves being with her classmates, especially Abu who is also mobility impaired and shares the same class with her. Together, they make a wonderful pair and the other children love 'pushing' them around in their cart-like PETs. They are happy with there open-air classroom located under a mango tree."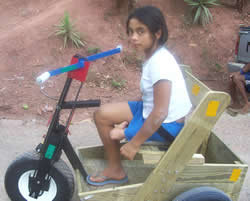 Honduras Ashley Williams in Moundridge, KS, has been sending regular shipments of mission goods to Honduras. Starting in 2006 he began including PETs. In April 2007 Ashley gathered 111 PETs from four affiliates: PET MO – Columbia, PET Southwest MO, PET TN – Murfreesboro, and PET KS – Moundridge.
Evolution of PET Affiliates
PET Affiliate is the title given to a group of volunteers who have been certified by the Board of Trustees of PET International to build, assemble
and distribute PETs, solicit funds to build PETs, and to represent PET International, Inc. You may recall the story of how PET began and how the current design evolved. It is summarized on the website ww.PETInternational.org and chronicled in more detail in the booklet, The Evolution of The PET by co-founder Larry Hills.
PET Affiliates, by name and decree, are a relatively new development. They arose by action of the Board of Trustees of PET International, Inc. simultaneously with the creation of the umbrella organization in October 2005. Prior to certifying shops as Affiliates, PET workshops were arising out of men's groups in churches and other Christian fellowships across the USA.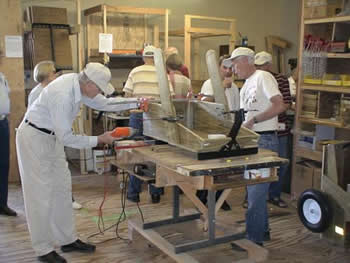 They were all alike in purpose—provide mobility (PETs) for the leg disabled in developing countries. Since their inception all have changed in remarkable ways. A few are showcased below.
PET MO-Columbia was the first PET production site in the USA. Under the directorship of co-founder Mel West, the PET shop began as a one-man (Mel) operation in the one car attached garage that had formerly housed Barbara West's car! The PET shop is now operating out of a 6,000 square foot rented warehouse recently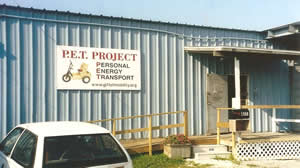 renovated to accommodate the designed work stations for 50+ volunteers that work there weekly. It may appear Spartan to someone recently retired from a job in industry. However, it was designed and built by the local PET team to be safe, efficient and comfortable in all types of weather. Production at PET MO-Columbia grew 60% in the last year.
PET FL-Penney Farms was established in 2001 by PET co-founder Larry Hills. Penney Farms Retirement Community (PRC) with its 400 plus residents seemed the ideal place to build PETs. It had an extraordinarily ecumenical population representing over 20 Christian denominations. Many residents were former missionaries. Others were ministers and lay Christian leaders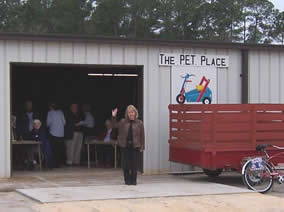 with world wide work experiences. Many continue their commitment to serve the Lord and regularly volunteer at the PET Place. The PET Place began like many new shops—in a rented garage. It was not long before it became apparent that more space was needed. A creative and cooperative project emerged involving the Board of Trustees of PET FL-Penney Farms, the city of Penney Farms, and the PRC. With a high percentage of volunteers residing on PRC's campus, location was critically important. A special fund-raising effort was undertaken by PET supporters to build a new all season facility on the campus of PRC. On January 19, 2008 over 200 PET volunteers and supporters gathered to dedicate the new 4,000 square foot PET Place and honoring Larry and Laura Hills. In a heartfelt speech Penney Farms City Manager Ms. Martina Kohler said the PET Place had made a profoundly positive impact on the entire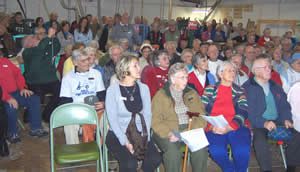 community and herself personally.
Larry estimates production will likely double in 2008. Al Kindig from Holland, Michigan who designed the new PET Place and serves on the PET International Advisory Board estimates production will likely triple when greatly improved efficiencies are factored. PET FL-Penney Farms serves as the primary training center for volunteers of newly organizing Affiliates.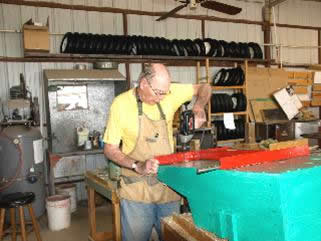 Sid Martin and a group of friends in his church in Helotes, TX began as volunteer parts-makers for Jake and Gwen Royall and their team at PET TX-Luling. They decided to help build a shop at Dick Baldwin's house where the fabrication would take place. Even before they finished the shop at Dick's house, the group decided to become a full fledged Affiliate by building, assembling and distributing completed PETs. Much more space would be needed. Their search ended at the airport hanger (pictured above and below). PET TX-San Antonio is now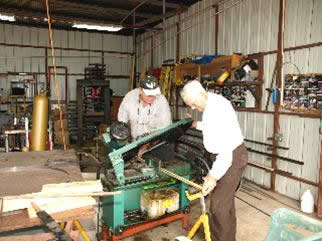 on another building search. While their primary focus is building, assembling and distributing PETs, they have undertaken the task of helping establish a new Affiliate, PET Mexico-Nuevo Progresso, and served as the training location for their counterparts in Mexico. More recently they decided to provide an additional service—receive PETs from other Affiliates, provide temporary storage and assistance in consolidating shipments to depart seaports in Texas and beyond. Also, they are assuming an increasing role in helping find better ways to meet the transportation and related logistical challenges faced by all parts-makers and Affiliates. Without question—the PET family in San Antonio has grown immensely in vision and passion!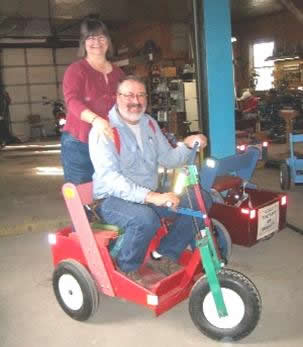 PET KS-Moundridge – From one man—Kirby Goering—working part-time in one corner of his muffler shop to PET Affiliate director juggling volunteers, materials and parts from far and wide. It is a familiar progression with one exception. Kirby and Christine Goering are also operating a sizeable wheat farm operation. How do they do it? Only God knows because this Mennonite couple are doing it for Him! In his own words—"We have put in a saw shop in our muffler shop. We have all the saw equipment we need to build all the body parts. We have some new production sites. Ellsworth Correctional Facility is building our front forks, crank posts and brakes; we provide the metal. Goodwin Stoves from Burns, KS. is building our frames, cranks and brake handles for free. Full Vision from Newton, KS. is building our chain guards and providing drop off metal material to build brakes for free. United Methodist from Colby, KS, is providing wood and sawing all the PET body parts for us and bringing them back to us every 3 or 4 months. We will still have to cut body parts ourselves to keep up with production. The push PET information we will get to you later." Yes, you read the last sentence correctly. On a recent mission trip to Honduras Kirby saw a great need for a push/pull for the severely disabled who could not propel the PET for themselves. He has, as did PET MO-Columbia, developed a prototype for trial in Honduras!
The PET Project of Middle Tennessee – The decision to become a PET Affiliate nearly always starts with one person stepping forward and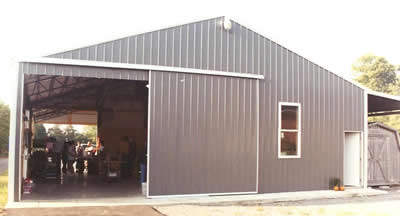 saying—I'll try. It was no exception in Murfreesboro, TN. In the words of Alice Nunnery, Secretary of The PET Project of Middle Tennessee,  "In the three years since Freddie and a group of volunteers from Blackman United Methodist Church started the Middle Tennessee Affiliate, we have built more than 150 PETs.  This is small compared with other affiliates, but we have doubled our production in the last year, thanks to the help and support of the local Rotary Clubs, who not only send many volunteers to work in the shop but also give generous donations from their Wheels for Rotary fundraising campaign, including some of the proceeds from their annual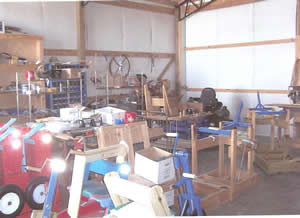 Pancake Breakfast. Next fall we will hold our fourth annual golf scramble to help raise funds.  In the last six months we have incorporated and achieved 501(c)3 status.  New volunteers have joined us this fall, and we have expanded our Board of Directors from five to seven members.  From our workshop, we have shipped PETs to Mexico, Sierra Leone, Honduras, Jamaica, Namibia and Uzbekistan.  PETs from our workshop were also carried on a military transport to Afghanistan. We are excited about the future at the PET Project of Middle Tennessee!" Well Alice, we, too, are excited about the future of PET TN.
These are short stories of five of 14 PET Affiliates—11 in the USA, and one each in Zambia, South Africa and Mexico. Each Affiliate, like each PET volunteer, has a unique personality and gifts. Each has a story worth telling and hearing. All are doing their very best for God. Do stop by your nearest Affiliate for a visit—it will surely make your day, and maybe, even change your life!
Thanks to all the PET volunteers and financial donors over 3,000 of God's leg disabled children will receive the gift of mobility with a PET in 2008. Over 13,000 have received the gift since Mel responded to Larry's request. PET is in-deed A GOD THING!
SPECIAL NEWS
Gifts in honor or memory:
Marge Fleming in honor of Susan Williams
Cal & Lisa Nyeboer in honor of Al & Bev Kindig's 50th anniversary
Mark, Joanne, John, Greg, Lori, & Ellen in honor of Paul & Ruth Bowman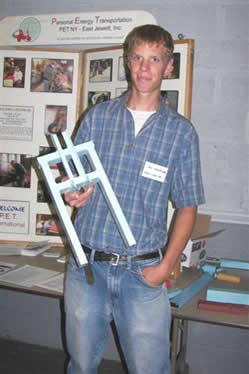 Youth Involved
Chris Robertshaw came along on a mission field trip with his younger sister's group to PET NY—East Jewett. He asked if he could make a part they needed. Their director handed him a front fork that adjoins to the front wheel. This was a hard, time-consuming part to make. He made one and brought it back for inspection. Since then, he has made many quality forks.
There are other youth that make parts or volunteer in the PET shops. Youth in MI make steel brake rods, and youth in OK make the plastic handles. Each group buys the long lengths of supplies, cut, drill or bend, and ship by the hundreds.
(pictured here at the PET International meeting in NY in September 2007)