Donate to Mobility Missouri – Columbia
by Check or Monthly Debit or Online
Thailand October 2012
PET International coordinated our PETs to be included in a shipment to a first time partner in Thailand called Foundation To Encourage The Potential Of Disabled Persons & Freedom Wheelchairs.  In April an overseas shipping container was sent from a FL port.  This new partner has been terrific in sending reports.  This is the latest on one of our PETs made in Columbia.
"Nyecom Garunpat age 74 was brought to us by a neighbor after having his left leg amputated below the knee resulting from diabetes.  Nyecom lives alone and wanted to access his church which he said was too far from his home to walk using his artificial limb.  The PET cart answered his prayers.
Donald Willcox, Founder & President"   October 17, 2012 email
Honduras February 2012
We received this report from Walt Hays, our volunteer promoter in AK.  He does and is many things including being a Lions Club member.  Sometimes he is able to put the two together — Lions and PET.  That can include donations and building more PETs to distribution of glasses and PETs.  This PET delivery was a direct result of Walt meeting Barbara and spending 15 minutes with her at the Lions USA/Canada Forum held in Anchorage this past September.  We work with many organizations and individuals to get mobility to those most in need.  Everyone is an important part.  We are looking for more partners from donors, volunteers to distributors.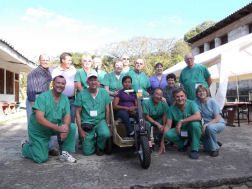 Maritza Hernandez, 14 year old girl from El Guante, Honduras receives her PET from the VOSH-Ohio team during their eye care mission into Cedros and Tegucigalpa, Honduras. Maritza was stricken with polio and unable to walk.  She had attended school for 6 years; however, she was unable to go to the 7th grade school.  With this PET, she will now be able to return to school.  El Guante is a little town in the north of the capital city.  She was bussed to Cedros to receive her PET and was able to immediately drive the PET through the eye care clinic to have her eyes examined.  Many people here did not leave with dry eyes — a life changing gift.  Two members in the top left corner are pastors in Honduras with the rest being team members.
Submitted by:   Barbara Plaugher, VOSH-Ohio Mission Coordinator. Note: Arliss (Barbara) Plaugher, RN of Bluffton, OH is District Governor (13-A) of Lions International. She has coordinated over 20 medical and humanitarian teams that have served projects in E. Europe, Africa, the Caribbean, Central America and Africa.
Panama January 2012
In October Terry Furstenau, a Rotarian and a PET volunteer at our shop, helped facilitate the shipping of 28 PETs to Panama. They went via the MO National Guard, The US Navy and Rotary — all working together in a project the US Navy calls "Project Handclasp."  On December 27 we received an e-mail reporting that the PETs were in Panama and would be distributed in early January. This exemplifies how we work at PET–in cooperation with all interested parties.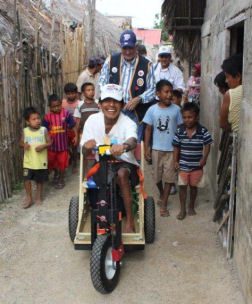 "Today was a great day. We flew to one of the San Blas islands on the Atlantic coast of Panama, about 50 minutes by twin-prop plane. We brought with us one of the PET cars and a few baby well kits, as this was also a site of another Rotary project in progress.
Our first PET beneficiary was named Demetio, he is 63 and had suffered Polio as a young man. He makes his living making straw hats and bowls. His mobility was restricted by an old wheelchair and the pebble/sand street of his home island narrow streets. Words are not enough to describe the joy and happiness of this man (therefore I'm attaching some photos) as he transit the streets of Playon Chico island. Dozens of children, women and men came out of their houses to find out what was all the commotion on the street, only to find Demetio going back and forward with his new mobility and freedom. This was simply wonderful. We are very happy to have had the opportunity to serve today…..more to come soon.  Yours in Rotary, Vicente Pascual"  January 15, 2012 email

Links
Contact Mobility Missouri – Columbia
1908 Heriford Road
Columbia, MO 65202 USA
(573) 886-7877
Newsletter sign up: Email to us to start receiving our quarterly newsletter by email or postal. Begin learning how you can give rugged mobility around the world to those most in need.