Donate to Mobility Missouri – Columbia
by Check or Monthly Debit or Online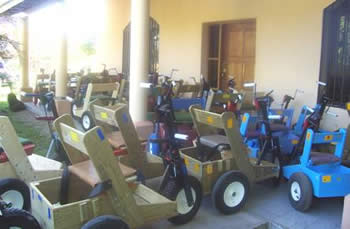 HONDURAS. Larry is one of our shop volunteers whose main task is assembling the child size PETs.  (See bright blue PETs.  We do not use the treated lumber for the child size.)111 total PETs came from four affiliates:
PET MO – Columbia
PET MO – Southwest
PET TN – Murfreesboro
PET KS – Moundridge
This young lady was born with her left
foot at almost her hip.
This young man, Johny, was born
with no legs. Larry says he has
never realized he is handicapped.
Here he is using his PET to haul
the wheelbarrow as a trailer.
Delivering the Gift of Mobility is Truly "Holy" Ministry!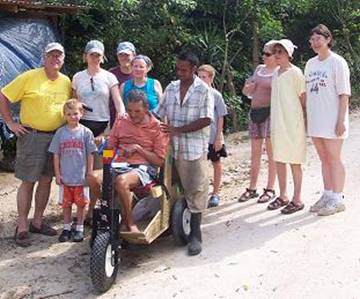 From March 24 through April 1, 2007, fourteen members of Columbia United Church of Christ traveled to the villages of Las Magnas and El Pital, Honduras, to work with the Juan Pablo Segundo Sewing Cooperative (opens in new window) and the villagers of El Pital. Their mission project was to install sanitation latrines and assist with carpentry. Before the Columbia group departed, they had heard from the sewing cooperative of a gentleman from El Pital who suffered from partial paralysis and was having to be carried by family members whenever he needed to get from place to place.
The delegation from Columbia UCC disassembled a Personal Energy Transportation device and stowed the various pieces in their travel bags, the metal chassis being contained in a large flexible garment bag. Once the group passed through Honduran customs and arrived in El Pital, they reassembled the PET and delivered it to the paralyzed man, whose name was "Santos" (Spanish for "Holy"). Santos and his family were most appreciative of receiving the "gift of mobility." Evidence again that your donations to P.E.T. are truly doing "Holy" ministry for the disabled and disadvantaged. Tom
---
| | |
| --- | --- |
| Katuta is 14 years old and contracted polio at 1 year old. Both legs are disabled. Can sit by himself. Cannot stand or walk with help. Can operate a hand-crank wheelchair. | Ajabu is 8 years old and was born with disfigured hips and legs. He can sit by himself. Cant stand or walk with help. His legs are permanently bent underneath him. It hurts when he crawls. |
Both of these boys are from Congo and are living with their families in refugee camps in Zambia, Africa.   Their pictures and description of their disability was on the requests for PETs from FORGE.   PET Zambia has enough supplies to build the 33 PETs FORGE has requested.   In March 2007 we at PET MO " Columbia filled a shipping container with enough steel, parts, wheels, bearings, etc. to help Zambia build another 554 PETs (500 adults, 50 child, 4 PUSH) for those in greatest need. We would appreciate your contribution to continue this effort.
We include this report not only to help explain the need for PET but also to show how various non-profit organizations connect and work to help those in need.
January 28, 2007 (Portion of email sent by the PET Zambia coordinator.)
Dear New Life Partners,

¦..   Another growing area of ministry is the P.E.T. Zambia Ministry. This is the three wheeled handicap bike being built here at the New Life Center and distributed to some of the most desperate people you have ever seen. People that are disabled and can not walk. One of the first letters we received in the mail this new year was from an NGO group called FORGE working way up country in the North Eastern providence of Zambia. They are working with the Refugee Camps in that area with people that have been chased from Congo, Uganda and Burundi because of the war(s). Their home and lives have been torn apart and the needs are unspeakably great. If you remember, Jean (our DS) and I (Delbert) went up there to get one of our pastors and family of six released from the KALA Camp in 2002. He was working in Congo when the war started and had no place to run but to the camp. They lived in the camp for over a year before we received a message they needed help. We thought they were killed in the war. Anyway…

The FORGE group heard about the PET Zambia ministry and even came by to see our facility here at New Life. This letter we received from them had 33 request forms and pictures asking for help with people they have identified to need a PET. I know you are going to hate me for this, but I¹m going to attached most of them to this email for you to read over just so youll get a feel and understanding of what we are dealing with each day. The need is just overwhelming. It doesnt matter if we give out one PET or a hundred and one PETs, because each one is changing a life in ways and places that are hard to explain or comprehend. All we need to know is what Jesus said, If you have done it to the least of these, you have done it unto me. I said this before and Ill say it again, SOMETIMES THE ONLY JESUS PEOPLE WILL EVER SEE HAS THREE WHEELS.
¦.
Many of you, our partners, are actively involved in supporting the PET Zambia ministry. We just want to thank you. Because of your involvement ALL of these PETs will be built and sent to these refugees lost without home or country in the heart of Africa. There will be hundreds of more requests just like this before this year is ended. We will do everything we can to meet those needs. Please continue to support and pray for the PET Zambia Ministry.

Faithfully, Delbert & Sandy Groves
United Methodist New Life Center in Kitwe, Zambia, Africa

(FORGE is an organization established in 2003 that sends college students to help those in refugee camps.   They have students helping in three camps in Zambia.)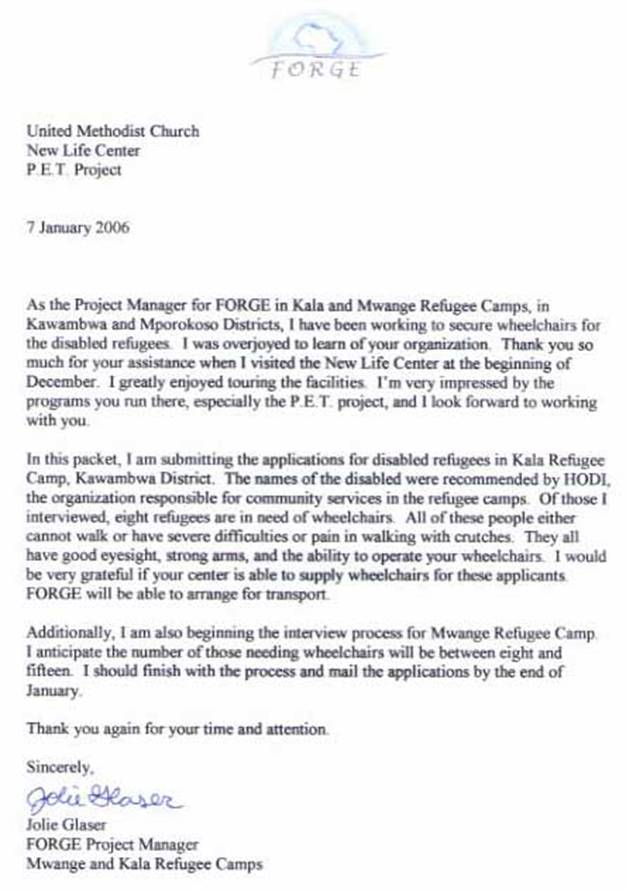 Links
Contact Mobility Missouri – Columbia
1908 Heriford Road
Columbia, MO 65202 USA
(573) 886-7877
Newsletter sign up: Email to us to start receiving our quarterly newsletter by email or postal. Begin learning how you can give rugged mobility around the world to those most in need.