Donate to Mobility Missouri – Columbia
by Check or Monthly Debit or Online
TIRE CHUNKS SERVE AS LEG SKIDS FOR AFGHAN MAN FOR 35 YEARS!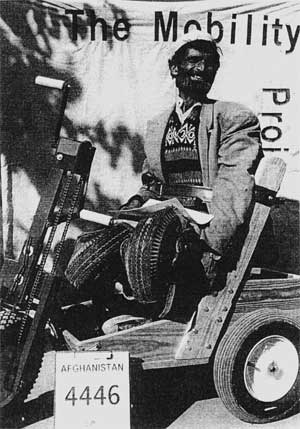 Story: Thirty-five years ago Mullah Ghan, of Afghanistan, stepped on a landmine and lost both his lower limbs. In order to protect the damaged stubs as he dragged them along the ground he found a way to attach portions of an automobile tire on them.
Mullah, who has five brothers and no sisters, hopes to be able to find work now that he is mobile.
---
2005 WALKS 5 HOURS ON KNEES
Story: Ba Musole Kasmpa, Zambia, walked for five hours on his knees (with flip flops tied on for protection) to get to a Bible Study. He is a leader in a local Baptist Church. The Bible Study leader was so impressed that he went to the PET center and got permission to give Ba Musole a PET.
All that participated in the delivery and hand-over ceremony of the PET expressed deep appreciation for the PET Ministry. Ba Musole took his little daughter for a ride and she was so happy.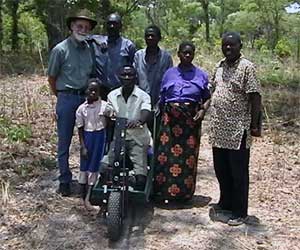 ---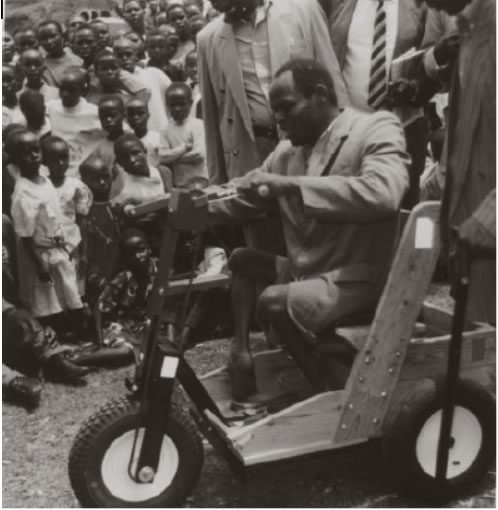 2005 WORLDWIDE POLIO CASES ON THE RISE
John Koros, of Kenya, has suffered from the tragically disfiguring disease of polio since soon after birth. (Note carefully his twisted legs and fee.) THE GIFT OF MOBILITY was his when he received a PET. No longer will he have to drag about in the dust, mud and filth of the street and paths. No longer will he have to breathe the exhaust fumes in his face or talk to people's feet. His PET gives him dignity, pride, comfort, and the hope for a better future. It is a spiritual as well as a mechanical gift.
According to a recent (AP) release polio is on the rise worldwide. A vaccine boycott in Nigeria spawned a resurgence of the disease across Africa, infecting children in formerly polio-free countries and hurting WHO-led efforts to eradicate the crippling disease by December 31, 2005.
---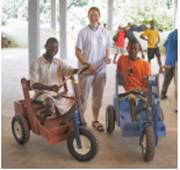 2005 REPORT FROM SIERRA LEONE, AFRICA: PETS mean: Independence, Self-Reliance & Self-Esteem
"During our community visits our rehabilitation staff sees an average of 45 patients a day¦. Patients are assessed for their need for mobility devices such as a wheelchairs, crutches, and PETs. Two months later the team returns to distribute the individually made devices and to follow-up on an average of 50% of the initial patients seen, as well as assessing new patients." (They gave a report on three such patients.)
1 Staff met 15-year-old Memuna Kamara on a trek to Kambia. Being polio affected in both lower limbs, she was forced to crawl on the floor to get around and could only attend school if carried by a carer. After receiving her PET she is now able to transport herself to school independently.
2 Abu Keso Kalloh, a 70-year-old petty trader, was unable to walk since birth. He often found himself cheated when he had to rely on others to purchase his stock, but now, thanks to PET, he is able to go to the market to buy his own stock.
3 Paralyzed for the last 18 years, 21-year-old Musa Sesay was frequently locked in his compound by family ashamed of his disability. He was socially rejected by his local community; many viewed him as 'cursed'. After hearing about New Steps he came to the Centre for assessment by the Rehab team, who then provided him with a PET. Musa is now an apprentice in a blacksmith workshop in his compound, so also has hope for a future career.
(Director's note: The above illustrates so well how PETs are distributed. We work through front-line, responsible, and proven health care agencies who work directly with God's "least of these." PET is simply a part of God's "pipeline" in providing the wonderful GIFT OF MOBILITY.)
---
2005 PET WORKS IN COORDINATION WITH OTHERS
PET seldom if ever works alone to solve the mobility problems of an individual. The following outline/report was sent by Von Driggs, a former missionary director of Mercy Ships "New Steps" program in Sierra Leone, Africa. He points out those involved in this girl's GIFT OF MOBILITY.
-PET provided her hand-cranked wheelchair.
-The custom-made leg brace, enabling her to walk with the crutches in the rear of the PET, were made possible by individual donations to New Steps.
-The disabled child was able to attend school through a "school reintegration program" of UNICEF, which pays for her books and school fees.
-A concerned Christian man working for the European Union in Freetown funded the concrete ramp and rails.
Mr. Driggs writes, "I like all these threads which make up this tapestry and provide much needed help and services for those with physical disabilities in Sierra Leone."
---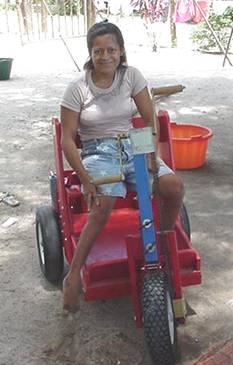 2005 YOLANDA DRIVES A BLESSED PET
Yolanda, 24 years old, lives in Urraco, Honduras. She was in fine health at birth, enjoyed a basically healthy, normal first 4 years of her life, until polio crippled her legs and one of her arms for life. Yolanda who has never left her house without someone carrying her, or crawling, or being pushed in a wheel chair, has been getting into her PET everyday on her own.
The Washington (MO) Overseas Mission to Honduras delivered her a PET, and life has dramatically changed. She can operate it with her one strong arm. Yolanda had been shy and withdrawn because of her handicap.
Yolanda went to the nearby store to buy some food, all by herself, for the first time in her life. She was all smiles and talkative. Yolanda said she wanted to go to Mass and have her PET blessed by Father. She now wants to help the family sell bread around Urraco on her PET.
Sister Laurinda, who sent the photo and report, says, "What a tremendous gift of love, hope, and possibility for Yolanda."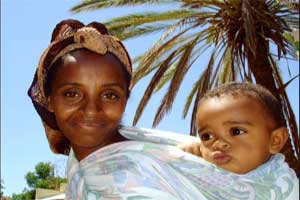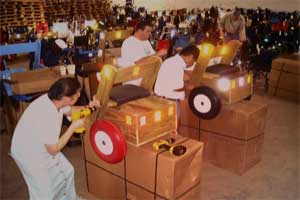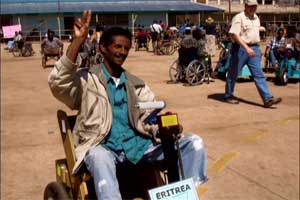 PETs are built in Columbia, Missouri, US, from donations received.
PETs are picked up and shipped to Africa by Hope Haven in Iowa, US.
PETs are distributed by Samaritans Purse in Eritrea, Africa, in March 2005.
(These pictures tell the story of the many volunteers who get PETs to those in need of mobility, the recipients, and the people of Eritrea.)
---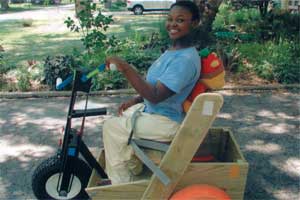 2005 SUEN OKE
Story: If she rides it into the airport, we will take it along with her. That was British Airways told Dr. Tina Slusher of Louisville, KY, when she inquired about sending a PET back with a patient from Nigeria, Africa. Dr. Slusher does medical mission work in Nigeria four month a year and had brought back to the states Suen for special medical work. Suen is leg handicapped but has a strong upper body. (Suen got polio in 1995 leading to the inability to walk, subsequently developing into severe scorosis, leading to other problems. She is from a poor family, one of six children. Her father is a pastor/trader.) Dr. Slusher wrote and asked for a PET, which we sent.
Later on 7/11/05 Dr. Slusher wrote They arrived in Ogbomoso safe and sound (with the PET)¦.We were able to make some modifications to the seat of the PET for her with the help of Shriners Hospital. The PET will be extremely valuable to her in Nigeria.
It is helpful to know that, at least for British Airways, if the person rides the wheelchair into the airport, it must be shipped with them.
---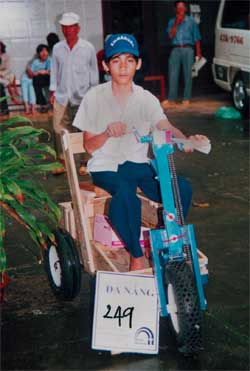 2005 THIRTEEN YEAR OLD NEVER WALKED
Story: Tran Duy Tai got polio before he was old enough to walk. His aunt, a member of the DeNang Evangelical Church, took him to the center to receive his PET. He is very happy with his new mobility.
---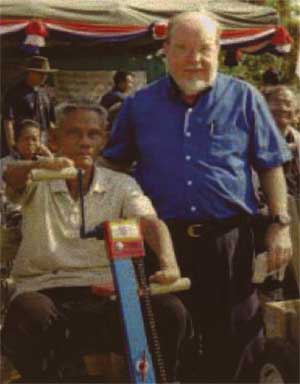 2005 LEPERS LOVE PETS IN THAILAND
Story: (picture and report found on the following missions website) ¦..The governor came over to the colony with some of his staff and participated in the ceremony and the Lord opened the door for me to witness to him. These chairs have been one of the greatest evangelism tools we have ever had. What a joy it is to see people so thankful and at the same time see God open the door for us to tell people about Jesus. Childrens Medical Ministries Volume 3, Issue 1 April 2005
(They received wheelchairs and PETs through Hope Haven, IA. The Mennonites are related to this center and helped with distribution.)
We have made an interesting discovery concerning PETs and lepers. With their loss of fingers lepers cannot use a standard wheelchair because they cannot grip the wheel rim to propel themselves. But they can palm the handles of a PET with the stub of their hand. Many lepers must have infected legs amputated so their need for mobility is great.
About three years ago we sent four PETs to a leper hospital in Angola related to the American Leprosy Mission, located in Greenville, SC. Very positive responses, photos and stories came back. The hospital has requested more PETs, and they have a shop ready to receive and assemble the PETs. In Dec. 2005 ALM arranged for pickup of 84 PETs that would fit in a 20 shipping container for Angola.
---
2005 REPORT FROM SIERRA LEONE
The following story and the photo above came from Beth Ferrel, R.N., a United Methodist missionary nurse in Sierra Leone. We have sent her PETs via Operation Classroom containers.
"PETs are being distributed. Handicap International is doing evaluation of the upper body strength of each prospective recipient to ascertain if they have the capability to 'run' the PET. They will also provide upper body strengthening exercises as needed.
"The 61 year old lady in the photo is one of the candidates. I wish you could have seen her trying out a PET in my back veranda. She was so excited at the prospect of being a recipient. She will go for her evaluation as soon as possible. In the photo you can barely see the wood blocks she has under her hands to help protect them as she scoots along using arm strength and dragging the rest of her body.
"Those of us who can walk or have access to a means of mobility should be extremely thankful. Lord, help each of us to pause frequently and give You thanks." Beth Ferrel.
---
2005 SENOR JOSE CARMEN MOLINA CRUZ NO LONGER MUST CRAWL LIKE A CAT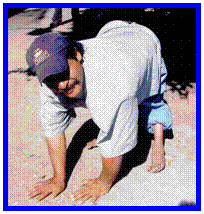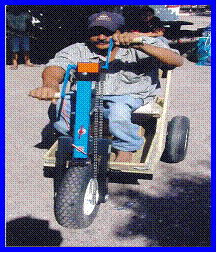 Senor Cruz, 40 years old, lives in Cortez, Honduras. "He has had polio from the age of 3. Mr. Molina has never been able to compete for employment and now lives with his sister relying on charity of others to live. To travel he moves on the ground in a hands and feet crawl, in Spanish "gateando," which is descriptive for the word in Spanish "cat"/"gato"…His face shone with happiness as for the first time he could move face to face with others around."
-Report by Washington Overseas Mission of Washington, MO.
---
2005 PETS ARE GOING TO CHINA – COUNTRY #51
Dear PET: My name is Karen Luo, a physical therapist, going to China and North Korea to work with handicapped children. Thank you very much for the two PETs Mrs. Mary Tieken brought back from Columbia. They will be on their way to be shipped to North Korea. I will let you know the blessings they are to the ones who will be the proud owners. Thanks again for your labor of love in the Lord. PET is quite an invention – no batteries. In Him, Karen"
– Mary Tieken lives in Quincy, IL, and works with Christian Children's Ministries and Hope Haven. A few years ago she provided PET with the first video of a PET distribution in Vietnam.
---
2005 A THANK YOU FROM KENYA
A large shipment of PETs went to Kenya via Hope Haven (wheelchair refurbisher). We received a pile of great photos, and then by separate mail, this thank-you letter from the parents of a PET recipient. We excerpt from it:
"Greetings in the name of our Lord Jesus Christ. We are happy to introduce ourselves as Gikonyo's parents. He recently received the wonderful gift of a PET.
It was a happy moment for us and especially for Gikonyo who has difficulties in moving about¦. He was attending school which is about 500 metres away¦Due to his problem he was using about an hour to reach school. Now with his PET he can go without any problems¦
Gikonyo was born with the problem and we have tried our level best to seek for a solution but were unable. I do not know what Gikonyo would have done without the PET because his condition was deteriorating.
We have been going through your handouts (that were in the tool box) and have seen that you have done a commendable job of helping people with mobility problems. You will be pleased to know that the PET is performing really well especially on our roads and terrain. Gikonyo now can be sent to the shops to buy a few items for us. He can take maize to the mill and as a mother I am very happy because it makes my work easier.
Out compliments to the production team and the designer of the PET for a good job well done. May the Almighty God bless you mightily, Mr. & Mrs. Ngige
We pack clothing, tools, and a variety of items that we have on hand in with the PETs. She added a note saying that we had put knitting needles in with their PET, and that she was knitting sweaters for the children.

Links
Contact Mobility Missouri – Columbia
1908 Heriford Road
Columbia, MO 65202 USA
(573) 886-7877
Newsletter sign up: Email to us to start receiving our quarterly newsletter by email or postal. Begin learning how you can give rugged mobility around the world to those most in need.