Donate to Mobility Missouri – Columbia
by Check or Monthly Debit or Online
Can you help build and ship a rugged Mobility Cart to someone in great need? Donate Now and change a life.
---
Our mission: Mobility Worldwide MO – Columbia's mission is to provide appropriate mobility for all of God's children in need. We seek to provide mobility first for those in greatest need and with the least resources in poor or underdeveloped countries.
Mobility Worldwide MO – Columbia is a part of the ministry of Jesus Christ, whose disciples said, In the name of Jesus Christ, arise and walk. Acts 3:6
Many people have lost the use of their legs due to polio, landmine injury, etc. Mobility Worldwide MO – Columbia is a growing ministry to deliver mobility solutions to the "least of these."  Through a gift of mobility, this person now has the use of this Mobility Cart, a hand-cranked mobility device:
From Haiti via our partners at Orphan Grain Train who shipped the carts    January 2016
"Karen: I am sorry… I just never get tired of taking these types of photos.
There is a knock at the gate.
Standing there is a crippled man with one leg on crutches or maybe in an old wheelchair.
We give him a PET-MOBILE and he is liberated and leaves driving down the street!!!   They are great!  Sandra"
"My husband and I returned from Tanzania, Africa, last Saturday.  As we drove through the village of Mutombo on our way to the Serengeti, we saw someone using a PET.  It was such a blessing to know the individual could be independent because of that wonderful vehicle."  Lynn Barnett Sleper, MO – sighting May 2016
AlphaPET Book now available
: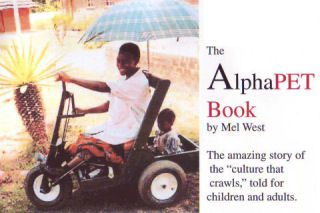 Our director emeritus and co-founder of PET has written a book to help tell the story of PET and those who need this rugged mobility device. The net proceeds will build and ship more PETs: adult & child crank and pull versions.

Links
Contact Mobility Missouri – Columbia
1908 Heriford Road
Columbia, MO 65202 USA
(573) 886-7877
Newsletter sign up: Email to us to start receiving our quarterly newsletter by email or postal. Begin learning how you can give rugged mobility around the world to those most in need.