May 2014 PET Appreciation and Sighting
"Dear Mel,
Every time I see one of your PETs I think of you and the inspirational tour you gave us of your factory. I took this photo in the far south west of Guatemala as the guy was scooting past me. Man! What a great change of life this man has experienced with this simple help. This guy runs his own advertising business. He has a great voice and he rides around and announces deals, events or anything that folks pay him to announce. And he cannot use his legs! Amazing!
Thanks Mel, you have made the world a better place for many people.
Rob & Tara Cahill
Community Cloud Forest Conservation, Guatemala"
April 2014 report by our PET Volunteer distribution Team 
In Malacatan, Guatemala, one young woman came crawling into the PET distribution site on her hands and knees, a pair of sandals to protect her hands. She received a PET and gave us a determined smile.
We saw one old PET, Rodolfo Cu's 4-year-old model, in a village east of Coban, Guatemala. He uses his PET to take bananas and chocolate to the town square where he sells chocobananas. But his old PET had a broken brake and the front tire was badly worn. He received a new PET the next morning which he planned to crank the 19 kilometers back to his home village. 
Jeff Moran, Team Leader and PET shop volunteer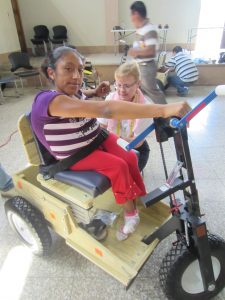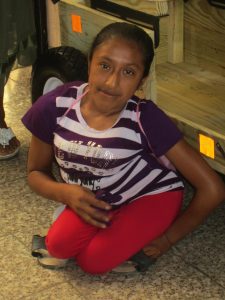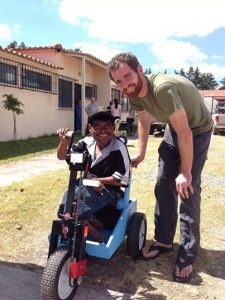 World Race team assembles and distributes PETs in Guatemala.
March 2014 email:
"Jacob Lee Stewart, C Squad 3rd Gen gives a PET (Personal Transport) cart to a happy recipient at the Agape In Action (AIA) dorm in Quiche, Guatemala. The World Race put together 10 of these PETs and searched out those in need in the local town square and market. A picture is worth a thousand words!
(from their FB page
https://www.facebook.com/pages/Agape-in-Action/251774232696 [1] )
AMANDA PANIAGUA, SHIPMENTS MANAGER | MEDSHARE in GA"
(Agape in Action is a medical missions organization working to serve the
indigenous Mayans of the Quiche province who would otherwise go without care.)