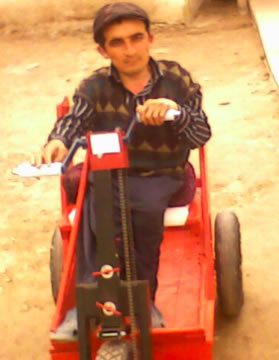 Last year PET MO " Columbia began our partnership with the Orphan Grain Train. Our director and shop coordinator went and visited them in Nebraska. Three shipments have been sent to them. Now reports are beginning to come in from Nicaragua, Tajikistan, Kyrgyzstan, etc. PET donors, volunteers and reliable distribution partners are the big pieces of the PET puzzle. Were thankful for all of these!!!
April 6, 2009 email: "The family of Ainiddinov is rather large. There are twelve people in the family; six are physically disabled. The disabled members of the family are three sons aged between 43-49 and three daughters aged between 37-44 years. According to medical statements, the disabilities of the children are due to genetic disorders. This is one of the vulnerable families in Kulyab, the biggest city of Khatlon Oblast, which is located about 280 km from Tajikistans capital of Dushanbe. Both parents are pensioners and have limited sources of income. Living condition of the family is extremely poor due to the number of disabled, resulting in higher medical costs as well as fewer members of the family who are able to hold jobs and contribute financially to the family. The Ainiddinov family therefore relies mainly on generous external support from others.
This family was included in the distribution list. One out of the five all-terrain wheelchairs recently donated by Orphan Grain Train was provided to this family, together with some clothes and footwear.
After the successful distribution the family was visited and it was clear that the wheelchair had become one of the most essential items in the household. Nematullo Ainiddinov, the eldest son, mentioned that the wheelchair had come very handy for all of them and they share it between themselves. Nematullo says, "Now we can all visit other neighbors and attend community events". He also stated that his younger brother who writes poems now has more possibility to visit the local library, which will improve his creative development. The entire family expressed their gratitude for the assistance provided, particularly for the wheelchair."
Faythe Ann Jaroska, Administrative Assistant, Orphan Grain Train, Inc."
Ecu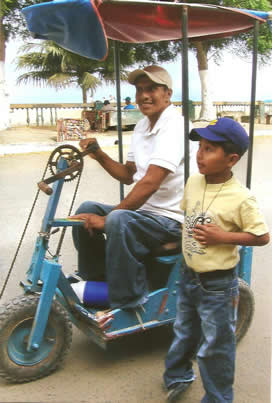 ador December 2009
This picture was taken on December 30, 2009. He told us he had his PET around 8 years. Yes, it is one of Columbias PETs.
He also welded on a sprocket on the other side of the front tire and put on a 3 or 5 speed bicycle gears and chain. He changed the back tires to tread tires as well. There was wear on the box frame but was in pretty good shape.
Kirby Goering January 21, 2010(Director of PET KS-Moundridge and board member of PET International)
We build the PET to be simple and sturdy to last years. But we need long term evaluation to confirm that and help identify any needed changes in design. Because of past reports, there have already been some changes to reduce breakdowns and increase longevity. We are grateful for this picture and report from our PET friend in Kansas.
(Follow up: February 12, 2010, 25 child size and 2 Pull PETs were sent to Kirby to be added to their shipment for Honduras to be distributed this spring.)
El Salvador October 2009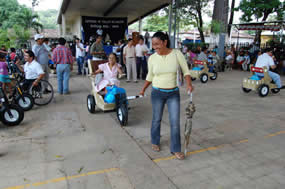 Early in 2009 we began communications with Humberto, Chief Executive, of Association for Human Development (ADHU) in El Salvador. He contacted Von Driggs, director of operations, at PET International. Tony Gasbarro of Alaska helped facilitate communications and was there to witness one of the distributions. Von asked us to fill a 40 shipping container. ADHU got clearance to receive the shipment duty free and organized another NGO to receive and help with the process. 200 PETs were sent in July. PETs were fitted in October, and now we have received a dozen pictures of a cerem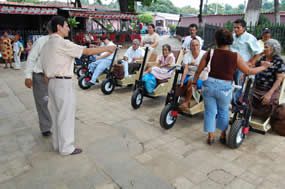 onial distribution. An El Salvadorian state legislator, who has both legs amputated, was so impressed that he has spoken of covering the cost of another shipment. We look forward to sending more PETs in 2010.
Attached are pictures taken on the day that the PETS were allocated both to individuals and leaders of remote communities. The event took place in municipality of San Antonio del Monte very close to Sonsonate, the largest city in southwestern El Salvador. You will find Sonsonate on most maps of El Salvador.
The assembling of the PET was a how to demonstration carried out on the stage in the plaza for those who were taking them back to their villages unassembled. Those taking the PETs back to their communities for distribution had to sign for them.
When you look at the pictures, let me know if you have questions. Sincerely, Tony January 23, 2010