Heres an excerpt of an email request in April 2008.
"¦My name is Terri Kinser. I am the United States ministry representative to Neil and Pam Donoghue, missionaries to Chad, Africa. I was referred to your ministry by Mark Richard, Director of Operations for Hope Haven International Ministries. He has been in contact with the Donoghues, who are currently living and ministering in Abeche, Chad, Africa, which is 50 miles west of the Darfur. They have been working in their small shop since July 2003, training Chadian men to build 3-wheel, Chadian-style wheel chairs, crutches and walkers. Their goal is to expand their operation so they can better serve the disabled in the area. ¦.. I would love to hear from you regarding possibly partnering with the Donoghues to help many precious people whose lives will be forever changed if given the gift of mobility¦.."
Later in 2008 a shipment of PETs went to the Donoghues through HHIM. HHIM is a major distribution partner and the main reason PET has gone to 70 countries to date.
February 2009 we received the picture above of the first PET recipient of that shipment.
"¦.we have them all, information about each recipient…age, disability, how long. Here's one quick one, actually the first recipient. This young man is Abdoulaye, polio victim, and the picture was taken inside our yard. We'll get a disc burned and sent to you. We'd intended to get this done and sent with the next person leaving Chad…didn't know it'd be us!! Pam"
We sent another full shipping container of PETs to Chad on March 5.
---
In early 2008 the five Rotary Clubs here in Columbia, MO, won a $20,000 grant from Rotary International to build 80 PETs and deliver to their Rotary counterparts in Mexico. There has been special permission for PETs to enter Mexico, but they must cross the border in a specific way. The PET is partially dismantled for banding and shipping, but there are no boxing or extra items included except spare parts. So each week six to eight members from a different Rotary club in town came and did the special shipping preparation and became solidly bonded with PET. In April 80 PETs were loaded onto a truck for Cuernavaca, Mexico.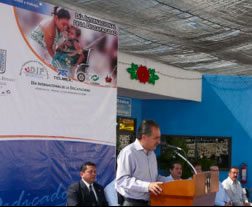 We have now received some pictures of a distribution there on the International Day of the Disabled, December 3, 2008 (see banner). (In 1992, at the conclusion of the United Nations Decade of Disabled Persons (1983-1992), the General Assembly proclaimed 3 December as the International Day of Disabled.) The banner displays logos from various organizations involved including Rotarys. We are told one of the speakers was the governor of Oriente State. We are thrilled to see this process of fundraising, building & shipping PETs, and distribution come full circle over the course of a year.
We do not have individual stories of these recipients, but we have been told by those working in Mexico that diabetes is a major problem there. With loss of limbs, PET will fill a major need.
---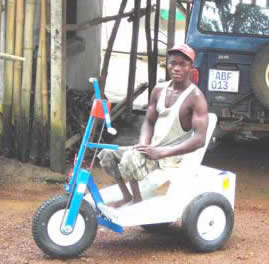 "PET (Personal Energy Transportation) Bike.
Note the mans "skinny" legs & muscled arms
24 PETs are ready to be shipped to Sierra Leone, Africa, in 2008
Picture and portion of January 2008 report from Missionary Beth Ferrell who had lived in Sierra Leone. We had shipped her PETs while she was commissioned there. Her present position is the Mission Interpreter in Residence (MIIR) in the North Central Jurisdiction of the United Methodist Church. As per her report, we recently shipped 24 more PETs to her, which are waiting for shipment overseas. There are many in Africa who could benefit greatly from having a PET because of Polio.
---
| | |
| --- | --- |
| | |
| (child size with untreated, painted wood) | (adult PET built with treated, double kiln dried wood) |
January 24, 2008
Mel, 2 happy PET recipients in Cartago, Costa Rica.
Adios,
Mark Richard
Director of Operations
Hope Haven International Ministries"
In December we loaded out 85 boxed PETs and 25 used wheelchairs into a truck for Hope Haven, one of our mobility distribution partners, in IA. Some of them were to go to Ecuador and Costa Rica along with their refurbished mobility devices (walkers, wheelchairs, etc.). We are now gathering 144 PETs to fill a 53 truck for them to send to Tanzania along with their other mobility devices.
Child size PETs " We build 2 to 3 a week at a ratio of 1 to 10 adult PETs. Of course, older/bigger children receive an adult PET. We build them differently since they go to younger children. A group in OFallon, MO, builds and paints the wooden cargo/seat area and deliver. (A story on their contribution was in a December issue of the St. Louis Post Dispatch.) Other volunteers around the US make the specialty PET parts like brakes, under carriage steel frame, etc. We use donations to buy off the shelf items like wheels, tires, bearings, etc.; run the shop; and pay for any shipping costs. Larry in our Columbia shop assembles. Then they are shipped out as requests and transportation come together.
---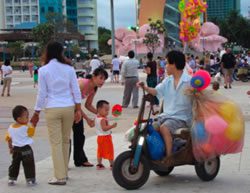 The following email report was forwarded from Mark Richard, Director of Operations for Hope Haven International Ministries. HHIM has been our greatest, largest distributor of PETs from various PET Affiliates across the US. They have distributed mobility devices in over 100 countries, and the main reason PET has gotten into 69 countries so far. We are so grateful for their partnership, dedication to help those in need of mobility, and for the terrific process and expertise in which they do distributions. The photos illustrate what Mark has said about the desire of PET recipients to earn a living. This man is a clever entrepreneur.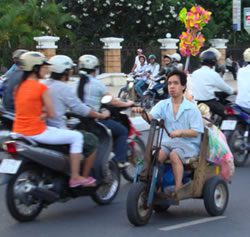 "07/31/2008 I accidentally met the guy who used PET chair for his life selling toy for children. It was great change for him when having wheelchair. I hope this will encourage all of us for helping invalid people in Viet Nam. Yours, Kieu Tuan Nha"
---


Recipients in Grafton, Sierra Leone May 2008
Two US PET volunteers went to Sierra Leone to help set up a PET workshop and train workers. Over 800 have been distributed there since 2000 by New Steps. Now in addition they will be assembled on site. The report of their two week stay included pictures of distributions. We can tell these 2 PETs were made in Columbia, MO. The seat back pictured on the left stenciled with PET is made by Betty Lou in MO and the white, plastic handles are made by Don and his crew in OK. Donors covered the cost of things like solid tires, chain, bearings, and treated wood.
---
Pull PET in Tanzania, Africa July 2008