Donate to Mobility Ministries, Inc.

Donate by Check or Monthly Debit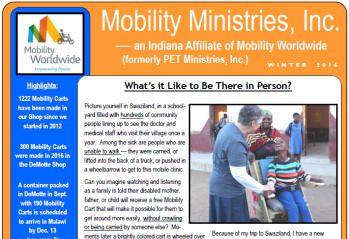 What's It Like To Be There in Person?
Upworthy: Bechibila makes a difference with her Mobility Cart
Touching Video from Kenya

While in Kenya this past April, Von Driggs, staff member of PET International, had a video crew capture some stirring footage of people who came from miles around to receive a cart that would change their lives. Watching several men and women struggle to move around before they are given their PET carts helps us realize the impact this new mode of transportation will make in their lives! One of the video's narrators said this reminded him of the crowds that came to Jesus to be healed — and it truly does! Watch this 5 min. video and be blessed!