Our mission is three-fold:
To provide a free "Gift of Mobility" through the production and distribution of Mobility Carts. The vehicle pictured uses the personal arm strength of a mobility challenged person for transportation. Recipients can transport themselves and a cargo across terrain where a standard wheelchair cannot go.
To provide meaningful volunteer opportunities for retirees and other interested persons in the funding, manufacturing and distribution of Mobility Carts. Situated within the Penney Retirement Community in northeast Florida, we provide a unique opportunity for retirees, students, and volunteers from surrounding communities to demonstrate their compassion and love through Mobility Worldwide.
To increase the production and distribution of Mobility Carts by offering encouragement and training for new Mobility Worldwide Affiliate sites in the United States and, where possible, in other countries.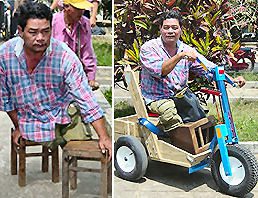 Each Mobility Cart is built to be …
STURDY – to last for many years;
SIMPLE – to be easily maintained;
ECONOMICAL – to allow the donor dollar to serve as many persons as possible; and
ECUMENICAL – to offer volunteers from all walks of life an opportunity to help provide this GIFT OF LOVE and HOPE.